Do you want to know about Craftsman digital router? A large number of people have asked us about this tool, so we will give here craftsman digital router review. There is no doubt that craftsman is one of the most prominent brands in the market. They are making their fair place on the market of the woodworking by providing luxurious products. In this concern, we have tested different tools of this product and they left a very positive as well as the right impression in our mind. We have found some positive as well as some negative aspects in this product.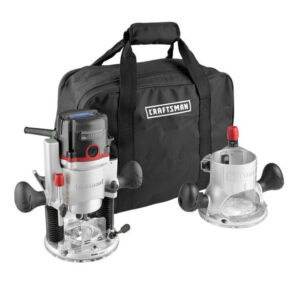 As the recommendation of RPM function was just a little bit wasted on us. The reason is that it is not the best option for professional woodworkers because they just need more if this. But you can say that it is well-benefitted for the beginners who are just their profession as a woodworker. With the help of this router, they are able to match up the speed of the router according to the size of bits. Here, we are going to explain to you craftsman digital router review.
Craftsman Digital Router Review
What We Like
Solid construction, comes with durable material
Comes with the feature of soft-start motor
Also, have a printed RPM guide just at the top of the spindle
Also available with vacuum adapter and edge guide
Very consistent performance and power
Easy and quick plunge depth setting
Micro adjustments
Comes with the facility of spindle lock, means you just need a single wrench to change the bit
Easy to manage, easy straight-out and straight-in removal
There are plenty of things which we liked in this tool, so here we have presented some of these things.
Things to Improve
The power switch of the tool in a slightly awkward place
No option exists for fixed-base
Sub-bases are too much narrow to fit large bits
Comes with plastic chip deflector that keeps popping off
Nothing is perfect in this world, so you can easily mention some of these disadvantages. The brand is still working on such issues to provide their customers with full customize products. As another optional sub-base kit is also available. It includes sub-bases with a wide range of opening widths.
Product Description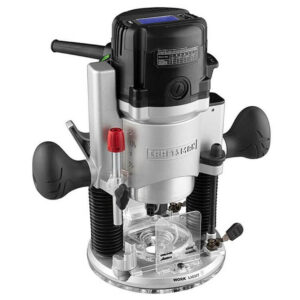 What is the meaning of digital router? The craftsman is also equipped with an LCD readout for easy and quicker variable speed adjustment. You can do this by simply eliminating guesswork when changing the work material as well as bits. Despite, the router also features with a 12 Amp motor of 2.25HP. So, it is able to revolve between 12,000 and 25,000 RPM. The tool has also soft start circuitry which will provide you with more and more control when starting the router with full speed. Some other features of the router table include electronic feedback control, chip shield, pinion and rack height adjustment, removable vacuum adapter and 4-position depth stop with the just micro-adjust knob.
When you will see this router, it looks very well-designed because the digital readout looks very convenient. If you know the required speed, then, you can override the recommended setting manually.
Digital Control
What is the meaning of digital control? It is the first router that has a built-in library. What is the benefit of this library? It offers a speed recommendation in the case when you are not sure which type of setting is to use. So, working with the help of this library, the setting of the speed is just painless and also takes a second or a moment. What you have to do? First of all match up the shape of but that comes in a limited selection of bit styles. After, it is the turn to set the diameter of your router bit. What will happen with this feature? With the help of this feature, you will see the recommended setting of RPM change accordingly.
This is the best point or feature we are explaining in the craftsman digital router review. In the next step, you have to set the type of material that you will use. This material may be softwood, hardwood or plastics. After this step, now the RPMs are just set to one of the 6 settings in the router. You will also see the setting number as well as RPMs displayed on the screen of the LCD.
There is no doubt that there a manual override as well. You can simply press + or – just to adjust the setting of RPM. So, you can do this without the pressing set button at the top of the spindle as well. As a user can also simply tune the speed of the spindle speed between 10,000 and 25,000 RPM. The router comes with a total of 11-speed settings. So, the whole process comes with satisfactory conditions for people.
Features
A manual setting according to need
Metal table
Comes with 1.5HP router
LCD screen
11-speed settings
Easy to use
Best for the beginners
Simply set the type of material
Product Information
Item Weight: 17.9 Pounds
Shipping Weight: 17.9 Pounds
Dimension: 15.9 x 10.7 x 10.6 inches
ASIN: B01HT604DK
Customer Review: 5 out of 5 stars
Final Verdict
At the end of the article, we simply asked that people are impressed with the neat features and solid performance of the router. It is even best for beginners because they will simply appreciate the speed recommendation. You can also say that it is also best for intermediate users because they will appreciate the digital speed readout. You have to simply press the + or – button to change the speed easier than that of rotating the tiny knob of the tool.
It is also available at a very affordable price because you can purchase this material for only $100 when on sale. On the other hand, the tool comes with a vacuum adapter, edge guide, and different collet sizes. It has also a depth adjustment wrench. Here we have all from the subject craftsman digital router review. We hope that you will get enough information about this new product on the market. If you want any information regarding this material then you contact us by commenting in the comments below.
See Our Popular Topic
Best Router Table to buy in 2019 | Skil, Bosch, Kreg, Bench Dog Review
Best Router Bits Sets in 2019 | MLCS, Freud, and Yonico Router Bits
Best Compact Router to Buy in 2019 – Do Not Buy Before Reading This
Best Router for Table Mounting to Buy in 2019 | Comparison and Reviews
Best Plunge Router to Buy in 2019 | Reviews & Buyer Guide
Best Router Lift To Buy in 2019 | Buyer Guide – Reviews
How to Build a Router Table | Step by Step Guide
How to Use a Router | Different Ways to Use a Wood Router
How to Use a Router table – Safety and Tips
Full Guide to Router Tool Uses – Tips and Methods
A Step-By-Step Guide on How to Make Wooden Signs with a Router
How to Use Wood Router Bits | Router Bits for Beginners