Are you a DIY enthusiast or a professional and have a garage set up with the ultimate tools and equipment for the woodwork? And now you are searching for a competent ripping fence that fits on to your table saw?
The following are the best table saw fences, with ultimate features and versatility that can be worth your investment!
The ripping fences are an integral part of the table saw, and they are used to make precise measurements. They are aligned in parallel to the blade and clamp securely on the front side when the adjustments are made. Some models consist of mounting holes that allow customization with the nuts and bolts. So, in short, the table saw fences are one of the most important tools in woodworking.
IMAGE
PRODUCT
DETAILS
Check Price
 
Delta 36-T30T3 Metal Table Saw Fence

Dimensions: 37 x 6 x 2.5 inches
Weight: 38 pounds
Material: Metal

Available on Amazon
 
Uni-t-fence FenceUni-t-fence Fence

Dimensions: 16 inches
Weight: –
Material: Alunimum

Available on Amazon
 
Shop Fox W1716 Table Saw Fence

Dimensions: 17.25 x 61 x 7 inches
Weight: 53.3 pounds
Material: Alunimum

Available on Amazon
 
Shop Fox W2005 Classic Fence

Dimensions: 57.3 x 19.5 x 7.5 inches
Weight: 74.8 pounds
Material: Alunimum

Available on Amazon
 
Delta Power BC30T2 Table Saw Fence

Dimensions: 85 x 5 x 48 inches
Weight: 48.8 pounds
Material: Steel

Available on Amazon
12 Best Table Saw Fences
We decided to comprehensively review the five top-rated table saw fences and elaborate on how to choose the perfect product for you
1. Delta 36-T30T3 – The Best Table Saw Fence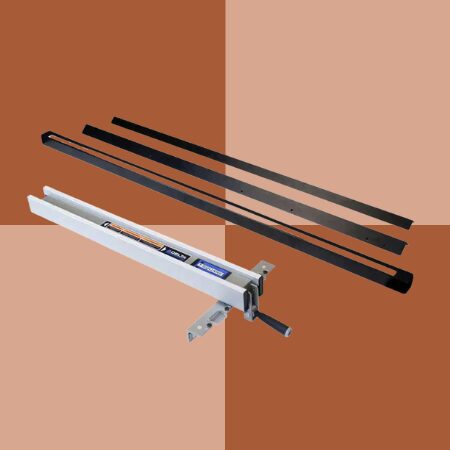 Versatility and being budget-friendly are the hallmarks of the Delta T3 Fence System. This 30-inch fence is compatible with most of the table saws by making some adjustments. Its durable performance that imparts more quality to the table saw is the reason it is top-ranked among the best table saw fences.
It's a one-piece square shaded tubular rail, that has a mounting design allowing it to attach Delta Table saws like Unisaw, Contractor saw, and Hybrid saw.
The forms secure connections with the front tube and hooks at the backside of rail for convenient fence attachments. It is also equipped with a quick removal system through which you can relocate its position across the blade. Since it consists of steel, it makes gliding a lot easier, as well as you can rip the wood with accurate precision.
Delta 36-T30T3 is a reliable product with its proven compliance with different table saws. Having a three-point locking system and quick removal for repositioning will make things quite convenient for you. Making a deal here won't be disappointing you.
2. Uni-t-fence Fence – Best Under Budget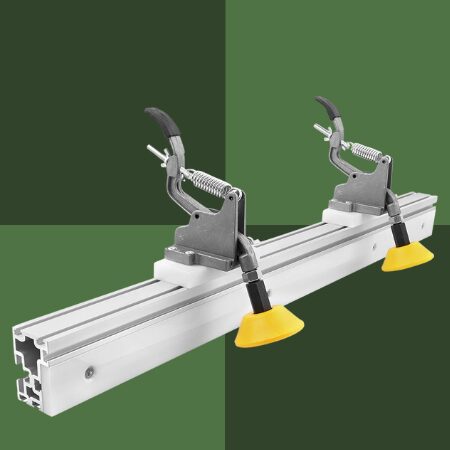 Many professionals, DIY experts, favor this system, and beginners for being an efficient table saw fence. Its high-quality construction makes sure it is going to give a long-lasting performance throughout the years.
The square-shaped extruded design lets it fit with most of the table saws without any issue. The built-up of the system includes heavy-duty aluminum that conceded strength to it, yet it is light-weight and easy to carry. The company manufactures various sizes of the same model, but this particular model measures 36″ in length.
This saw fence resists scratches and abrasion, as well as can work consistently at low temperatures. Interestingly, the wood slides smoothly through the surface due to the low friction coefficient, and the self-lubricating mechanism maintains a friction-free environment.
To make use of this fence, you have to invest in the Delta Unifence Table Saw system as this heavy-duty product is an upgraded fence for the Delta Unifence system.
Although it does demand a table saw fence system by Delta, it is a great substitute for the original rail that comes with this Unifence system. Resisting wear and tear, and showing durability, this can be the product matching your requirements.
3. Shop Fox W1716 – Table Saw Rails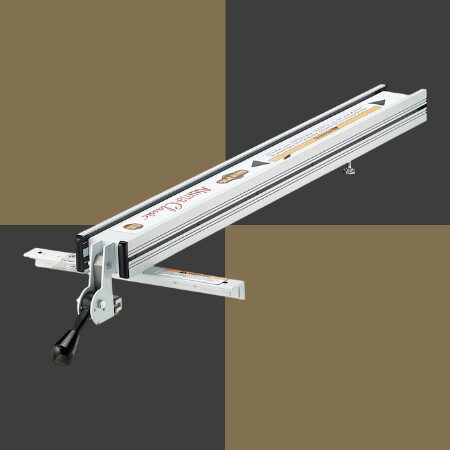 Upgrade your workshop with the Shop Fox W1716 classic table saw fence. It is durable, compatible, and resistant to rust due to its construction design and builds quality. This is the next product on our list of top table saw fences.
You can set up this fence with precision with the efficiently positioned adjustment points. This fence fits on the saw tableUnisaw through the cam-lever front locking mechanism and the torsion box design.
These two factors combine to give a perfect fitting for this table saw fence, as the cam-lever locks it in its place, and the torsion box prevents any deflection during the work.
Along with this, it features a sticky measuring tape and an enlarged cursor that allows you to quickly position the fence with high accuracy. These 57″ rails are made up of aluminum and steel, that render them durable, sturdy, and yet light-weight. It provides a maximum of 30″ rip to the right of the blade.
Having a huge rip capacity, this fence will be helping you out in smoothly cutting large pieces of wood for you. With aluminum and steel construction, it is going to last long in your workshop. Thus it can be your next great buy.
4. Shop Fox W2005 – Precision Table Saw Fence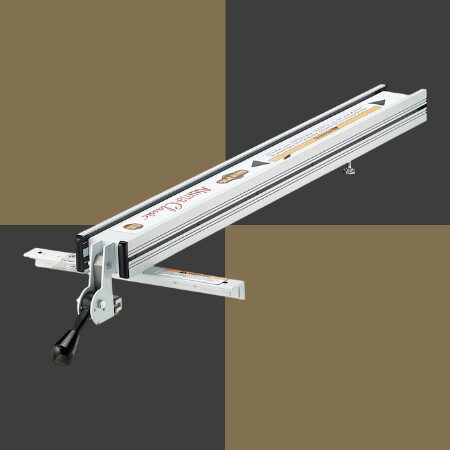 As a beginner or a DIY enthusiast, this is a perfect tool for your table saw system. It's proportionate dimensions and outclasses durability is what makes it rate among the best table saw fences. With this fence system installed, the performance of the table saws is increased to a great extent.
This 57.3″ and 25″ to the right fence system is made up of steel. It makes sure that it lasts for long in your workshop. Moreover, it resists abrasion, rust, and scratches. The item weighs 75 pounds that ensure its sturdiness and solid body.
It features a wide right-angle design, so you get the maximum accuracy and precision while working with the wood. The fence bar is made up of top-notch aluminum that allows you to precisely cut thick, as well as thin sheets of wood.
Having an overall rip capacity of 57.3″ and 25″ rip capacity to the right greatly impacts on the performance of the table saw permitting it to cut more wood in a short period. The wood pieces can slide freely through the fence due to HDPE plastic surface and single cam-locking action.
ShopFox W2005 consists of mounting holes that make it compatible with different types of saws such as Delta Unisaws, electric saws, contractor saws, and many other types of saws.
Although it demands more budget, it's worth the money. With a wide right-angle design and constructed from aluminum, this fence from Shop Fox can be an efficient choice for you, if you are a beginner or a hobbyist.
5. Delta Power BC30T2 – Delta Table Saw Fence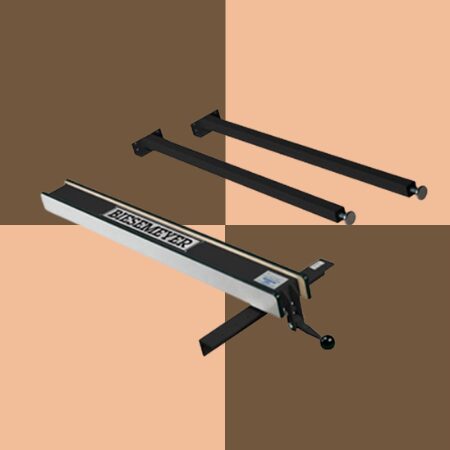 Delta Power Equipment BC30T2 is a powerful tool for your table saw system. It is going to cut the wood with accurate precision and gives you amazing results in the end. It is our next product to be reviewed on the list of best table saw fences.
This fence fits parallel to the saw blade through its efficient locking system, and hairline pointers. The makers have used 14 gauge welded steel in this and ⅔" rectangular tube for yielding strength to the system.
You can easily reposition it on the table with its quick-release system. Along with this, it consists of a secure clamping system, and nylon pads to glide the wood smoothly.
The fence consists of mounting holes that make it a versatile system compatible with Delta saw, and many other table saws. The total rip capacity is 30," and most of it is at the right of the blade. The package contains a fence, rails, and table legs, but the product may be shipped separately and in more than one box.
Delta BC30T2 is a splendid fence for the table saw. Through the mounting holes, it can be adjusted with the various table saw models. It can be a good option for you, due to its sturdy construction and secure lock system.
How to Pick the Best Table Saw Fences?
How to choose the right table saw fence system for you would only be clarified once you have the relevant information. This buying guide section will highlight the key factors to be considered before purchasing a fence system. A solidly built fence system is going to last for long, even if it's not in use.
Companies use high-quality steel and aluminum in the making of fence systems, which is regarded as the best material. Therefore, inspect the overall construction of the table saw fence before making a final deal.
The fence system is proposed for adding convenience when using the table saw. So the table fence must have an easy and quick installation method, taking less time to be fixed on the table.
Rip capacity and size are also the prime factors to be checked before making a choice. This depends upon your choice and your requirements. If you have loads of large pieces of wood to be cut, then you might need a fence with a large rip capacity, for example, of 50″. As a matter of fact, do correlate the size of the table saw with the fence and buy according to its size.
The alignment of the fence with the table fence is also important. It must possess secure locks and clamping systems, so it fits right on the table. It should have loose connections with the table, which might damage measurement and cut later on.
Precision and accuracy are those significant elements without which there is no use of the fence. Having magnified cursors or micro-adjustments helps a lot in making precise measurements and cutting out wood accordingly.
FAQs
Are table saw fences universal?
No, this depends upon the secure clamping of the fence on the front. If it does not fit, then the fence won't be securely locked with the table.
What is a ripping fence?
A Rip fence is the pristine part of the table saw that is adjusted with the saw, allowing the workers to work on the wood with ultimate precision and accuracy.
What side should the fence be on a table saw?
It depends upon the side you are handed. If you are right-handed, the fence should be on the right side of the blade, and vice versa for the left side.
Conclusion
Woodworking is an effort-demanding task that constantly requires attention and perfect measurements. The fence system comes in handy at this point. Posing a huge extent of convenience, they allow you to achieve magnificent results in the end.
Winding up the article, we are hopeful that this has helped you in gathering a considerable amount of information about the table saw fence system. It will definitely assist you in choosing the right product that suits you best. Share your feedback with us, and stay connected for more posts. Happy shopping!
Take a look at these products from the same price range, that are available right now on Amazon: