Are you fascinated by delicate and graceful wood art? Do you want to make the same designs using the best wood lathe?
This art may be engraved in decoration pieces, in furniture, doors, or extensive woodwork for home decoration. So, behind all these delicate masterpieces is a machine named as a wood lathe.
History of lathes goes back to ancient times for embellishing the wooden craft. It works by mounting a wooden piece on a rotating spindle. You can use a variety of wood shaping tools to attain the desired design. There are endless possibilities of design and artwork that you can achieve by using the wood lathes.
In the modern world, wood crafting has become as important as cutting or trimming wood. If you are a professional carpenter, the wood lathe will enhance your woodwork and increase work opportunities. So, you should get your hands on it urgently and explore new directions for wood-crafting.
Let us take a look at the best wood lathes available in the market!
Best Wood Lathe Reviews 2023
1. JET JWL-1440VSK Wood Lathe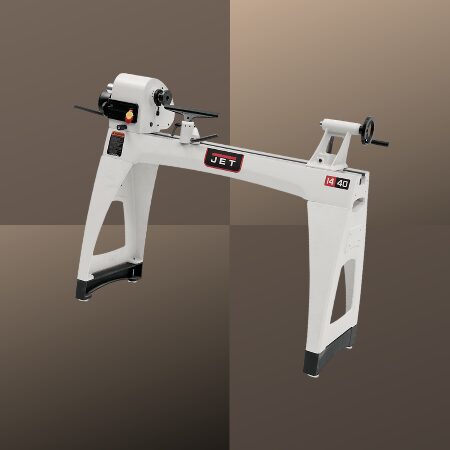 JET JWL 1440VSK might drain your pocket, but we can promise you it is worth the price. The iron design structure is massive and powerful, and you won't ever question its stability and durability. Assembling a 120 pounds and 87 x 57 x 38 inches machine will be complicated. Through guidance from the user manual, we assure you that it will end in obtaining a firm structure.
JET JWL 1440VSK is a perfect combination of power and accuracy. 1 HP motor is able to sustain heavy wooden planks. You can set any optimal speed between 60rpm to 3600rpm. The speed controller is digital and located in an easily reachable position. For initial working and intricate working, you are always advised to work at a slow speed. The turning action can be reversed with ease without restarting the machine.
The model can support wooden pieces to 21 inches because of the center bed. But for longer planks, it can be expanded by using a bed extension in three directions. Through the advanced system, you can change the belt in minutes sparing your time.
The headstock can slide and rotate providing maximum variability. You can also lock headstock in seven different angles depending on your need. Other advanced specifications include indexing positions and acme threads.
Tailstock quail has acme threads instead of square threads for better support. It also has calibrations in inches and millimetre to determine the depth of drilled holes. You can conveniently fasten and unfasten shaping accessories in the spindle. It might be surprising for you that JET JWL 1440VSK is extremely quiet in functioning yet with a powerful motor. Furthermore, it is a safe purchase for you considering a warranty of five years from the company.
2. DELTA INDUSTRIAL 46-460 Midi Lathe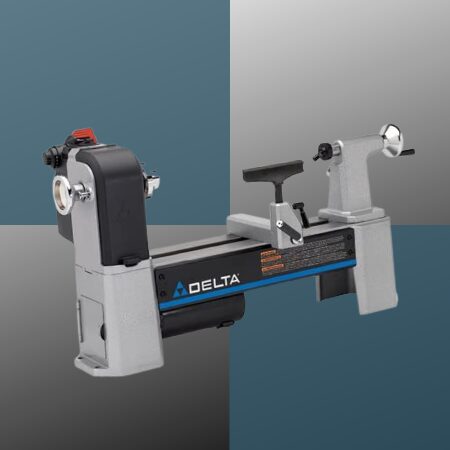 DELTA 46-460 will take you by surprise due to compactness and power. It is 36 x 11 x 17.8 in dimension and weighs only 97 pounds. The 1 Horsepower is able to carry wooden blocks of all sizes. The design has a sturdy metal build supported by two legs. The ease of operation and optimal speed control between 250 rpm to 4000 rpm are the top specifications.
DELTA 46-460 provides you with two options for speed regulations. The belt has three-speed settings from largest to smaller gears for manual speed control. You will find it under headstock with a visual presentation in the form of a diagram. Knob beside the headstock allows you to control speed automatically.
With DELTA 46-460 releasing a belt to needed speed will be an extremely easy task. You have to press down the lever to release the belt and move it to desired settings. You can rotate the spindle in reverse or forward through a switch located on the headstock. Lathe bed measures 12.5 inches and can allow turning of wider materials. For the objects above 12 inches, the bed can be expanded to 42 inches.
Tool rest provides support and you can clip and unclip it in any position. The metal-based handwheel fixed beside the headstock acts as a break. It allows you to pause the work and check the progress rather than switching off the machine.
You don't have to worry about loss spindle as well, it can be locked by the tailstock wheel. Tailstock itself can also be locked through a modern lock system. Keeping in view the specifications DELTA 46-460 is economical and budget-friendly. Another prominent feature is a 3-inch faceplate that can mount all sizes of pieces for spinning.
3. JET JWL 1221VS Variable Speed Wood Lathe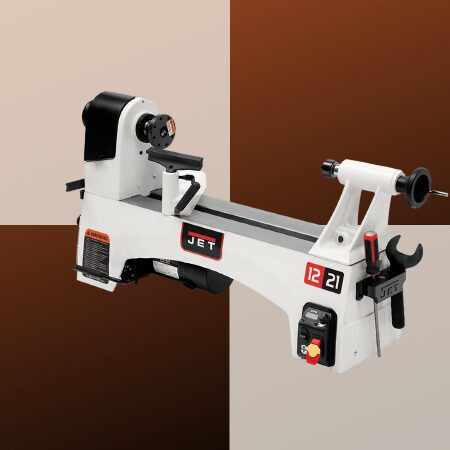 Jet has brought a revolution in the power tools industry with its quality products topping the lists globally. This hefty machine of 137 pounds provides a speed range between 60 RPM to 3600 RPMs. The vibrations during functioning are decreased by cast-iron structure and weight. With its 32.8" x 14.6" x 21.2 sizes it takes a moderate amount of space and can fit in small workspaces.
The rotation speed and torque of headstock can be adjusted through three pulleys connected to the spindle in the headstock. You can regulate the motor speed through a knob mounted near the headstock. Next to the knob is an oval-shaped reverse switch for speed transition. One issue you might face with the switch is that it doesn't show the direction of spinning. So, it is important to keep a track to avoid confusion later.
The control switch is at arm's length without taking a step or reaching the opposite side of the lathe. Jet has also come up with a stand to make JET JWL 1221VS portable. You have to purchase it additionally as it does not come with accessories. The 20 inches lathe bed can be extended to a massive 40 inches by employing bed extension. Further accuracy is ensured by indexing positions that are twenty-four in number. You can simply lock the plate in position by button.
Before assembling JET JWL 1221VS in your workspace make sure to do it on a solid benchtop that can sustain its 137 pounds weight. Some complaints have been recorded while functioning with big and larger diameter bowls. Also, the lathe bed with extension might fall short for accommodating wider materials. Furthermore, It is issued with a warranty of five years.
4. GRIZZLY G0462 Wood Lathe with DRO
If you are looking for wood lathe on a budget with efficient performance then GRIZZLY G0462 is your ideal pick. It is well suited for occasional woodworkers and professional carpenters. Delivered with a warranty card of one year, GRIZZLY G0462 is shipped in a wooden box. All components are finely secured in a position to avoid any collision or damage during shipment and delivery. The machine weighs only 350 pounds and 17.5 x 63.2 x 20 inches in dimension.
Iron construction imparts durability and firmness to the structure. It also prevents vibrations from reaching spinning material. If you are looking for some storage space then you can install shelves on legs. The speed control mechanism is comparatively easy as compared to other wood lathes. There is no complex belt control and belt release system. Speed can be adjusted with a handle in ten ranges between 600rpm – 2400rpm. Speed is displayed digitally to keep a check.
The lathe bed is massive with 43 inches length perfectly suited for dealing with giant wooden planks. By loosening the headstock you can spin it to 360 degrees for convenient outboard turning experience. You can fix and release headstock and tailstock through an advanced locking and releasing system.
Another most prominent specification is 2HP motor which is powerful enough to sustain hefty wood bowls. Through 43 inches lathe bed and 24 HP motor GRIZZLY G0462 is an ideal choice for complex tasks and heavy loads. However, twelve months warranty may be bothering most potential buyers for its short period.
5. NOVA 46300 COMET II Variable Speed Mini Lathe
If you are a hobbyist then you won't need a full-sized and expensive wood lathe for your occasional working. For those of you searching for compact-sized lathe for small space then NOVA 46300, COMET II is your purchase. For working on small pieces like handles, knobs, legs it will exceed your expectations. ¾ HP motor works significantly works well on any speed range between 250rpm to 4000rpm. It is preferred for home-based and domestic work.
Lathe bed measures 16.5 inches in length and 12 inches capacity of swing over the bed. You can enlarge your working space to 41 inches by employing a bed extension. The swing capacity and bed length are appropriate to work with moderate-sized bowls. The control and reverse buttons are fixed in ideal positions for instant reach and easy use.
You can fix the speed in three ranges with a pulley system. The middle step is recommended for normal functioning and turning. While you will need to adjust on the first or third step for complex and delicate work. The bowl can be rotated on specific angles through twelve indexing positions. You can also lock the index pin in place.
The company issued a year warranty for motor replacement and exchange while five years for the repair of other components. There are numerous accessories that can be employed to enhance the functioning of NOVA 46300 COMET II. You can use a legged iron built stand to increase the height of the machine.
6. RIKON 70-100 Mini Wood Lathe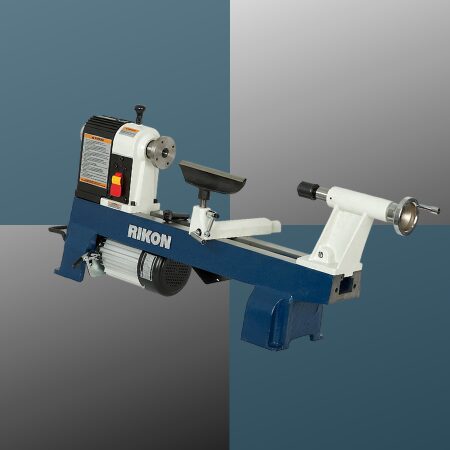 This mini-sized wood lathe from RIKON is a high-quality machine for excelling in the art of spinning small pieces. The 12 inches swing capacity and 16 inches lathe bed provides you an ample amount of space to work conveniently on bowls. With the help of delivered accessories, you can customize RIKON 70-100 according to your needs.
With a self-releasing system in the tailstock, you can easily eject the centerpiece without using a knockout bar. Tailstock can be slid on the bed and locked through a lever system. With twelve indexing positions, you can clasp the spinning material at any desired spot for delicate design. With a lock located on the headstock, you can fasten the spindle in place. It also allows you to mount and dismount faceplates and other accessories comfortably.
Keeping users in mind, RIKON has designed easy controls for the machine. Speed can be regulated by a button between six different ranges. Optimal torque and speed can be set from 430rpm to 3900rpm by a pulley system. With ½ motor, it weighs only 88. 5 pounds and is extremely portable. Some customers have observed misalignment in headstock and tailstock. However, you can set the alignment because both of the components are moveable.
It comes with a two-year warranty from the company. Belts in RIKON 70-100 are not linked with the speed control button. So changing them might be hectic for beginners as it has to be performed manually.
7. POWERMATIC 1352001 Wood Lathe with RPM Digital Readout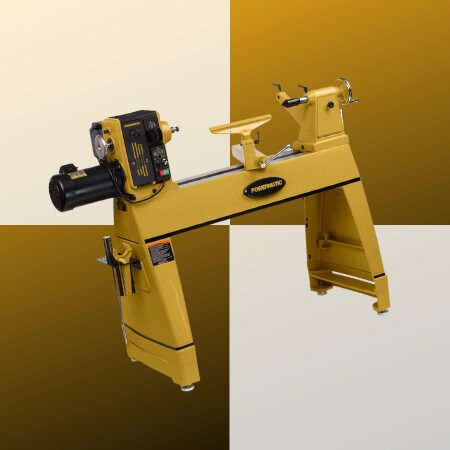 POWERMATIC 1352001 encompasses all the advanced features of wood lathe and innovative specifications. Iron casting makes it vibration resistant and stable. The modern design is not only appealing to your eye but also ergonomic. The tailstock is also iron built to sustain the heavy load. For organizing tools and wrenches you can use the inbuilt storage capacity of the tailstock. Moreover, there is also a dust collector for clear working space.
A 34-½ distance between headstock and tailstock is sufficient enough to accommodate larger bowling materials. The swing capacity is 20 inches. Various speed ranges are available between 50rpm to 3000rpm depending on material and task. System of belt and pulley act as a speed controller in POWERMATIC 1352001. The 2HP power motor is capable of reverse transitioning and effortlessly performing your various tasks.
The digital speed displayer is located on the headstock. The headstock is moveable equipped with a locking mechanism for the spindle. Forty-eight accurate indexing positions can be obtained by utilizing the pin and fastening it into spindle housing. You can easily engrave your patterns or perform grooving, trimming, and drilling.
Apart from being expensive, POWERMATIC 1352001 is a massive instrument with dimensions of 50 x 24 x 44-inches. Mobility is limited with 682 pounds of weight. It is best suited for bigger spaces. A bed extension of 18 inches is provided in accessories. The product is issued with a five years warranty.
8. Shop Fox W1758 Wood Lathe With Cast Iron Legs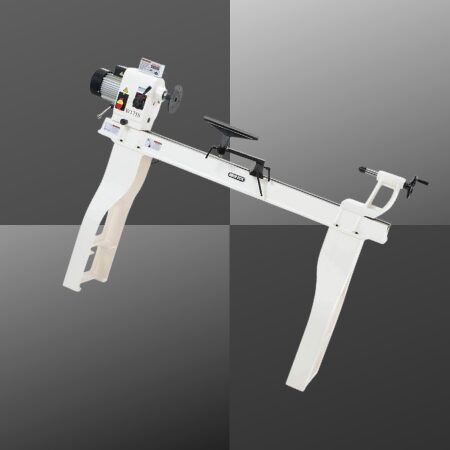 This heavily built design outperforms other wood lathes in terms of elegance and productivity. Iron-based bed and legs are durable and resistant to vibrations. With moderate dimensions of 64 x 18 x 16 inches, it is spacious enough to fit a small work area. The single-phase extensive 2 HP motor will outperform all your tasks from basic to complex. It has efficiently rotated hefty bowls with high torque and speed.
The speed can be adjusted at 10 different ranges between 600rpm to 2400rpm. The solidity is ensured by over 300 pounds of weight which means there is no chance it will slip or trip during functioning. The speed of the spindle can be controlled by a digital-based tachometer. Headstock and tailstock can be clasped and unclasped rapidly by the locking system. You will find not one but three tool rests mounted on the lathe bed to support the turning piece.
Outboard turning is vital for bigger turning objects. The tool rest extensions and headstock work together to make outboard turning possible in SHOP FOX W1758 at 90 degrees or 180 degrees. There is also an advanced system for locking the tailstock in position. Tailstock can work efficiently on objects up to 46 inches in size. The machine is provided with a warranty for two years from the shop fox.
You will notice that the minimum speed is 600rpm as compared to other wood lathes with 60rpm or below 100rpm. So if you are a starter this minimum speed is too fast to conveniently work on rotating pieces. So there is a limited speed range and is not suited for beginners. Moreover, if you are professional in the woodworking then speed range will not be an issue for you. There is no automatic reverse transition through button or dial. It has to be performed manually.
9. Jet JWL-1015 Wood Working Lathe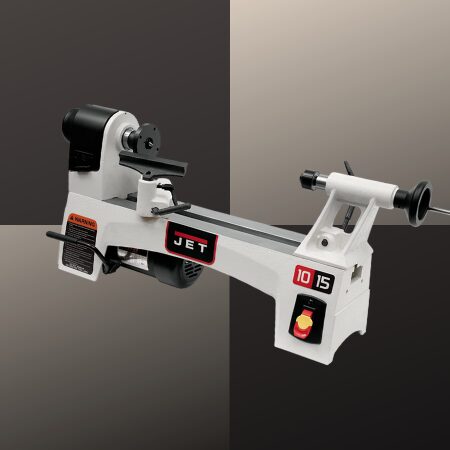 Especially designed for novice and hobbyist wood crafters JET JWL 1015 is benchtop wood lathe with a sleek appearance. Metal lathe bed provides 15 ½ of space to fit a rotating object. The ½ HP motor is not suitable for hefty planks but works smoothly with moderately sized materials. It gives you a variety of speed ranges to adjust from depending on hardwood or softwood based objects. 35 x 18.1 x 14.6 inches of dimension provide a wide and stable bed lathe for functioning.
There is a pulley system with six steps to control speed between six ranges. The minimum speed is 200rpm while the maximum speed is 300rpm. There is no reverse speed option and no chuck in accessories. On purchase, there is a warranty of five years. There is a well-explained manual with steps for assembling. So you will not possibly face any complications. There are also tips for you to obtain better functioning.
Don't miss our review of the best wood lathe chucks on the market.
Additionally, you cannot adjust the speed while the lathe is switched on. You have to turn off the machine first and regulate the speed by the belt. This whole process is time taking and hectic. JET JWL 1015 weighs only 77 pounds. Weight plays a crucial role in keeping the machine stable. So, you might need to anchor the benchtop with some fixing tools to impart additional firmness.
10. WEN 3420T Benchtop Mini Wood Lathe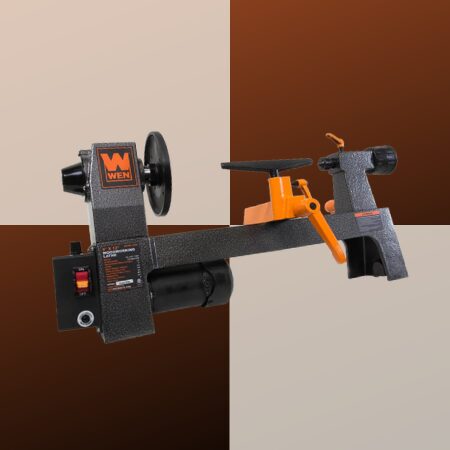 WEN 3420T is the lightest wood lathe with only 43 pounds. If you are interested in crafting small items like decorative panels, stationery items, door handles, doorknobs, vase, and decoration items then this wood lathe is a perfect choice for you. Along with being lightweight, it is compact sized with 26 x 10 x 12 inches dimensions. The whole body is an iron built with 8 inches of the work station.
With the help of a mobile tailstock, the work area can accommodate wood pieces of up to 12 inches in size. For dealing with small and intricate projects it is appropriate for both beginners and professionals. The ⅓ HP motor can offer speed within 750rpm to 3200 RPMs. The motor is installed with soft start technology that readily increases the speed then instant full speed.
You get a fencing plate, wrenches, tool rests, and few other accessories free of cost on purchasing the machine. To ensure you have a proper grasp on rotating objects there is a system for locking headstock and tailstock. Under $200, you will get a well built and highly efficient wood lathe.
Wen has also considered your safety while designing the machine. Below the speed controller knob, there is a safety switch. WEN 3420T will not function until the safety key has been removed. Another button indicated circuit breaking. In case, when the motor is overheated or overloaded the lathe automatically shuts down.
Wood Lathe Buyers Guide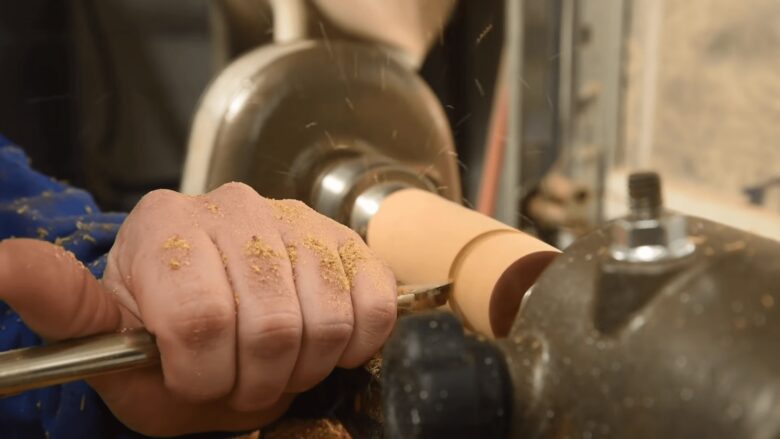 There are few features you need to look for in wood lathe to secure your long term investment. Also, you have to increase your possibility of finding the perfect fit for your working space. It is always recommended to not settle for less. You need to keep in mind that the reputation of the brand name may matter but there might be other varieties that can offer more specifications and may be less price.
Size of Wood Lathe
Firstly you need to ponder upon what your crafting needs. This will assist in determining the best-suited model for buying. The wood lathe can be mini-sized or full-sized. If you are a novice worker then you can get fine working wood lathe for $200. You can enjoy bowling small pieces like cups, pens, panels, and imprint patterns. For professional use, you can spend as much as $1000 or more for hefty and powerful wood lathes.
Motor Power
Also, it will not matter if you are a starter or experienced: easy controls will benefit equally. The control buttons should always be in good reach while functioning for fast changes. Motor power determines what size of wooden pieces can be sustained by the structure. For a smaller sized ⅛, HP or ⅓ HP motor is preferred but when the load increases you will face overheating issues. For turning heavy loads you should buy a lathe with motor power of 1HP or 2HP.
Speed Range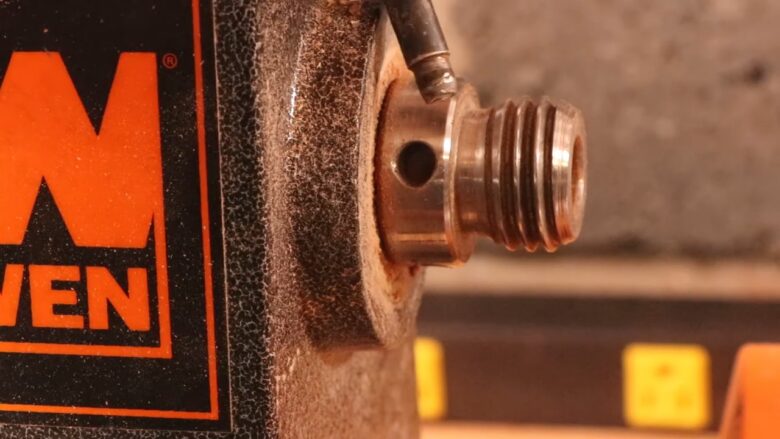 Speed and power work in close coordination with each other. Some wood lathes have fixed speed ranges that may vary from three to ten discrete ranges and others may have electronic speed controllers. You should always choose lathe with a broad speed range. You should keep in mind that the minimum speed should be below 200 or 100rpm. The slower the object will rotate smoother finishing and smoothing can be done.
A mini wood lathe may always integrate bed extensions. For dealing with big spinning materials the wood lathe should have a high swing capacity and wide lathe bed. With some wood lathes, you have to mount a bed extension to increase the size of the bed.
Weight of Wood Lathes
Undoubtedly, heavier wood lathes are more stable and wear-resistant. They have high stability and prevent vibrations. If you don't need to carry out wood lathe at different workspaces then hefty lathes can work effortlessly in your garage or workshop for hours. But they are not mobile. If your work requires traveling then you need to purchase a portable wood lathe.
Locking System
Wood lathes are equipped with locking systems for different components like tailstock, headstock, tool rest, and spindle. These clamping mechanisms support and grip your working piece. Sometimes, these locks may loose because of vibrations. So always make sure locking levers are sturdy and solid. The wood lathe should always be at your elbow height to support your stature. Excessive leaning during work can cause back pain or discomfort in the arm.
Wrapping Up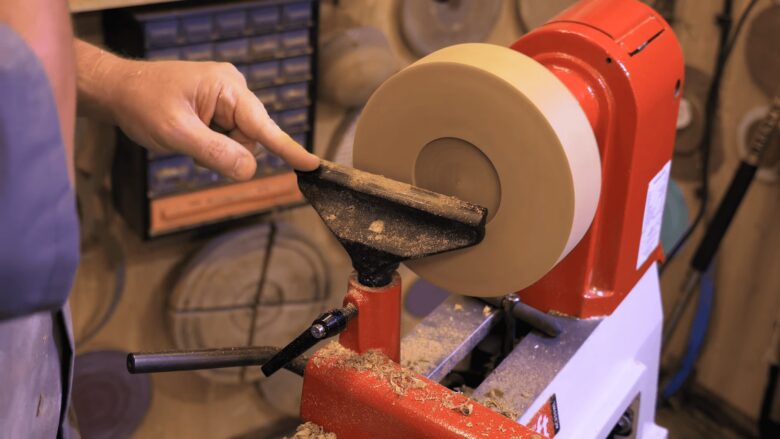 In short, adjustable headstock and tailstock allow you to set the alignment and determine the length of the lathe bed. So moveable components increase the versatility of your work. Another essential feature is safety measures. Nothing comes prior to safety. So, safety switches and circuit breakers can be life saviors.
Take a look at these products from the same price range, that are available right now on Amazon: