Are you looking for BobCNC E3 router review? And you want to buy a woodworking CNC router that flourish your projects without plunging your budget out? So this BobsCNC E3 router engraver kit is your savior.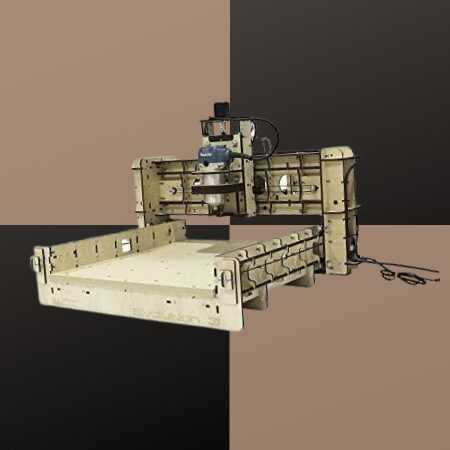 They say that many big companies were invented in small garages; I don't know about big companies, but I know people turn their garages into workshops where they work on wooden projects for money or because it is their hobby.
I turned my garage into a woodworking workshop, and one of the tools that I always wanted to get my hands on was a CNC router and engraver kit. I've heard a lot of praise for Bob's router and engraver kit. And finally, I got one.
This is a review of this two-in-one equipment that I believe every woodwork workshop must have and in the end there are answers to the most frequently asked questions about this product.
So, without further ado, let's have a look at the BobsCNC E3 Router review.
BobsCNC E3 Router Review And Features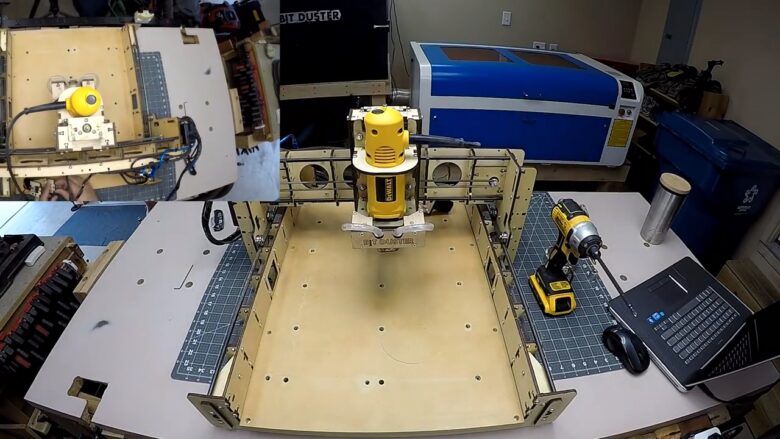 In this section, I will present an in-depth BobsCNC E3 Router review of this product and compare it with similar products from other vendors.
Features
Rigid Laser Cut Frame
You must know that this is a professional tool that is only acquired by woodwork experts or hobbyists. The merch is basically a two-in-one thing; it has got a router which is one of the best computer numerical routers (CNCs) in the market, and it has an engraving kit that can be used to engrave anything on a material.
SG20U Supported Rail System
The cutting head and the router (since it is not a manual router) have to reply on a rail system. BobsCNC E3 CNC router engraver kit comes with SG20 supported rail system. It is one of the best available systems in the market.
GT2 Belt Drive on X and Y-Axis
On X and Y axis of this kit, there is a GT2 belt drive (of course you need a belt drive to make this thing move from one to the other side). GT2 drive is considered best for the job it does because it has a better load-bearing capacity and higher torque when compared with its competitors.
5/16-18 Nut on the Z-Axis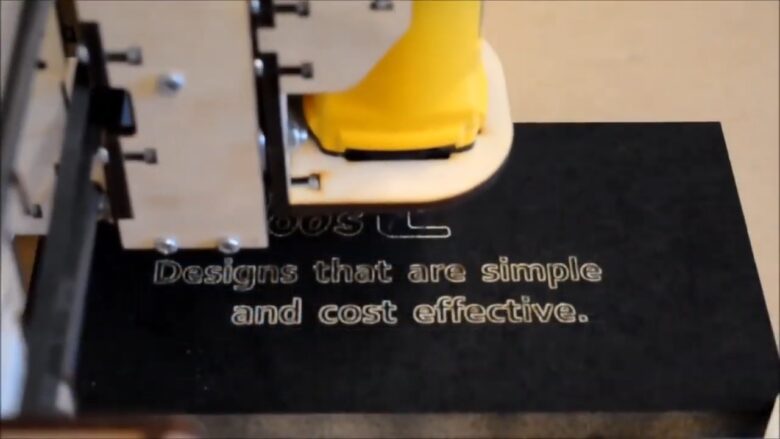 On the Z-Axis, there is a 5/16 to 5/18 brass nut – known for its quality.
Comes with DW660 Router
Now, this part requires some detail because obviously, the router and 5/16-18 nut cannot be considered equal parts of this kit. DW660 router that Bob used in this kit is one of the industry's best routers and I'm going to tell you why.
When it comes to doing the job, the job itself is not everything that matters. It is also important whether you can do that job while saving time, space and/or money. This router is smaller than other CNC routers, thus it can be handled easily.
The other benefit of the DW660 router is that it is more durable than its competitors. You cut through a damp piece of wood with this router without worrying about it catching rust. Another amazing thing about the DW660 router is that it reflects attention to detail; the manufacturers knew that it is a sort of dangerous tool and the user might need to stop it immediately in a case of emergency.
This why there is an emergency bump switch that can turn it off in no time. DW660 is an electronic tool. When it comes to tool likes (for example weed trimmers), power, performance and efficiency are all that matter.
This router had a powerful engine that lets it cut all sorts of materials easily. While in this kit, this router is fit inside frame made for this purpose, and you do not have to lift it, its lightweight makes it super easy to move it with ease and speed.
Arduino-based Microprocessor
This is not your ordinary woodwork tool – this is a BobsCNC E3 CNC router engraver kit that does not only have mechanical parts, but complex electronic parts as well – such as Arduino physically programmable circuit board and downloadable software that you run on your computer and control kit.
You can use USB to connect it with your Windows, Linux, Raspberry Pi and OSX operating systems. The software and manual can be found on Bob's website (www.bobscnc.com).
Lightweight
I know that machines like BobsCNC E3 CNC router are not made to be moved a lot and once they find their space in a workshop, they aren't supposed to be moved a lot, but you know that it can still be moved out of some urgent need. Its lightweight structure (26lbs) and its assembled dimensions: 25" x 25" x 19" make it easier for you to set it up or move it to any place easily. Compared to other CNC machines, not only this weight, but these dimensions also make this CNC kit more portable.
Alright, these cons need to be explained.
Let us first take the complex assembly thing. The problem is not so much with the assembly, more with how things turn out once you assemble it and use it for a few months or years. A few customers reported that due to vibration or movement of the machine (or any other possible reasons, the screw come out falling on the workspace and they do not know where to put them back.
Another problem is that some screws need to be replaced and they fall out from certain parts of the machine, that a human hand cannot reach until they disassemble the entire thing. It is also not easy to tighten those screws that are loose but haven't come out. Why? Because at times those screws are located in hidden parts that cannot be accessed.
The other problem with this machine is also sort of linked with the first problem. A few customers are of the opinion, that this thing is only good for beginner-level CNC. Why? Well, there are a few reasons.
First of all, the screw problem makes it anything but a hard-core use CNC machine, secondly, it is made out of birch extrusion and when you compare birch extrusion with aluminum extrusion, you learn that aluminum one makes better platforms. Thirdly, and lastly, the lightweight of BobsCNC E3 CNC router took a toll on its durability and performance; it is not solid, cuts are not always very accurate and it is more for soft types of wood.
How to Assemble Bobscnc E3 CNC Router?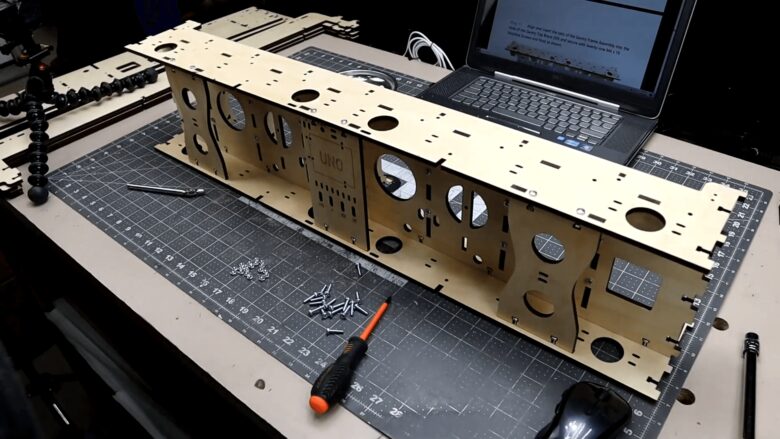 Other than the unfortunate problem of what happens to the screws and bolts after a few years of assembling and using this machine, the assembly itself is very easy and flawless. The instructions manual can be found on the owner's website and if you follow it thoroughly, you should be able to easily assemble this machine.
And yes, in case you haven't figured out so far, you should know that this does not come in assembled shape. You would have to assemble it after receiving the package from Amazon. One benefit of having to assemble this thing on your own is that you would be able to closely examine and work on how CNC machines are made and how they work. This education will help you troubleshoot your machine and develop a better understanding of all future CNC machines that you will use.
However, if you have any problem with assembling the machine or the performance of this BobsCNC E3 router, you can always consult Bob's support team and they are always ready to help you with troubleshooting.
BobsCNC E3 Router Frequently Asked Questions
Here are the most frequently asked questions about this machine and the answers to those questions.
How does it connect to the computer?
The Arduino microprocessor is the bridge between this machine and your computer. The grbl firmware, preinstalled on the microprocessor, uses the USB port to receive information from the software on your computer. The software can be acquired from Bob's website that I've mentioned before.
What bits are recommended to use with this machine?
This router comes with 1/8" and 1/4″ spindle bits. You can use any straight. vee and rounded bits or buy them from Amazon as long as have shaft sizes of 1/8" or 1/4″. While picking your bits, you should know whether they are for the kind of material that you intend to use.
How thick wood can be processed at this machine?
This machine has a fixed height from the workspace. That height is 3.3". You should be able to make a cut from 1.2" to 2.25". However, with tool changes, you can increase the depth of the cuts.
What the smallest item that one can engrave on with this router?
The X and Y-axis of this machine can be brought closer to as narrow as 0.001". Thus, the smallest thing that you can easily engrave on should be something like a stick or a pen.