Have you ever stared in rapt attention to custom-made furniture or any kind of woodcraft that elicits the feeling of "wow" in you? Well, for me, Wood art makes me nostalgic. Wood carving is such a fantastic skill, and there are plenty of tools that ease the process of mastering this skill, and the Router table is a must to have if you want to perfect your dadoes and rabbets and want to achieve perfect precession edges.
As the internet is like the wild west, there are no rules and authenticity of the source of information; most of the time, the question remained unanswered, which is the best router table? Either it is a solid top or a flat top? Either it should have a rigid base plate or a stable base plate? As it is not feasible for anyone to buy many router tables for every wood router, so we list down the able ones which can fit almost every wood Router.
| Name | Dimension | Weight | Price |
| --- | --- | --- | --- |
| Bosch RA1181 Benchtop | 22.8 x 18 x 14.5 inches | 34.4 pounds | |
| Woodhaven 6000 Horizontal Router Table | 26.8 x 22.8 x 5.1 inches | 43.2 pounds | |
| Bosch RA1171 Cabinet Style | 4.8 x 27 x 24.2 inches | 45.2 pounds | |
| Skil RAS900 | 28.1 x 18 x 9.4 inches | 32 pounds | |
| Porter-Cable 698 Bench Top | 20 x 30.5 x 10 inches | 37 pounds | |
| Kreg PRS2100 Bench Top | 19.2 x 30 x 4.8 inches | 28.4 pounds | |
| Benchtop Router Table | 19.2 x 30 x 4.8 inches | 28.4 pounds | |
| Goplus New Electric Aluminum Router Table | 20 x 30.5 x 10 inches | 32 pounds | |
| Ryobi Universal Router Table-A25RT03 | 20 x 24 x 25 inches | 36.1 Pounds | |
| Grizzly Industrial T1240 - Router Table | 30 x 19.6 x 4.2 inches | 30.6 pounds | |
List of Best Router Tables 2023
1. Bosch Benchtop Router Table RA1181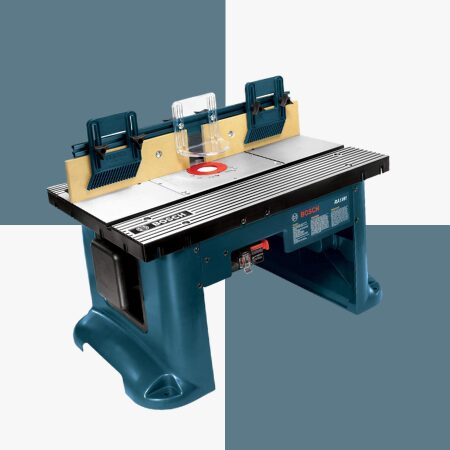 The bosch Benchtop is the ultimate table in terms of style and versatility. The stand out feature of this table is its compatibility with almost all the routers out there as it comes with special fitting and standard pre-drilled mounting inserts.
It has an ample work surface and has 4-7/8″ x 25-1/8″ fence that is entirely made of die-cast aluminum which makes it sturdy and durable also it has a maximum opening of 3-5/8″ that is very beneficial when you are working on an inconsistent insert.
Additionally, it has 2-1/2″ dust port, and this means that it can suck a lot of air, and you can have your benchtop cleaned most of the time.
Another noticeable feature is the availability of two adjustable feather boards that you can adjust based on the size, shape, and thickness of your boards, moreover, it also comes handy during kickbacks,
For power connection, it has a 6ft long power cord; furthermore, it has a dual outlet switch for plugging another tool in the table. Last but not least, it comes with 1 year of Bosch Warranty, which gives the best protection through a 15-amp sturdy outlet switch.
Pros
Flatwork surface provider
Three different mounting plates insert rings
Adjustable feather boards
The aluminum fence features adjustable MDF face plates strong support
Attaches to most workbenches
Cons
Plastic legs not suitable for precision cuts
The miter gauge is not included, has to be purchased separately
Fence adjustment on metal rail is a little bit tricky
You May Also Interested:
Best Compact Router to Buy – Do Not Buy Before Reading This
2. Kreg PRS1045 Precision Router Table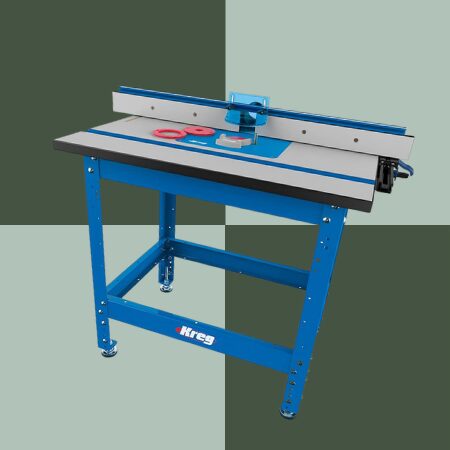 Kreg wasn't fooling around when they branded this Table for the "Professionals" due to its accuracy and durability. The stand out feature in this model is that you never have to use a tape for cuts while routing as it has Precision Lens cursor for accurate measurements; also, the tabletop is made from laminated coated MDF board with aluminum T-slot for easy slide of wood.
It has an Adjustable steel stand in height from 29 to 35 inches (736 mm – 889 mm) for routing as per anyone's need. For working space, it has 24 by 32 tabletop, which is sufficient space, and it weighed over 78 pounds. For sawdust mess, there is an outfeed point for you to attach a vacuum with.
The T-style fence adjusts easily as it has dual locks that micro-adjust the fence for making the accurate cut, and the quarter-turn locks allow the fence to be removed easily for freehand routing activities.
What keeps this model second on the list is due to its high price and its inconsistent inserts; mostly inserts are accurately leveled though small numbers warp in either direction, but those can be interchanged.
Pros
Precision Lens Cursor for accurate measurements
Laminated coated MDF board for noise and vibration resistant
Adjustable steel stand in case of height adjustment
Outfeed point to attach a vacuum for sawdust mess
Micro Adjust Aluminum Fence for freehand routing
Cons
Inconsistent inserts warp in either direction
An undoubtedly expensive table
Not well versed for beginners or intermediate woodworkers or carpenters
3. Bosch RA1171 Cabinet Style Router Table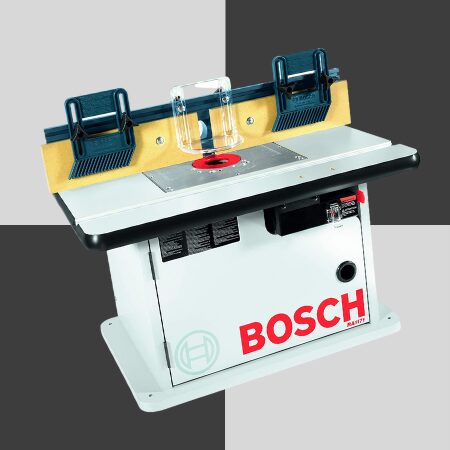 The bosch product line has revolutionized the Tools and home improvement industry. The stylish look and performance are all quite amazing. This table gives value for money as its ideal for intermediate and hobbyist woodworkers. This cabinet style table comes with a stand also serves you with the excellent storage option for other tools to be kept while working.
Well, the compatibility and additional accessories are second-to-none in the industry as you won't find many add-ons in almost any other product. A mounting plate made from aluminum has holes drilled across the table to accommodate different routers; you won't face any difficulty while mounting the router.
It has two adjustable feather boards for customization of a variety of wood pieces as per need; also, the fence of the table is flexible, which helps in making operations smoother, and MDF faceplates are useful for support too.
Pros
A great option for storage due to its cabinet style
Adjusting Aluminum Fence for smooth routing
Rigid Aluminum mounting plate for router adjustment
Affordable price points for intermediate or hobbyist woodworkers
Cons
Not technically advanced for professional woodworkers
Router plate not leveled with the top, which makes a slight difference while cuts
4. Bench Dog 40-001 Router Table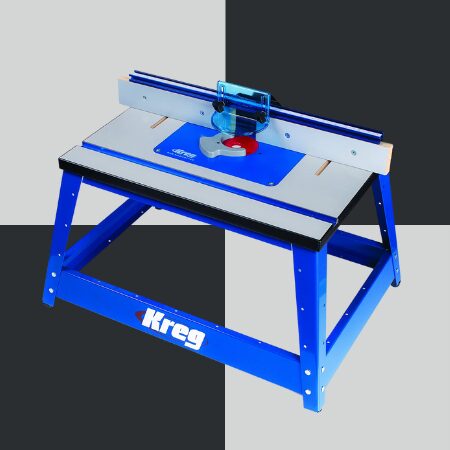 None other product in the list gives you the limited lifetime warranty on some parts except Bench Dog which is matchless, the table is very much sturdy however it comes fourth on our list is due to its compatibility issues as its hole sizes and rockler plates don't fit with all table saws so make sure before purchasing that it fits with yours.
It has an additional miter slot to the left of your saw table great for crosscut sled use; also, it has an additional T-sot of storage of other accessories.
Furthermore, it has a dual fence slot to rotate the fence work from the other side, too; its pro-fence is 28 Inch heavy-duty aluminum frame fully machined with front and bottom surfaces equipped with 2-1/2-Inch diameter dust collection port.
Pros
Limited Lifetime warranty of some parts
Its mounting holes lined up perfectly with the three holes in the Powermatic
The table flatness is outstanding
Adjustable width fence and locks in place
Perfect for small workshops
Worked perfectly for most old craftsman table saw
Cons
Supermassive around 60 pounds to mount by yourself
The router mounting plate is not included and has to buy separately
5. Skil RAS900 Router Table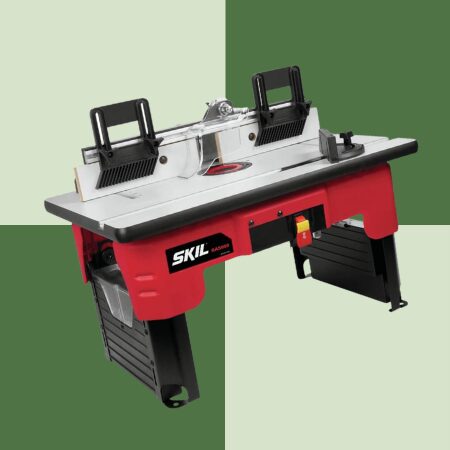 This is the best product for novice and intermediate woodworkers in terms of price, durability, and performance. It has a unique foldable design and foldable legs, which makes it easy to carry it anywhere.
This table has ample working space for novices, storage containers for other accessories, and also has a dust port for collection of sawdust also has a quick clamp system for making rapid changes and easy access.
Another great feature of this table is that it is pre-assembled as you open it from the box; it's ready to use, which is time-saving and great for novice woodworkers as assembling the product is another headache to deal with.
Performance-wise it has a starter pin and adjustable fence, which able to makes circular cuts so easily also it has two feather boards, which helps in directing the wood around the table.
Pros
Value for money in terms of pricing as it's budget-friendly
Already pre-assembled, which is an excellent feature if you are just starting out woodworking
Quality clamp system and feather boards
Foldable design for smooth movement of it
Height gauge feature for helping in leveling the woodcut accurately and does not need of deep cutting
Factors to Consider Before Buying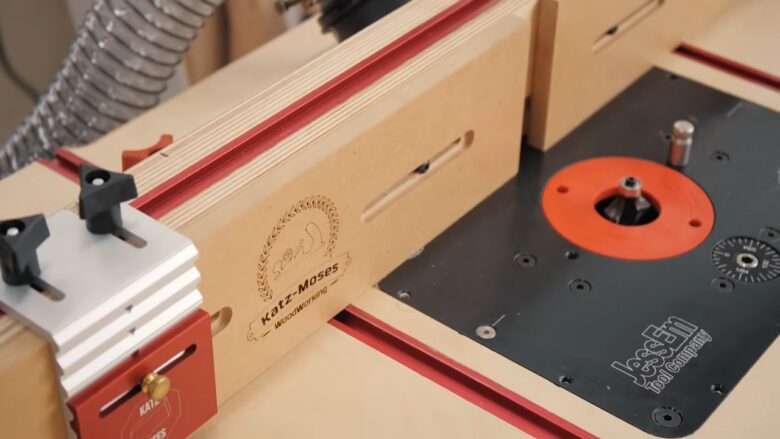 After going through an individually in-depth review of the best routing tables in the market, their features, their performance, their durability, and so on. So now, let's dig deep into the factors to consider before making the purchase, which may impact your decision in buying the specific product as you need.
Top Surface
 The surface is the top priority, as it's an essential aspect of choosing the ideal router table. The more the surface will be flat and firm, the better it is.
The best material used for the surface in tables is cast iron as they are more durable and have few problems with warping as they are tending to use for professionals and are heavier in terms of weight and cost, too, as compared to others.
After cast iron, the next best surface for the router table in terms of quality is of aluminum, which is much lighter than cast iron. Aluminum is scratchier and can be moved around easily, but it does not look pristine forever.
Easily-Adjustable Fence
After evaluating the top surface, the next thing to consider is the easily adjustable fence as the size of the fence determines the length and width of the board you can use on it, so it's crucial to have an adjustable fence to accommodate larger boards.
As most companies in apparent cost-cutting measures include low-quality fences in the table as they are not straight and adjustable as they need to be while making your cut is the main issue in fences these days.
But there is a solution for that is to buy the quality one separately as they are not costly ones or you can custom-made as per your need which most of the woodworkers do.
Sturdy Base and Base Plate
Well, as each router table is different in features and design. Some are for an extension to workbenches, other fits on the top of the surface and have their own support system. If you already have a workbench in your workshop, then it's not feasible and a good option to buy a router table withstand, but any of those cases the sturdy base is the key.
The base plate is essential as it sits in the table and holds the router to his exact position. So if the base plate is bent or wrapped, it will not go wiz-to-wiz with the table and deteriorate the precision edges and cuts you want to make.
High-end models feature a turntable spring system that is adjustable and can be leveled up without removing the base plate, though most models feature washers and shims that you add and remove to level the base plate.
A Decent Dust Collector
For health concerns, it's essential to choose the product having decent dust collection system as there is a lot of sawdust due to router cuts and chips its necessary to have a proper dust collection system in place as many of peoples are allergic to the dust its primary factor to consider while making a purchase.
Miter Gauge
Miter gauge slot grooved into the top of the table. Further, it consists of a pivoting fence and a long rod, which are much similar to the protractor. The miter gauge is an essential tool to maintain angle while cutting. The miter gauge is adjustable and has stops at +45, -45, 90 degrees. It also has a scale pitch of 5-degrees, which helps in measuring the accurate angle.
Table Guard
For Safety concerns, a table guard is an essential part to determine. The table guard is a plastic cover that goes directly over the router bit. This guard is to prevent your hand from getting much closer to the cutter.
As safety is the primary necessity, it's crucial to check that the guard in a table is a qualitative one. If you are residing in the USA, Canada, or EU, then this safety feature will be there in all the tables selling in these countries as it has to comply with manufacturing standards nut you need to investigate a little further to double-check.
Buyers' Frequently Asked Questions:
Following are the buyer's frequently asked questions, and these are their answers which are listed below:
Q: What are the different types of router tables?
Usually, the router tables come in three types, which include the benchtop, floor-standing, and extension router table. There are a variety of options for the router tables depending upon which may fit your needs.
Q: Which router table is best for beginners?
Skil RAS900 Router Table Skil RAS900 Router Table is the best product for beginners in our opinion as its already pre-assembled and have a foldable design and much light weightier than others also it has two feather boards for safety purpose too.
Q: Which are the factors that may affect the lifespan of a router table?
Well, there are many factors included, but overusing and non-maintenance of the table are on the top of the list. On the other hand, the top of the table must be able to tolerate maximum pressure that may apply during working, low quality in terms of material of the surface, and base plates are the adverse factors that affect the lifespan of the table.
Q: Which router table is best and ideal for Professional Woodworkers?
Kreg PRS1045 Precision Router Table best product for professionals, in our opinion, due to its performance and durability. It has a cast-iron surface and has few problems with warping, and its body is made of steel and not plastic, also it has a Vibration-Reducing MDF Core 24" x 32" Surface Area.
Wrapping Up
When it comes to spending a lot of bells and rings scales up in mind like which product to buy? Is it the right one? And many more these are the consensus, and after this review and guide now, you can choose the best router table as per your need. But what we recommend is to select Kregg for professional if you are making a living as a woodworker. But if you are on a budget and intermediate, we recommend buying Bosch Benchtop Router Table RA1181. Well, the other products are great too, and each product has its features and specifications, and every buyer has a different shopping approach, so it's up to the buyer to choose the right one.
Take a look at these products from the same price range, that are available right now on Amazon: