In this era of mechanization and industrialization, it has become increasingly difficult to perform supreme quality cutting, drilling, carving and machining activities manually with utmost precision. The difficulty in addressing bulk orders, lack of time and lack of efficiency have led to the wide-scale replacement of manual activities of this niche with CNC routers.
This article attempts a back-to-the-front review of the best 4 x 8 CNC routers in 2023. While the market is flooded with a plethora of CNC routers, it is pretty confusing to choose the router you require. There was a time when such CNC routers were tailor-made for large-scale business enterprises but currently, there are CNC routers custom-made for midsize enterprises, small-scale businesses and even household craftwork.
Choosing the best CNC router depends on a myriad of features like the work speed, table material, etc. and many customers are interested in the warranty period and technical assistance offered by the vendor. The cost matters too! While many routers come at a very high price level, some come at a comparatively cheaper price.
Top 4×8 CNC Routers
Finally, the article is concluded by drawing a comparison table showcasing some must-know features of each router.
1. ShopBot PRSalpha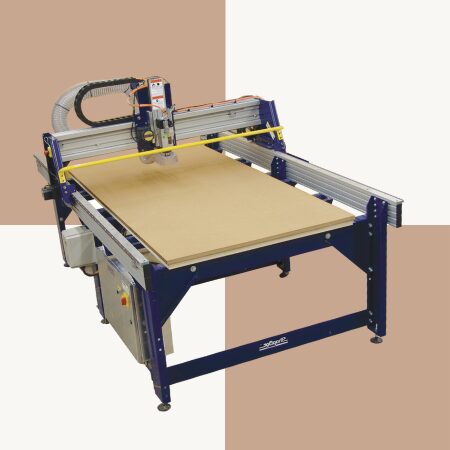 Being highly refined, work-efficient and gantry-based, the ShopBot PRSalpha is one of the best 4 x 8 CNC Routers in the year 2023. The router uses the latest technology for machining, drilling, carving and most importantly, CNC cutting.
The router is highly venerated for its rapid cutting speed of over 600 inches per minute and lightning transit speeds that range over 1,800 inches per minute. Moreover, the router ensures the perfect performance in the digital fabrication of aluminum, plastic, wood, etc. inter alia.
Features
Presence of tapered hob gear heads on X, Y and Z axes with two on the X-axis
Monitor motor shaft positions ensuring parity between motion and signal given
Hardened steel rails embedded along the X-axis
Formidable power transmission along the X, Y and Z axes
Cutting speed- 600 inches per minute
Rapid transit speed- 1,800 inches per minute
Step resolution- 0.0004 inches
The positional accuracy of +/- 0.002 inches
UL certified control box
Emergency stop system
Dust collector to collect the residues of cutting activity
Can be separated into four separate modules- ensures mobility and portability
ShopBot provides free technical assistance along with a user forum
An impressive warranty period of two years
2. ShopBot PRSstandard
ShopBot PRSstandard is venerated primarily for its cost-efficiency. Being a highly precise, gantry-based, performance-optimized, efficient and sturdy router, the router offers you twice the working area than any other router that you may get in this price range.
The router can be effectively used for carving, machining, drilling and CNC cutting. This router is a perfect fit for smaller enterprises that aspire for CNC productivity but does not require highly sophisticated features and refined cutting and rapid transit speeds.
The router comes with a rapid transit speed of 500 inches per minute and a cutting speed of 600 inches per minute. This range is highly suitable for a mid-size beginner-level enterprise that has just ventured into the realm of CNS productivity.
Features
Highly precise linear bearings on the moving gantry
Hardened steel rails along the X-axis
Sophisticated power transmission along X, Y and Z axes
UL certified control box
Emergency stop feature that ensures sudden boot-off during technical emergencies
Software developed by ShopBot to run the CNC
Dust collector
Can be separated into four separate modules- ensures mobility and portability
ShopBot provides free technical assistance along with a user forum
An impressive warranty period of two years
3. SKETCHNBUILD SNB-C2 PRO KRAFT SERIES 3-axis CNC Router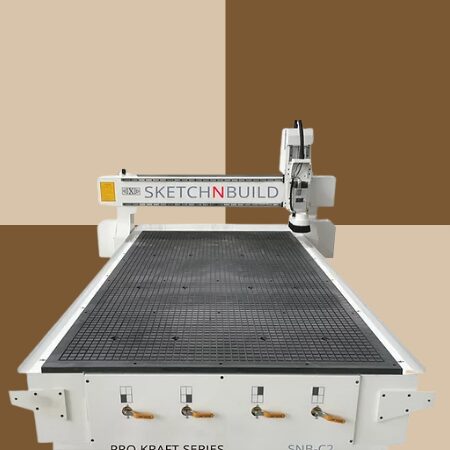 The SKETCHNBUILD router is a highly sophisticated, power-driven and highly efficient CNC router that is backed by a working area of 4 x 8 inches and a vacuum pump of ten horsepower. The router is earmarked for every type of CNC activity ranging from cutting kitchen cabinets and routing artwork. Also, this router can also produce desirable results in carving, machining and drilling.
The router is committed to enhancing the overall productivity of your business activity and ensures that the work is done with utmost precision using the least manpower. The router will be your perfect companion that will ensure ease in doing business and will reduce the overall cost of production.
Also, you can effectively employ this router on any kind of material ranging from wood, aluminum and plastics. Just give a spark to your growing business with this router and your production line will never stop!
Features
Powerful stepper motor
Vacuum pump of ten horsepower
The inverter of seven horsepowers
Positioning accuracy of +/- 0.005 inches per twelve inches
Rapid transit speed up to 25,000 Revolutions per minute (RPM)
Working speed up to 20,000 Revolutions per minute (RPM)
Software used- NC Studio Controller
Emergency stop feature
4. CAMaster Cobra Elite CNC Router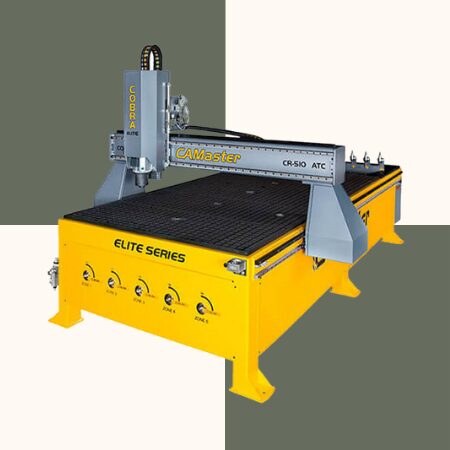 The Cobra Elite CNC Router is the epitome of industrial-strength, durability, flexibility and precision. The router is highly flexible and is a perfect fit and a premium option for every sort of business. May it is a bulk production house or an edifice of small craft production, the Cobra Elite CNC Router will be your faithful companion.
It is worth noting that the Cobra router is available in five table sizes among which one is 4 x 8 inches. Moreover, CAMaster entertains requests for custom table size that suits your preferences and requirements.
The router is devised out of sophisticated heavy-duty steel that makes it rigid and ensures vibration-free machining. The helical rack and pinion drive system enable smooth running, highly refined acceleration and impressive accuracy.
The router is embedded with Servo motors on X, Y and Z axes supplemented by high-quality planetary gearboxes that ensure powerful and speedy performance.
Features
12 HP HSD spindle
Durable and rigid all-steel frame
25 mm precision rails and bearings
Cutting speed up to 1,500 IPM
Rapid transit speed up to 2500 IPM
Vacuum tables
Vacuum pod systems
Drills banks
Automatic tool change
Extended gantry heights
Aggregate heads
Two-year warranty
Lifetime technical support
Excellent customer service by CAMaster
5. Axiom Precision AutoRoute Elite CNC router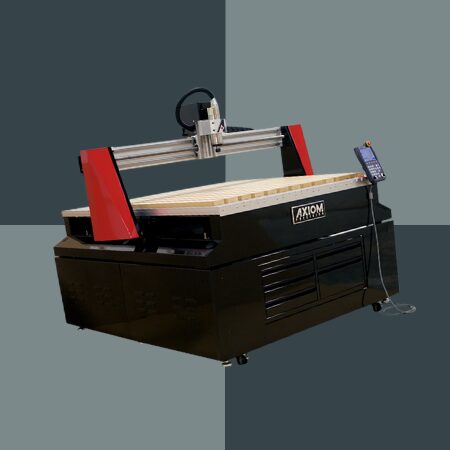 The Axiom Precision AutoRoute Elite CNC router is a crème de la crème 4 x 8 inches CNC router that is the best representative of the industrial might and sophisticated technology. The gantry-based CNC router comes with an impressive speed and precision that has been hitherto available only in Servo machines.
The router can cut at a speed of up to 320 IPM supplemented by the repeatability of 0.05mm. The router is backed by an 8-inch Z-axis travel capacity and a sturdy electro spindle of three horsepowers with an embedded liquid cooling mechanism.
The most glamorous feature of this router is that you needn't attach the router to your system to operate it. You can just utilize the USB storage device for the transfer of your file. The controller is venerated for its power, durability and ease of use.
Features
Precision ball screws
Powerful steel frame
Interlocking aluminum workboard
Integrated onboard cooling
Integrated MDF spoil boards for precision
Rapid transit speed of 320 IPM
Gantry bridge devised out of premium quality, high rigidity aluminium extrusion
6. CAMaster Stinger III 4' x 8' CNC Router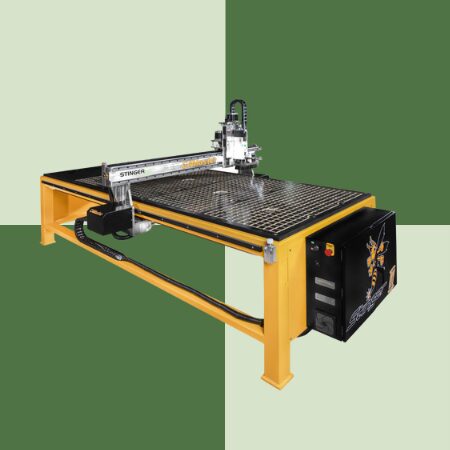 The CAMaster Stinger III CNC router is the most reasonable choice for small business enterprises and household industries aspiring to cut full-size sheets with utmost precision and limited manual interference.
The router is devised of a sturdy heavy-duty steel frame that facilitates vibration-free machining activity supplemented by a helical rack and pinion drive system that ensures smooth running, sophisticated dimensional accuracy and high acceleration.
Moreover, digital steppers are embedded on X, Y and Z axes supplemented by planetary gearboxes that ensure highly precise performance and accurate cuts.
Features
Welded steel frame with precision bearings
Hardened steel rails on X, Y and Z axes
Control PC that runs in Windows 10 PRO
19 inch LED control monitor
Limit switches embedded in all axes
Free technical assistance for the lifespan of the machine
Free remote support technician  for the lifespan of the machine
Cutting speed up to 500 IPM
Rapid transit speed up to 1,000 IPM
7. DMS Freedom 4 x 8 CNC Router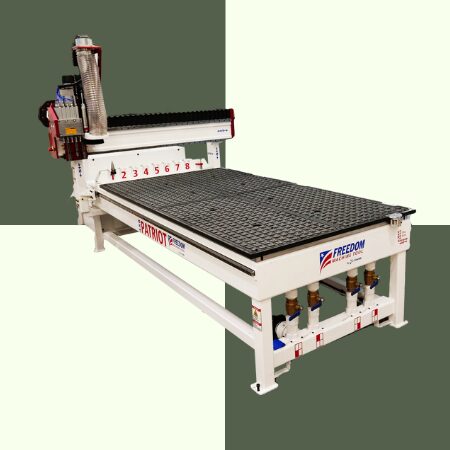 In contrast to the other routers that aids in higher established business production, the DMS Freedom 4 x 8 CNC Router is earmarked for serving a growing business and is a perfect choice for an extension to your home-based business.
The router can be used for processing hardwood, thin aluminum sheet cutting, incision of 3D patterns inter alia. Furthermore, the router can be used for working in plastics, acrylic, wood, composites, foam, leather and aluminum among others.
This router is earmarked for small businesses in a plethora of fields including manufacturing, medical, sign making, energy, automotive, woodworking, plastics, acrylics, marine and orthotics among many others.
The router also comes with top-notch technical support and DMS provides professional installation and imparts training for using the router. The router is supplemented by a limited warranty period of one year and provides basic support over the phone. Warranty for specific parts is also available.
Features
Controller with a seventeen-inch LCD colour monitor
Gantry based
Powerful, rigid and durable steel frame
AC Servo motors are embedded on all the axes
Amplifiers embedded on all axes
Ball screw is present along all the axes
Phenolic table
Five, ten or fifteen horsepower vacuum pump
Standard electro spindles of 10 horsepower
Rapid transit speeds up to 1,400 inches per minute
8. StyleCNC STG1224 CNC router table 4 x 8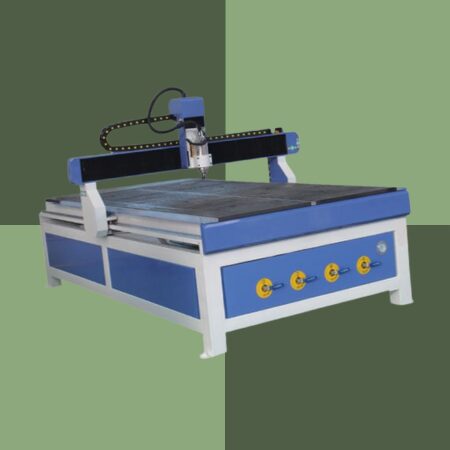 StyleCNC 4 x 8 CNC router is venerated for its cost-efficiency along with its flexibility, durability and strength. The router can be administered for a myriad of activities viz. Cabinet making, sign making, activities in wood and plastic, furniture and decorations.
The router comes with an integral cast iron frame that confers great strength and durability. The DSP handles controlling system enables one computer to control several types of equipment. The product is also backed by a vacuum table that has the ability to automatically absorb the materials via a powerful vacuum pump.
The router is the best fit for the advertising industry for working in business signs, business logos, display panels, emblems, badges, furniture and jewelry carving among other particulars. Also, the router can also be used in the woodworking industry and for performing various activities pertaining to portraits, seal carving, calligraphy, landscapes, and other related works.
Read Also: Best Router Tables
Features
Hiwin linear guide with intense precision
Highly accurate rolling ball screw
DSP handle control
Compatible with TYPE3, Casmate, Artcut, Artcam inter alia
Vacuum pump
Welding steel frame
Cast iron structure
Cutting speed up to 6000 mm per minute
Rapid transit rate up to 8000 mm per minute
2.2kW water cooling spindle
G code command language
USB interface
Buyer's guide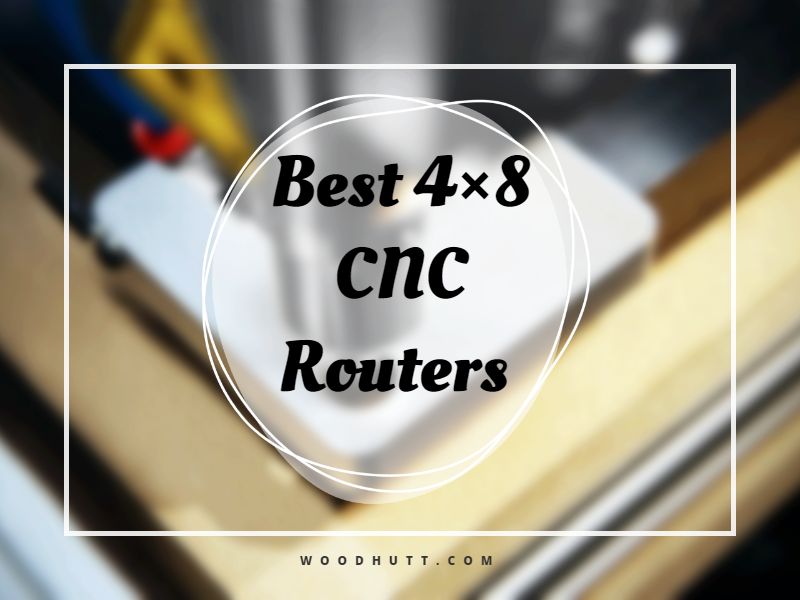 As mentioned above, it is not very easy to opt for a CNC router without a thorough analysis of the available alternatives. Moreover, you've to keep some cardinal factors in mind before making a final choice. This buyer's guide will brief you on the same and will aid you in your final decision.
Capacity and Power
The working capacity of the CNC router that you're going to buy is of utmost importance as the capacity of the router will shape your requirements. In simpler terms, if you're going to purchase a router for a small enterprise, you needn't require the routers that are earmarked for gigantic enterprises.
Also, the capacity of the motors embedded along the axes shall condition the materials on which you're intending to work. You may require motors of high capacity if you're planning to work on harder metals in contrast to wood or plastic.
Spindle
Spindles are the heart and soul of a CNC router. It aids in engraving along the surfaces of a material. The horsepower of the spindle shall condition the materials on which you're planning to engrave on. That is, if you're engraving on heavy metals, you need a spindle of more horsepower.
Moreover, the type of cooling system in the spindle is worth considering. There are air and water cooling systems and you're supposed to opt for any one of them according to your requirements and your intended project.
Built-in accessories
Having the accessories in sync with the work that you're going to undertake is crucial for ensuring cost efficiency. For instance, you'll require a built-in automatic tool changer if you aspire to work on projects that require you to use many tools simultaneously. Also, vacuum pods come into the limelight for woodwork and furniture. Also, the dust collection mechanism is equally important.
Material
The materials out of which the router is devised determine the strength and durability of the same. While some are made using Aluminium, some are devised out of steel. However, among other options available, the routers devised out of steel is desirable. It ensures vibration-free working and enhanced capacity and durability.
Software
Ensure that the CAD/CDM software that is recommended for a router is compatible with the device you're comfortable with. That is, some routers may have a recommended CAD/CDM software that is compliant with Linux whereas you're comfortable with Windows. Hence, software compatibility is a crucial factor that shall determine your choice.
Warranty
Some routers come with a warranty of two years whereas some come with a limited warranty period of one year. Buying a router is indeed a heavy investment and always look out for the routers that offer a decent warranty period. Also, some routers offer a warranty on specific accessories and are worth considering.
Support
Confronting certain difficulties while working with the router is common. Sometimes, you may also require technical assistance pertaining to the router. Therefore, customer service and technical assistance is also crucial factor that has to be kept in mind before buying a router.
Conclusion
In toto,  your quest to find the best 4 x 8 CNC routers that suit your preferences and requirements ends here. The article attempted a basic review of each router, showcasing the benefits and must-know features of each of them. However, as a rational consumer, your final choice shall be nurtured and conditioned by your aspirations, requirements and individual preferences. Cost, brand value and warranty period matter too!
FAQs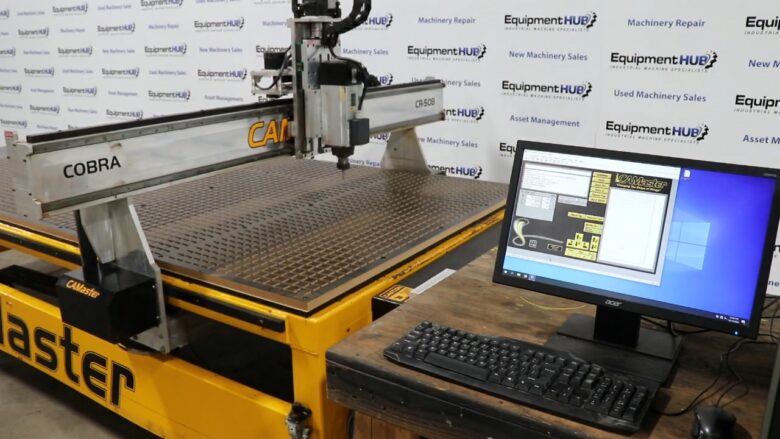 I want to buy a CNC router for my small-scale household production. Will it be a false move?
Absolutely not! Even though these routers were only available for large enterprises, routers with lower capacity and lower cutting and transit rates are available at a reasonable price to cater to the needs of small and growing production activities.
Will a water-cooled spindle or an air-cooled spindle be suitable for me?
The water circulation cools down the spindle in case of a water-cooled spindle and it is relatively more accurate, noise-free and durable. However, if you're living in areas where natural conditions don't favor water-based cooling, an air-cooled spindle is a more reasonable choice. For instance, in the far North where water pipes get frozen in winters, the users find it difficult to operate water-cooled spindles.
Is maintaining a CNC router a herculean task?
Absolutely not! CNC routers are easy to maintain if you keep some general guidelines in mind. Firstly, regular cleaning shall be done and power controls shall be inspected daily. Secondly, vacuum pumps need to be replaced regularly. Thirdly, pumps, bearings and oscillating pumps shall be lubricated regularly and finally, the backlash on every axis shall be adjusted regularly along with regular cleaning of fourth and fifth axis gear assemblies.
Am I supposed to learn programming to operate a CNC router?
No, it's not required. All CNC routers have recommended software that enables you to design and edit your work with ease.
What are some software programs that a CNC router is compatible with?
Some of the most common software programs include EnRoute, Mozaik, Cabinet Vision, Vectric VCarve, Vectric Aspire and Rhino inter alia.
Take a look at these products from the same price range, that are available right now on Amazon: