Almost every beautifully renovated house has a door with beautiful designs that mesmerize us. They add a hint of sophistication to the aesthetic of a home and are designed to best suit the family residing behind it. These magnificent designs are brought to life using wood routers.
Whether you are a beginner, an experienced professional, or just looking to try out something new, we have curated a list to make things easier for you. To keep you informed and avoid the paradox of choice, we have listed down five of the best wood routers for household construction available in 2023.
Top  Wood Routers For Household Construction
1. Bosch GKF123CEN Colt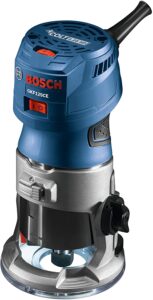 The Bosch GKF123CEN Colt is built to ensure convenience and is a small and robust palm router, which is easy to use. It provides tremendous comfort and also, reduces the risks of mishaps with its promising grip and finger pockets, which are present for support.
To ensure beautiful woodwork, it also facilitates convenient and accurate depth adjustment. It also has the power of 1.25Hp and a 7.0 amp motor. This promise speeds as high as 16,000 to 35,000 RPM. It is also perfect for beginners as it does half the task of monitoring and maintaining the set speed to ensure consistent performance. It also provides overload protection.
Features:
The Bosch GKF125CEN Colt weighs 4.4 pounds, with dimensions of 4.13" x 4.13" x 8.25".
It carries a voltage of 120 Volts.
It involves wide-bit capacity, which means that the base holds the ability to work with bits of width 1-5/16 inches.
2. DEWALT Router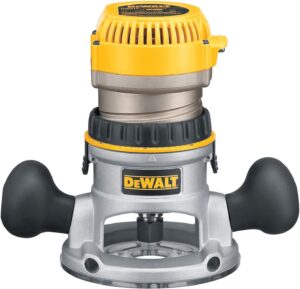 This powerful, corded device is perfect for use on the toughest of hardwoods and can help in producing quite difficult designs. With an 11-amp motor, it can cut through and along the toughest of wood smoothly. It assists with a provision of precision in-depth adjustments and works in increments of 1/64". Its quick-release motor latch facilitates the removal of the motor pack and the change of bases with ease.
The DEWALT wood router stands out because of its rubber handles which provide comfort, coordination, and control. It also has switches that provide the option to shuffle the tool between both your hands. It proves to be one of the perfect tools available in the market for professionals who want to deal with heavy-duty projects and are meticulous.
In addition to this, another plus point is that the tool itself can be detached from the power cord. This makes storage easier and prevents damage that might be inflicted upon the cord due to over-flexing.
Features:
This tool weighs 6.23 pounds with dimensions 10.75 x 9.25 x 7.25.
It comes with a limited warranty of three years. This covers defects caused by workmanship or faulty materials.
It is available in the color yellow.
3. Makita RT0701C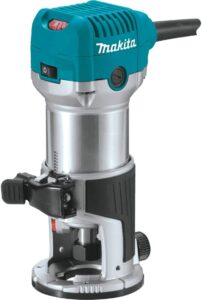 The Makita RT0701C is an ergonomically designed tool that is incredibly compact, comfortable and enables the user of the tool to align speed with the application. This tool, too, provides ease of depth adjustment as well as base removal or installation.
It allows smooth startups and also assists the user by keeping the speed of functioning stable, hence, ensuring consistency under load. Furthermore, it carries the power of 1-1/4 HP. It is perfect for you, in case you are looking for precision with medium power and versatility. Setting up this compact router also proves to be effortless and quick.
Features:
The tool weighs 3.9 pounds, with dimensions measuring 10 x 8 x 6 inches.
This tool comes with a warranty of 1 year and a satisfaction guarantee of 30 days, which are subject to certain terms and conditions.
It has a heavy-duty motor which ensures increased durability.
Easy and quick to detach and install bases.
Quick and effortless bit changes can be made with the help of the shaft lock.
4. SKIL 10 Amp Fixed Base Corded Router
If you are looking for precision and control right from the beginning till the end of your project, this may be the option to go for. This tool lets you have a well-controlled (and also safe) beginning to your project and also gives you control over the speed based on the material.
This would be perfect for someone with adequate experience. This corded tool also has an indicator, which poses as an alert and lights up whenever the tool is connected and has a power source. This is great for safety.
It has settings for adjustments of micro-depth and is quite powerful with 10 amp and 2.0 horsepower. Also, it comes with both fixed, as well as plunge bases. Setting it up is quick and effortless and it is quite convenient to remove and install the bases as well.
Features:
The SKIL 10 Amp Fixed Base Corded Router weighs 10.28 pounds with dimensions 10.2 x 9.4 x 8.6 inches.
Ergonomic and durable design.
It includes a Collet Wrench, ¼ inch and ½ inch Collet, Dust Extraction Adaptor, and also a Parallel Guide.
The tool comes with a warranty valid for 1 year.
 It has a vacuum port that is built-in and that is useful for alternate dust extraction.
5. Bosch Router Tool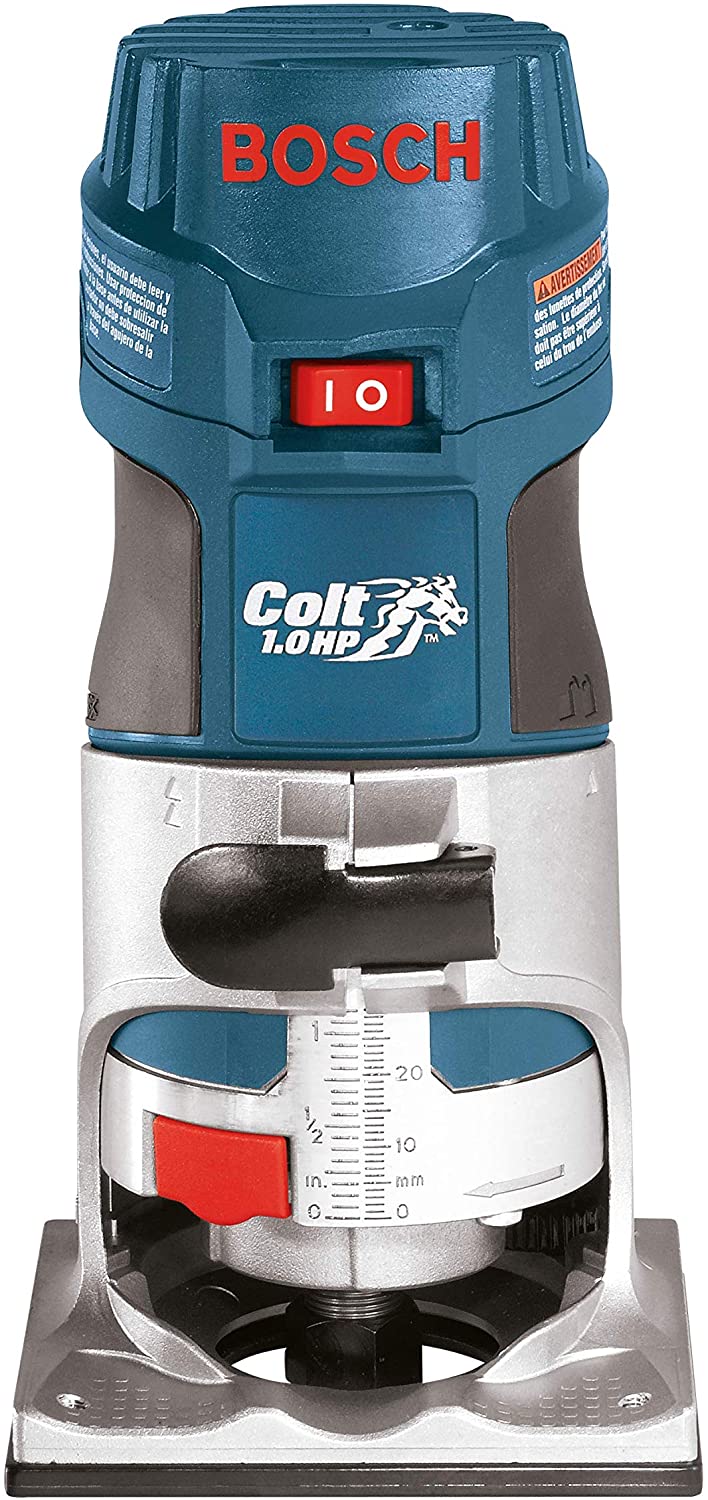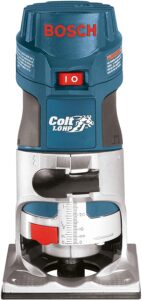 This wood router is another variable speed compact router with the power of 1.0 Hp and accepts a current of 5.6 amp with speeds that range from 16,000 up to 35,000 RPM. This corded device proves quite convenient to use and there is also a provision in the form of an angled cord to ensure that the cord does not bother the user while working.
The design of the router is long-lasting, rigid, and accurate. It also provides convenient finger pockets to help attain additional stability, which is especially needed while trimming edges of furniture to create beautiful masterpieces.
The system is installed to ensure the best depth adjustment is fast, accurate and the clamp can be adjusted and shifted between bases with ease.
Features:
The tool weighs 3.3 pounds with dimensions measuring 9.41" x 7.43" x 4.7".
It has an adaptable bit-changing system.
It has a provision to maintain speed as required, under load.
It can detect heavy loads and accordingly, increase power to keep up with the selected RPM
Buyer's Guide To Buying The Best Wood Routers For Household Constructions
There are a few things one must think through before one decides on which wood router they would like to purchase. To help you make the right decision, we advise you to analyze the factors listed below.
Level Of Experience
This is, perhaps, the most imperative factor of them all to be considered as it will determine what you exactly need. As mentioned earlier, the market offers a variety of wood routers ..
It helps to be clear in your ease of use. Ask yourself if you think you will be capable of handling a heavy-duty wood router, or perhaps, you might want to opt for a lightweight, compact one which helps you get the task done with supporting functions like speed control, an alert bulb, or even the ability to switch between two hands while using the tool.
The Purpose Of The Tool
This is yet another important factor to consider. Do you intend to use the router for small rectifications to furniture or to commence work on an entirely new creation? If you are just going to bring out the tool once in a while, you may make do with one that is placed amongst the top for other features but takes a hit on durability.
However, if you are seeking to commence new creations and intend to put the router to use often, it is recommended that you opt for a highly durable router. You can also go through all of the mentioned features and notice certain provisions that help with the increase in durability of the above-mentioned routers.
Number Of Projects
As a professional, you will probably be taking on multiple projects, so it is recommended that you opt for a durable router. Having kept this in mind, you must also consider the types of tasks you undertake and determine whether you will require a heavy-duty router.
Be sure to choose wisely. On the other hand, in case you intend on purchasing a wood router for merely a single application or just a handful of projects then, the opposite would do for you too.
Choosing Based On Requirements
This is yet another important decision and you will need to factor in other important considerations like the amount of space you have available (for both, storage and usage), the ease of use, how many types of bases you require, and also, how many bases you might go through. These decisions will help you decide whether you need a corded wood router tool. If you do, there are the best options mentioned in the above list to guide you.
If you do not, we have still got your back. Whether you need to constantly be on the move with the router or just want a router without a cord for ease of use, options for those, too, are listed above.
Difference In Convenience
The last factor you might want to consider is if you can make do with a tool that is difficult to use or if you want the easy ones; which assist you with the task at hand and are easy to use and maintain.
This includes the convenience or inconvenience while changing bases, and application, itself. You can look into the corded ones, the lightweight ones, the compact ones, and so on. You might also want to look into the effort required to maintain different wood routers and to consider getting a device with a warranty. Do not forget to read through the terms and conditions thoroughly before making your choice.
Conclusion
So, that is all the information required to make a wise decision and opt for the best wood router for household construction suited to your individual needs. The 7 wood routers mentioned here are the best ones on amazon.com and are well thought of because of their promising features and reviews.
We have also provided you with a buyer's guide to make your decision process easier. It depicts the important factors you must mull over before making a purchase decision and also consists of suggestions based on your needs. The user, the purpose, the device, and the ease of use are the important things that need to be considered.
We sincerely hope we have been useful to you and have reduced the paradox of choice significantly, if not drastically.
We have also mentioned a few Frequently Asked Questions (FAQs) to make your purchase decision simpler.
FAQs
What is the best wood router for home use?
The 5 mentioned wood routers in the article are the best ones available on amazon.com, and the features of these routers have made them stand out and well thought of, resulting in this article.
Can you use a router to cut wood?
Yes, it can be done. You can use a router to cut wood. However, that is not considered the optimum method to do ahead with. It will slow you down and prove to be a huge learning curve for the user.
However, if you do decide to use a router, we recommend getting a router with router bits of the best quality. However, this is an expensive option as the router bits will get dull over time and you may have to keep purchasing new ones.
What is a router used for in construction?
A router can be used for various purposes in construction. These include building boxes, drawers, and other furniture, shaping the edges of wood pieces,  inlaying banding, and adding dovetails.
What are the different types of wood routers?
There are 4 different types of wood routers. They are fixed-base router, plunge router, combo router, and compact/palm router.
The fixed base router is the most common and most accessible. However, plunge routers hold the ability to perform more jobs comparatively. A combo router combines features of both, fixed and plunged, routers. The compact router or the palm router may fall into any of the above categories but have diminished weight and sizes, which makes them easy to use and handle.
Take a look at these wood routers for household construction also: