Have you got a long-term project, but you do not have a proper place for it? Then do not worry about it, as we have got the best portable workbench that will ease your job to a great extent. Having the correct portable workbench available to you can make your work project go a hell of easier, making it a joy to work with.
It can turn into a chore picking the right one with such vast numbers of options available today. We have made choosing the right one simple by spreading out the most well-known ones at various value points.
BLACK & DECKER WM225BLACK & DECKER WM225 – Best Adjustable Portable Workbench
KETER FOLDINGKETER FOLDING – Best Lightweight Compact Portable Workbench
KREG KWS1000 Mobile Project Center WorkbenchKREG KWS1000 Mobile Project Center Workbench – Best Easy To Install Work Table
X-Tra Hand 2-in-1 Workbench/PlatformX-Tra Hand 2-in-1 Workbench/Platform – Best Low-Priced Table BEnch
Worx Pegasus Multi-functionWorx Pegasus Multi-function – Best Heavy-Duty Workbench
A Quick Comparison Table
Top Picks Portable Workbench
1. Worx Pegasus Multi-function – Durable Portable Workbench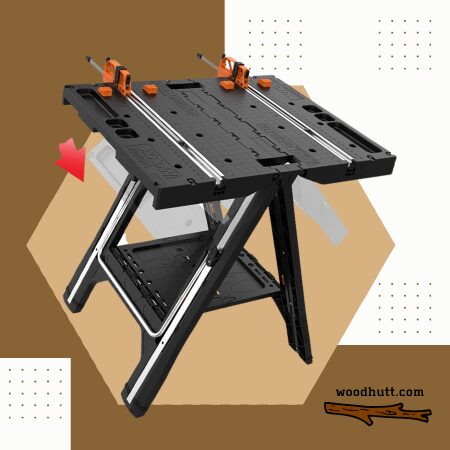 The Worx Pegasus portable workbench is an affordable, high quality, and durable item that can let your work done in no time. You will not have to take a lot of time to finish your project.
Features
WORX Pegasus is a super compact and versatile foldable work table that requires only 5-inch depth when folded. It's easy to carry so go anywhere you want with this table. The Weight holding capacity is pretty well as it goes from 300 to 1000 lbs. The bench can be used in both ways, a sawhorse and work table as well.
Moreover, the table comes with leg lock security feature which minimizes the risk of instability and injury.
1. Super Sturdy
When you go for this portable workbench, you may find it like a plastic-made flimsy item, but it is not like that since it comes with heavy solid reinforced aluminum. In addition to this, if you out any activity such as sheets of plywood, miter saws, circular saws, doors, and vices on this table, it will not vibrate or wobble. The reason is that it is more substantial than 30lbs.
2. Super Versatile
This is charged as a table; however, that is just the start. You can make it into a smaller half-table, for use in small spaces. You can use it as a sawhorse. You can bolt it to other WORX work tables (or sawhorses) to make a more magnificent table.
You can utilize the lower level rack to store tools not being used. You can zip tie an electrical extension to it. You can leave screws and so forth the little crevices. You could even serve supper on it. What's more, you can do these things anyplace since it is versatile.
3. Super Functional
If you are unaware of this function, then remember that this portable workbench comes with two integrated clamps and four clamp dogs. Furthermore, these two elements are of high quality and not cheap. They are hard-working features.
4. 8 Varied Positions
You can open the clamp dogs into eight various positions. For best outcomes, you will have to use these pegs in tandem with the clips instead of as a replacement. The pegs are designed to hold standard ¾-inch compressed wood, making it ideal for sanding flush to the edge
5. Product Specs:
Dimension: 35" X 25" X 5
Weight: 30lbs
2. BLACK & DECKER WM225 – Best Adjustable Portable Workbench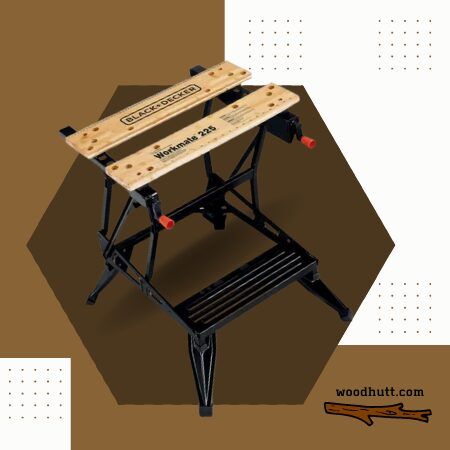 The BLACK+DECKER Portable Workbench looks like the iconic Workmate from Black and Decker considered as a definitive extra for all DIYers, designed and protected by Ron Hickman, is a sturdy, flexible ultimate useful portable workbench and general carpentry instrument manufactured and sold under the brand of Black and Decker.
Features
Another lightweight table with a solid benchtop which can clamp up to 1000 pounds load. Adjustable Aluminum legs make it a durable and heavy-duty tool. Also, the assembling and folding are so quick. You will get two 12 inches clamps as a piece of accessory equipment. The top of the table is resistant to all cracks which supports a high weight.
1. Folding Table
If you are the one who likes to carry things around, then this workbench is for you. Moreover, it is considered as one of the best foldable workbenches. Furthermore, when it is expended, it reaches 3 feet (1 m) tall.
There is also a single-handed clamp system, which has a unique clutch design. Nevertheless, this design is mainly for easy clamping.
2. Quick Release Handle
Likewise, it includes a free-standing unit and quick release handle, which takes into account brisk get-together, and a well-being tool that gives a made sure keen edge and sturdy structure.
It is collapsible for accessible capacity and convenient transportation and has a solid steel construction that can take as much as 550-Pound. The dual height mechanism takes into consideration the vast number of users. It tends to be used as a workbench, as a bench tool stand, or as a seat device stand. Some may even use it as a sawhorse.
3. Wooden Jaws
Black and Decker Portable Workbench as the best tabletop with dual wooden jaws. Nevertheless, one jaw is fixed, and the other is left movable. Along these lines, it tends to be used as a bench vice to hold things like wood, metal, and different parts while work is being done on them.
4. Reliable
The BLACK+DECKER Workmate is reliable and incredibly productive and consistent with its brand name; its list of capabilities and unwavering quality reduced, and original plan finds far-reaching use for a variety of works making them the perfect decision for carpenters, home mechanics, DIY lovers, and anybody searching for a home shop assistance.
5. Product Spects:
Brand: Black+Decker
Weight: 450 pound
Dimension: 30.13 x 6.75 x 30.13
3. KETER FOLDING – Lightweight Compact Portable Workbench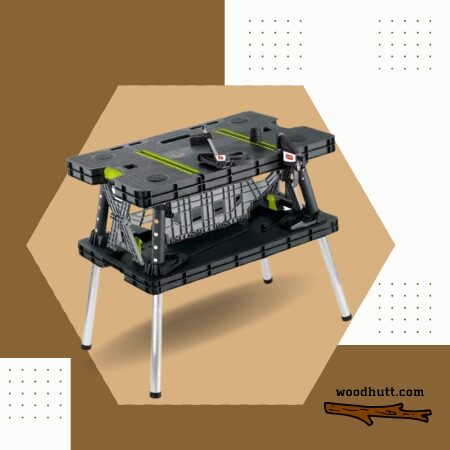 The Keter portable workbench is quite exceptional, as it is designed to work as either a sawhorse or a standard work surface. In addition to this, this best item may be compared to a transformer in the way that it satisfies more than one capacity with a little bit of folding and snapping.
Features
It's a small table with heavyweight capacity. It can bear up to 450 lbs. It's a multipurpose counter that can be used as a sawhorse, vise, worktable and a tool in an equal manner. Because it is erected with steel frames so you can conceive the durability and strength of this table very well.
It's lightweight and easy to accumulate workbench.
1. Carriage
Folding the Keter for traveling purposes is very easy. Additionally, you need to lift the bottom platform and push the legs inward. Everything is done conveniently. Furthermore, when you fold it, it gets up to five inches.
2. Weight Capacity
As far as weight limit, this one will make you feel worried when you initially inspect its construction. It only does not look that solid. However, it is appraised for as much as 300 pounds, so it should be sufficient for any woodworking.
3. Surface
The surface of the work table is pretty much level, yet it contains a few hollowed-out spots where you can put screws, nails, and other little things that you would prefer not to lose. The bottom platform likewise works as a helpful storage rack where you can put more essential tools and different things.
Since you have to push this shelf upwards to fold the bench, the heaviness of specific tools can fill in as a valuable wellbeing measure. By stacking this base rack, you can guarantee that the bench will not accidentally catch on your foot and breakdown at a bad minute.
4. Product Spects:
Brand: Keter
Weight: 450 pound
Dimension: 21.7 x 33.5 x 29.7
4. BLACK & DECKER WM425 – Best Well-Designed WORKMATE WORKBENCH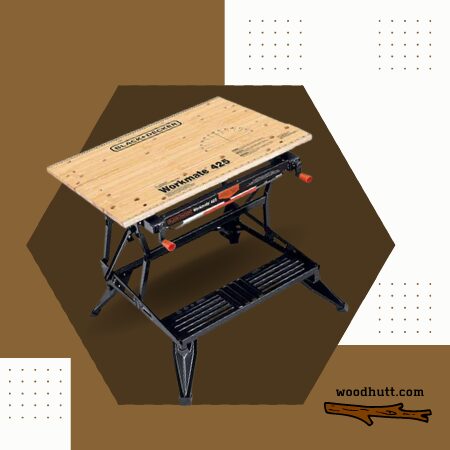 Black and Decker have been manufacturing the best items, indeed, which have considered the users. In addition to this, this model of Black and Decker has the best feature and functions.
Features
This tool is designed for big projects as it comes with dual height adjustments which you can set according to your project. Another steel frame table with 500 lbs. holding capacity. It allows you to grip some distorted shape stuff with vertical clamping and jaws.
Compact design is suitable for small working areas. Moreover, it's easy to bend and convey anywhere. You will get 2 years warranty.
1. Design
If you want to buy this portable woodworking bench, then, first of all, you must look at its design. Moreover, this bench is somehow dual-purpose and multifunctional. Furthermore, you can simply transform it into a bench or a stand.
They make an idea of the Black and Decker WM425 table is with the aim that you can collapse and pull it out to uncover an extremely extensive and stable working table. It comes unassembled; however, you do have accompanying manual instructions with bit-by-bit directions, so it is all acceptable. You essentially need to pull it out, and it meets up in short order.
The equivalent for when pressing it. Push it in, and it is pressed! Perfectly compact and like this convenience also. Other than that, this workbench has four legs, which means it distributes equitably and is subsequently genuinely stable.
They make an idea of the Black and Decker WM425 table is with the aim that you can collapse and pull it out to uncover an extremely extensive and stable working table. It comes unassembled; however, you do have accompanying manual instructions with bit-by-bit directions, so it is all acceptable. You essentially need to pull it out, and it meets up in short order.
The equivalent for when pressing it. Push it in, and it is pressed! Perfectly compact and like this convenience also. Other than that, this workbench has four legs, which means it distributes equitably and is subsequently genuinely stable.
2. Dimensions
The overall dimension of this portable work table is 31.2 x 28.9 x 30.3 inches. Furthermore, it jas an extendable table which you can simply expand it for better work and to put more things. Moreover, this feature can make more space for you.
This best model of Black and Decker includes a clamp that offers 1-9/16-inch vertical clamping. In addition to this, this clamping makes this workbench more versatile, and you can do all the activities such as nailing, brushing, drilling, sawing, etc.
3. Construction
The WM425-A Portable Workbench is produced using a high gauge steel structure that is solid, durable, stiffed, and prepared to take on weight as much as 550 pounds! Five hundred fifty pounds from a 40-pounder one in number and Herculean workbench. Concerning the top, the working surface is made using a type of wood, most likely bamboo, which is entirely hard.
Aside from this component, you have the one-gave clamps, which allows you to modify and control the clamps independently or together. Convenient, without a doubt. Next, and likely one of our most liked features, you have the height extendable legs.
4. Product Spects:
Brand: Black+Decker
Weight: 36.5 pounds
Dimension: 29.2 x 8.9 x 29.5 inches
5. Black & Decker Portable Workmate 1000 – Best Comfortable Work Table
Workbenches can quickly become the most commonly used table type around. You can use them for many things! Whether it's straightforward weightlifting, sewing, painting, painting, high-quality workbenches can meet all challenges.
We think it's time to make ourselves one. Therefore, we will introduce you to the very popular Black & Decker WM1000 Workmate Workbench through a proper, detailed, and comprehensive Workmate 1000 review. Black & Decker will produce some of the best workbenches and workbenches, and WM1000 Workmate Work table is one of the most popular workbenches.
Features
Black+Decker is a name of quality so we have again another tabletop from this brand. This workmate model comes with 550 pounds holding ability due to its concrete steel frame. This Handy bench is small (42.70 x 24.00 x 8.25 Inches), lightweight (39.80 lbs) and super convenient in folding and opening.
Clamp with more accuracy due to four adjustable pegs. You can clamp faster and handily.
1. Multifunctional
First of all, Black & Decker WM1000 Workmate Workbench is versatile because it can be used as both a workbench and a grinding tool. You might see from its design that there is a long strip on the bottom leg. The pole not only acts as a standing footstep but also allows your feet to rest while you work.
2. Dimensions
Without expansion, the Black & Decker WM1000 Workmate Workbench provides you with a 26-inch long and 17.7-inch wide work surface. Although not the largest, it is still not small enough to make you dissatisfied. As for height, it's close to 31 inches, which is pretty good for most types of jobs.
You don't have to bend over or bend over, and you don't have to stretch too high. The height is somehow in the middle, so it is safe.
3. Construction
When it comes to security, the Black & Decker WM1000 Workmate Workbench is made from a massive and high-quality steel gauge frame. As for the top workspace, you have a wooden bamboo top. This means that the Work table is ready to withstand some severe weight. Five hundred fifty pounds, to be exact! Yes, this 38-pound bench can withstand 550 pounds.
4. Warranty
Last but not least, Black & Decker WM1000 Workmate Workbench may make up for this deficiency separately, while offering a parts warranty and a 2-year warranty.
5. Product Spects:
Brand: Black+Decker
Weight: 37.8 pounds
Dimensions: 23.7 x 7.8 x 41 inches
6. KREG KWS1000 Mobile Project Center Workbench – Best Easy To Install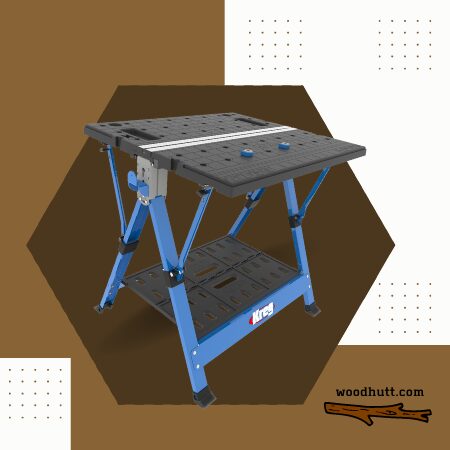 Kreg's Portable project center is an all-in-one solution that folds legs and folds flat to jump into a truck or hang on the wall anytime, anywhere. The countertop can be used as a clamping surface, can be tilted, and even has a grid of nail holes to help guide the wood when cutting.
Features
The construction material is concrete-solid which is made up of polypropene resin and steel. Since it's a foldable table, the erected table can tolerate the load of 350 lbs. It's a multiway use table as you can twist the tabletop down to make it a sawhorse or you can swing it up to make a large surface bench.
If you need more space, then this tool can save your day as you can merge two project center benches to make a wider working surface.
1. Set Of Storage
The kit includes a clamp and a set of storage trays that can be easily clipped to the edge so you can place screws and nails out of your arm. This is a good option for apartment residents or repairers who always reach out to neighbors and family.
It is not meant to be a permanent workbench for a garage or shed because if you hit it, your legs will fold up. The top of the hinge cannot lie completely flat, and problems can occur when trying to cut accurately.
2. Saving Your Cash
Finally, compared to a standard workbench, it provides only about half the workspace. Your expenses are about the same as other quality standard benches, so you don't save any cash.
The name of the Kreg KWS1000 mobile project center is genuine. This heavy-duty portable work table has fantastic durability and stability, and one of the largest workbenches you can find. With almost unlimited upgradeability, you will have years of experience.
3. Dimensions
The KWS1000 has an average size in terms of overall space occupied, including when placed flat or entirely placed. The work surface is very sturdy, 27.5 "x 31.5", so it's not far from a regular Work table in a store. It can handle huge loads up to 350 pounds.
The body of the KWS1000 is made of high-quality steel feet with rubber contacts to provide better traction when used on concrete or any other hard surface. The tabletop is made of hard plastic or possibly metal.
The KWS1000 can be set up in 30 seconds and is sufficiently stable and secure once locked. It can be used as a workbench, sawmill, assembly table, or clamping table. The design of the table allows 360-degree work access from any angle.
4. Robust Frame
This workbench explores an A-section steel frame. It is responsible for holding workpieces up to 350 pounds.
Both tables are made of polypropylene resin. This makes it virtually impervious to scratches, direct sunlight, and many other outdoor factors. Polypropylene is recyclable, so you can count on this tool not to landfill it.
5. Versatile Usage
The Craig Mobile Project Center uses a large top with a dog hole and an integrated Craig clamp. It can accept many Kreg accessories, so you can not only perform specific projects.
You can secure it horizontally with an Automaxx bench clamp that slides into a centrally mounted T-rail. Kreg screw boxes allow the notches to be hooked on various sizes of the table.
It can also be expanded by pairing with another Kreg bench. This aspect should come in handy when you are dealing with too large artifacts. It is fast-connected with an easy-to-use stand, ensuring that all clamping functions are available even after expanding the work surface. When folded, this tool transforms into a durable sawmill frame with higher load-bearing capacity.
6. Locking Mechanism
The table has a removable aluminum locking device. All you need to do is place its screw in the groove and move it towards the material. You need to stabilize it.
7. Product Spects:
Brand: KREG
Weight: 40 pounds
Dimension: 31.5 x 27.8 x 31.5 inches
7. Black & Decker Wm125 Workmate Workbench – Best Economical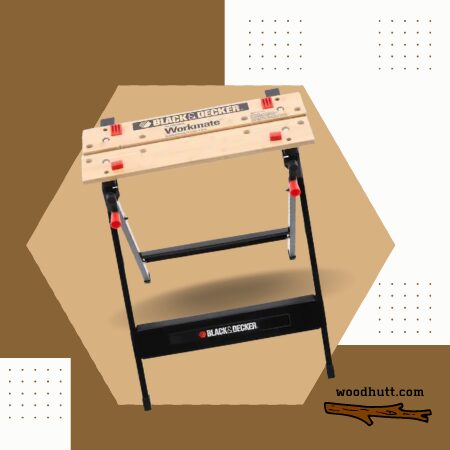 Black & Decker WM125 is the cheapest and lightest workbench in our portable work table review. This would be an excellent addition because it is also very flexible.
Despite its low price, this is still one of the best portable woodworking workbenches because you can quickly fold and move them from one workplace to another. It can fold flat shoes for secure storage and carrying.
Features
Nicely folds into a flat surface and easy to pick up. With adjustable swivel pegs Grip or clamp irregular stuff conveniently. Also, the slipping resistant feet make heavy wood materials stable and in a grip. Sturdy steel frame courage it to hold up to 350 pounds of weight.
1. Multiple Features
The workbench has a durable steel frame that provides the strength needed to support heavy workpieces. Once set, you won't give in whether you hit it hard while cutting or sanding.
2. Adjustable Swivel Pegs
The adjustable swivel pins on the WM125 are also an essential complement to the tool, as they can comfortably grip irregularly shaped objects, increasing the versatility of the table.
Plus, the jaws on the workbench prevent warping, and you can use them to accommodate uniquely shaped workpieces. This means that there is almost nothing to clamp on this table.
3. Most Popular
BLACK DECKER WM 125 is a very popular and iconic portable workbench used in many professional and amateur carpenter DIYiers workshops across the country.
This versatile, durable, and portable work partner will help you perform a variety of tasks efficiently, quickly, and easily. The best part is that it also enables vertical work.
4. Dimensions
It is 30 inches high and versatile, allowing you to secure anything with jaws and rotary nail clips, and its slanted jaws can accommodate any type of material. Its maximum load is 350 pounds, it is cumbersome and can resist in time. Its table feet have rubber bushings, which can prevent slipping and reduce the impact on the ground.
This is an excellent portable woodworking bench, and it is a cheap, functional, and sturdy structure, which will not produce shaking construction quality. Still, its two fixture systems are difficult to adjust, especially for screwing. For larger projects, this work table is not for you.
5. Product Spects:
Durable steel frame
Non skid feet prevent sliding
Measures 33.3 by 5 by 5 inches; Weighs 17.8 pounds
Work bench holds upto 350 pounds
Included components: WM125 project center, (4) swivel pegs
8. Finether Folding workbench – Best Flexible Work Table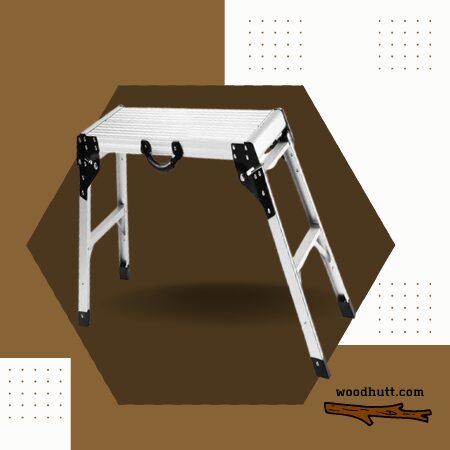 Finether Aluminum folding workbench is designed for homeowners that need extra altitude to get to those challenging to move and place things on it and also used for the lawn and in the family hall used for spotting items and goods on it. That is the best workbench which is mostly used. Some essential features of that folding best work table are given here
Features
The aluminum construction design is fully durable, water and rust-resistant. The sloid griping design gives complete control on the project. This small table can support 331 pounds of weight. It requires no assembling as you can simply flip it in or out. It is a large surface (80×30 cm) and best suited for kitchens, garages, rooms, and workshops.
1. Flexible And Powerful
Height adjustable workbenches are a comfortable choice, allowing workers to take charge of their influential position so that others can make their responsibility efficiently. Usually, workbenches are prepared with free assistants who support the best bench to be customized to specific needs, so tools and parts can be placed easily inside reach.
Height flexible workbenches can be adjusted electronically, with a standard hand lever or with an Allen key.
2. Lightweight
Finether Folding workbench is amazingly lightweight, balancing only 11 lbs. Therefore, you can easily carry it wherever you want to. The work principles can be practiced in the kitchen, the bath, as well as the parking.
That workbench is so lightweight and readily available to move from one place to the other in and quickly set at any place even in the kitchen that workbench is suitable for bath and shower place as well.
3. Powerful Alloy Locks And Shield Covering
The perfect metal alloy is attached and made to form that work table because it becomes more suitable and beautiful to show its resistance against the breaking of that workbench. The shield covering and metal alloy makes that work table more sturdy, strong, and powerful enough to never break and damaged by any loud crash on that workbench.
4. Practical And Usage View
The ability to alter the height of different workbenches provides for users to keep their ideal working end. That maximum can also be adjusted depending on the job; for the case, some works may require a standing work area while others a sitting position. They happen regularly from 650 – 900mm that height is dependent upon the different size and their moving purpose in the use of life purpose.
5. Good Folding Position
That workbench is perfect and good for folding purpose as well, and you can fold that workbench easily and adjust it easily in any place after use and move to fold that folding workbench without any issue in it. Overall the legs and sheet cover of the workbench is easily folded by moving the legs into the underside of that workbench.
6. Height And Adjustment
Height adjustable workbenches guarantee a correct working condition decreasing the chance of repeated strain damage, leaning, overstretching, and turning. That folding work table additionally enables users to continually change their functioning conditions so that they do not stop in hardened locations for long durations of time.
Using an incorrect operation condition can occur in fatigue, trouble, and the chance of injury, so it is essential to reduce this from everyday tasks where reasonable.
7. Product Spects:
Brand: Finether
Weight: 12.72LBs
Dimensions 45.2 x 14.7 x 19.6 inches
9. X-Tra Hand 2-in-1 Workbench/Platform – Best Low-Priced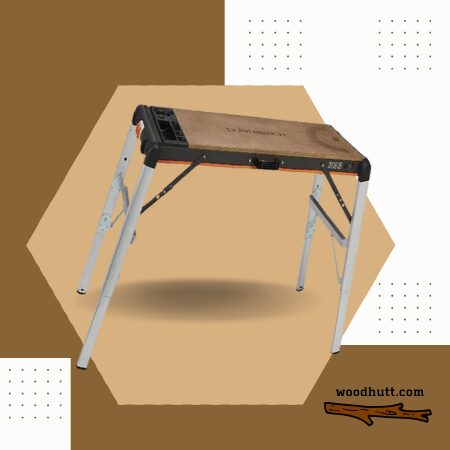 That X-Tra Hand 2-in-1 is a suitable portable workbench that gives a large 50-1/2 by 18-3/4 inch work cover and various attractive characteristics. Extendable legs improve the bench of a 23-inch high step-stool to a 31-1/2 inch great work table. The bench balances in at about 40lbs. And has a built-in carry holder.
Features
It's a combination of great design, sturdy durable structure, large working space and high weight holding capacity. The aluminum legs are high load friendly and rust-resistant. The wide surface area is good for big projects and accepts the burden of up to 500 lbs. Easy to collapse and move. It comes with a utility tray that can store accessories, hardware and other kinds of woodworking tools.
1. Weight Carrying Limit
The 500lb. The carrying limit only refers to the step-stool style, and it is not suggested to hold on the bench in the work stand arrangement. One surface of the cover is webbed polypropylene decking, while the other is a hard work cover with protractor and director recognizing as well as drill-through spaces and a V-groove for checking the pipe while it is doing the cut.
2. Useful And Versatile
The X-Tra Hand is a valuable worktable though it requires the versatility of any of the other forms. Clamping abilities are inadequate, including the woodwork cover that needs to be penetrated out to use bench dogs. We also found this table to be a bit unbalanced with the legs spread, and the switch worked on stretching, and removing the leg can become stuck inside the leg.
On the extra support, the X-Tra Hand does offer a handy elongated step-stool with a built-in power outlet. We would suggest the X-Tra Hand portable work table if your preference is to have a foldable long step-stool that can be a work stand on time.
3. Power And Edges Cut
Some of the detail emphasizes this work table offers are quite useful. We love the built-in power strip that allows you to move one length cord to the table, then close tools into the bottom of the board. An assistant service at one point of the workbench operates small particles and has a corkscrew holster as well as a thin tool cuts.
The manager layout forward one edge of the workbench cover appears inconvenient, and the drill-through opening is freely sized.
4. Lightweight And Best Camping Operation
That is a light-duty work table that is fit for they want a lightweight, small bench for occasional use. However, details like substitute closing latches and handle attachments along with somewhat spindly legs indicate that this bench cannot handle serious work.
For small projects or as a portable craft workbench, this workmate workbench will be an excellent selection at a very convenient return case.
5. Product Spects:
Brand: X-Tra
Weight: 55.1 pounds
Dimension: 27.17 x 37.04 x 6.3 in
10. 7-in-1 FIX KIT Portable – Woodworking Workbench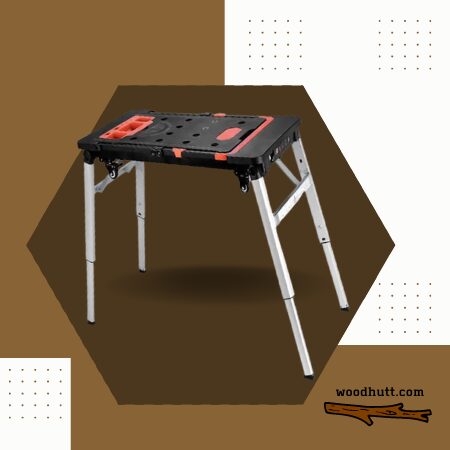 The workbench is the ultimate 7-IN-1 workbench, sawhorse, scaffold, and platform. That is, fix portable kit work table helps to relieve the system of the body. The item can be transformed easily between different modes and is intended for DIY and light trade use.
Features
As the names suggest, the 7-in-1 fix kit is including 7 different kinds of equipment. You can use it as sawhorse, scaffold, and workbench or car creeper. This table can hold up to 440 lbs. Although, the frame is made up of steel, and legs are constructed with aluminum. You will get a tool tray that can be detached from the tabletop, ruler, compass and 2 clamp dogs.
1. Perfect And Precise Upper Position
For more precise application, the tabletop is equipped with a detachable tool tray (which also can be hanged in the handle), compass, ruler, two clamp dogs and quick clamp holes quick clamp is not included. An ideal workbench for carpenter, craftsman, DIY lovers.
2. Multifunctional System
The 7-in-1 multifunctional workbench outfitted with seven powerful functional purposes, workbench, sawhorse, scaffold, platform, car creeper, and hand truck. The dimension of the workbench is 42.7″x21.5″, max loading is 440lbs.
3. Heavy-duty And Sturdy
This 7-in-1 versatile work table is supported by heavy-duty aluminum legs and strong steel support, allowing extensive load-bearing ability and super balance with triangle pattern for any tools, wood, plastics, and managing forms.
Height of 20.5 inches for building and program mode, the length of 30.7 inches for a workbench, and sawhorse mode. That movable portable work table begins with four heavy-duty wheels for the application in car creeper, dolly and hand truck modes, offering load-bearing up to 220 lbs.
Further, the bottom self-adjustable mats will protect the wood floor and work for rough or uneven.
4. Different Mode System
Push the snap switches on the bottom of every leg to loosen it, then remove the inside legs down to the workbench. That portable work table comes with two clip pups and two fast clip connector for the sawhorse.
Clear all braces from their locking point, then twist each pair of support until you can't move them anymore. The front portion is provided with a detachable accessory tray. No equipment needs and can be given into a platform in seconds, saving space in your house and garage. The inserted handle and drawing space made it portable and loadable for go-anywhere way without trouble and confusion.
5. Perfect And Modern Style
The unit is furnished with two grounded 120V plugs with a 15-amp surge guide so you can power your random orbitals and different power devices. It also has 2 USB gates to recharge portable devices. Reduce the legs, and the workbench displays a platform that's 20 3/8″ high and can hold up to 440 pounds.
In that method, it's excellent for standing tall rocks or showing tall wheels and SUVs. Tuck the support, and you have a portable cart, forklift vehicle, runner, or dolly that can move up to 220 pounds throughout your garage or room space.
6. Product Spects:
Brand: Plastic- Aluminium
Weight: 30pounds
Dimensions: 54.7 x 22.8 x 30.5 inches
Portable Workbench Buyer's Guide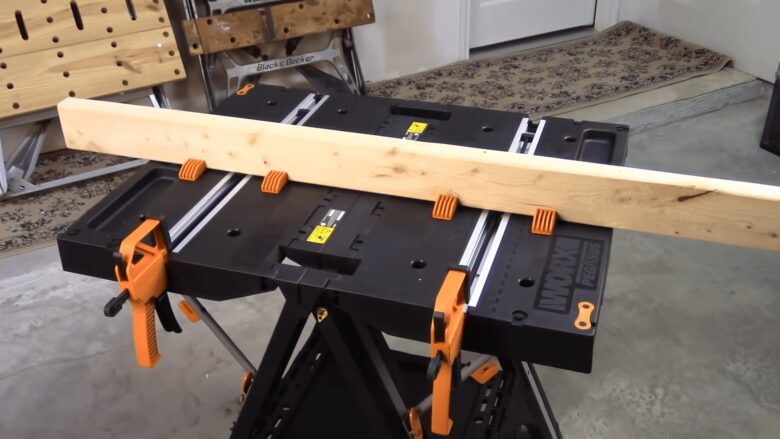 As it is very tough to pick the right pick when there are useful quality items available in the market. So for this, you need to look at some factors which are essential before buying a handy workbench.
Size
If the size of the work surface is essential for you, at that point, you will need to maintain a strategic distance from the WM125 from B&D or one of its clones since the actual work surface on those things is non-existent. Where the Workmate and its progeny do exceed expectations is in their capacity to take a firm hold of virtually any sort of something regardless of how huge or little or how oddly shaped.
In case you are a tall individual, either ensure your seat is of sufficient exact height, or that it has legs that can be changed following bringing the bench up to where you need it.
Weight
If you are the one who wants a more stable workbench, then you need to go for a heavier one. In addition to this, sometimes, weight can create issues for you, if you take yourself a foldable product, but you can easily overcome such problems. Nevertheless, if you want a bench that you can quickly move around then go for a lighter one.
Assembly Difficulty
None of the benches on the above list need any technical knowledge to assemble. They would not be handy if they did. In any case, some are simpler to assemble than others. So if gathering your new workbench just turns you off as an issue of instruction at that point, go for one of those that require minimal get-together like the WORX Pegasus.
Stability
If you require heavy or full of load work, then you must have the best place to work on. Moreover, stability is always a function of weight. In any case, different considerations play into balance, too, including a full position, non-slip feet, and a solid steel frame. If a collapsing workbench is on the high side but then has a thin balance, you should be watchful about using it on overwhelming or awkwardly formed items.
Sturdiness
It is far more critical that a portable work table should be sturdy. Moreover, if you are thinking of putting 300-400 pounds load on it, then make sure that it should not buckle or wobble. However, if you get the opportunity, you should consistently confirm the carrying limit with the manufacturer.
Construction
Some workbenches are made of ABS plastic. Some are made of aluminum, some steel, and other metals, depending on which one you like best. One might think that steel is the strongest, but you might be wrong, some ABS plastics are as durable as metal, and they are also lightweight.
Easy Of Installation
This is one of the essential factors when most people choose a portable woodworking workbench. No one wants to waste time on the installation workbench; it should be easy to fold and deploy in seconds. In our list, most portable workbenches are easy to assemble, but if you ask me one, I will choose the Keter workbench for you, which is the winner.
Portability
Without it, portable workbenches are meaningless. In our list, we have added a very light, compact, and portable woodworking workbench. These are easy to hide or hang, requiring minimal space. This is one of the main factors that a portable workbench must consider when buying.
Build Quality
Before buying a portable woodworking bench or anything else, build quality is one of the essential aspects. A good build quality workbench does not determine workbench availability in the short term, but it does not assess workbench availability in the long run.
In our list, we added the best build quality workbench, but if you want the best build quality, this is your number one priority, then Black & Decker will win here. On the Keter workbench, the appearance looks cheap and fragile because ABS plastic and aluminum cannot provide a premium look.
Benchtop Area
For portable workbenches, the desktop is where you work the most. Some workbenches have larger surfaces, and some workbenches are smaller. Please choose the best work table according to your preference.
Before selecting a desktop computer, also consider its material (metal, wood, bamboo).
Most desks of the day are now engraved with measurements and markings on the desktop. Some measures and marks are painted, and some are laser etched. We recommend that you use laser etch that does not fade quickly.
These are some of the main factors you should consider before choosing a workbench.
Portable Workbench – Frequently Asked Questions(FAQ)
Q: Which brand for the workbench is the best in the market?
A: Black+Decker and Keter are the best and reliable brands for the workbench.
Q: How high is a normal workbench?
A: On most benches, the working surface is somewhere close to 33″ and 36″ high. In case you are average height (somewhere in the range of 5'9″ and 6'0″), that is generally a comfortable height. However, even a difference in 1″ up or down can have a significant effect on the fact that it is so natural to work at the seat.
Q: What kind of wood should I use for a workbench?
A: Any of the following would do Douglas fir, poplar, ash, oak, beech, hard/delicate maple. For hand tools, you would probably go with milder wood – it simpler to hand plane level and more unwilling to ding your work. If this is your first workbench, use something cheap.
Final Words
So this is our reviewed list of the best portable workbenches along with the complete buyer's guide and hopes you enjoy our post. I am sure our post will help you to determine the right worktable you should choose. If you choose from our list, it will be a smart choice, as any of the models of Black+Decker will be the best pick for you. Moreover, we have also added some home depot portable workbench which you should give a glance at least.
Check out our latest review of the best wood lathe chucks here.
Take a look at these products from the same price range, that are available right now on Amazon: