Painting outlines, photo frames, door frames, crown moldings, and window casings are the few things that miter saws are widely used for. A huge part of even smaller scale construction, the miter saw is used to create angled cuts of forty-five degrees or perpendicularly at an angle of 90 degrees.
Here is a tiny thought, unless you actively work on designing the things mentioned above regularly, does it make sense for you to spend a lot of money on it? The logical answer is no. But then, you wouldn't want to have a saw that underperforms as well.
So the solution to this situation would be to be in possession of a miter saw that is effective as well as easy on the pocket. This is where we come in! Here's a carefully researched and thoughtfully curated list of miter saws present on the market for just under $200!
Having said that, with much haste, let's dive in!
Top Picks Affordable Miter Saw
1. Evolution Power Tools Rage3 10-inch Compound Sliding Miter Saw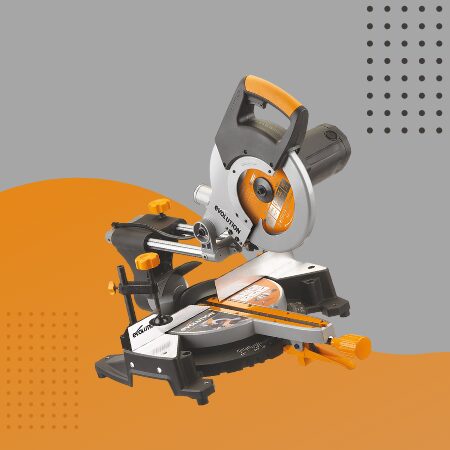 With the blade included, the Evolution Power Tools Miter Saw enables you to make compound miter cuts through mild steel, aluminum, plastics, and wood. You can easily cut through 6-millimeter mild steel with no heat, burrs, and virtually zero sparks, enabling you to create a flawlessly finished piece of work unlike any other.
Since miter saws are usually used to make cuts through 45 degrees, the Evolution Power Tools Miter saw comes with an L&R miter system with nine positive stops. It also has a sliding miter mechanism which allows you to make 90-degree cuts with ease.
It lets you make cuts of width in ranges of 11-13/16 inches and 45-degree cuts of up to 8-1/4 inches wide. You now never have to worry about going off track while cutting as this miter saw is equipped with lasers that guide you to facilitate optimum accuracy. You can now flawlessly cut without having to worry about anything going wrong. A problem that artisans previously faced was not being able to adjust the cutting depth while using miter saws.
With the newly designed product, you can now change your cutting depth to let you groove or trench. It is also equipped with a 15 Ampere, High-Torque motor that has a soft start.
This motor is where you witness the power and what gives life to the performance of the saw. This miter saw comes with a high-grade 28-tooth tungsten blade that is carbide-tipped. This blade allows you to make cuts easily through wood, mild steel, aluminum, and more.
The gearbox and high-powered motor made this miter see a highly reliable and powerful compound sliding miter saw. It also has additional versatility wherein various other types of blades are sold for this miter saw. Although sold separately, you can purchase and equip your miter saw with these blades in order to cater to specific metal cutting purposes.
Pros
It has a multipurpose blade cutting system with lasers for precision guidance
Features a 45 degrees left & right miter system with 9 positive stops
Cons
Starting the saw takes time
2. Makita Compound Miter Saw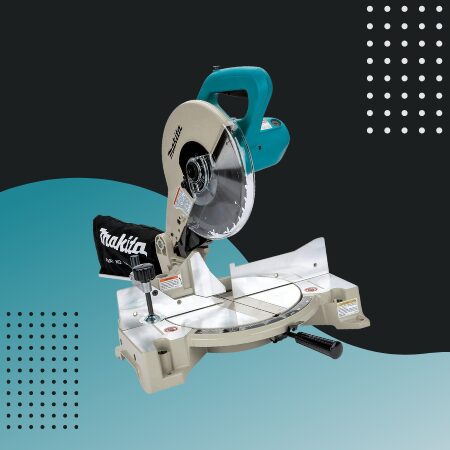 The Makita Compound Miter Saw is a good pick for your sawing activities. It is powered by a 15 Ampere direct drive motor which facilitates high performance on the go. The uniqueness of a direct drive motor is the fact that it has a direct drive mechanism.
A direct drive mechanism is one in which the transmission of torque from an electric motor to the output device renders without any reductions in the gear system. It has a performance that gives over 4600 RPM (Rotations Per Minute). It has a dual post compound pivoting arm.
This feature of the miter saw allows you to cut through materials with the option of substantially pivoting the saw arm. This is a valuable feature because, in older designs of miter saws in general, you would have to re-orient the entire object that is being cut to make various cuts.
To eliminate that problem, the Makita Compound Miter Saw is equipped with a pivotal arm for quickly cutting through the materials you want. This miter saw cuts a clean 45 degrees from the left and a total of 52 degrees from the right. The miter saw comes with degree readings, with nine settings full of positive degrees for the saw.
This saw can produce bevel cuts up to 45 degrees to the left. If you don't know what a bevel is, a bevel is an angled cut relative to the face of the material. It can be an angled cut along the entire side of a plank of wood, or cut at the end of the wood, in most cases while using a miter saw, metallic structures such as mild steel.
It is highly portable, the reason being that it weighs only 27.3 pounds. It has an aluminum base that is precisely machined in order to ensure accurate cuts. It also has a shaft lock which allows you to change blades effortlessly.
Pros
Lightweight and Powerful
Bevel cuts up to 45 degrees to the left
Cons
The bevel adjustment handle is plastic
The blade guard is thin and unreinforced
3. Homecraft H26-260L 10-Inch Compound Miter Saw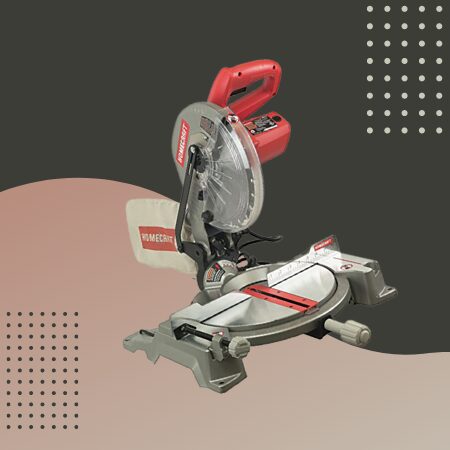 The Homecraft Compound Miter Saw is rated highly at 4.5/5 stars, and for a good reason. This compound miter saw is a very lightweight unit which makes it very easy to move from place to place. Very versatile, this product works with virtually every miter saw stand.
The lock shaft is a spindle lock system that securely holds the spindle while the blade nut is loosened and removed. This saw is ideally used for cutting materials with dimensions of 4×4 inches by length and width and 2×6. Both the cuttings are done at an angle of 90 degrees.
It also has an ergonomic handle that ensures the safe and controlled operation of the sawing process. This miter saw is helpful for DIY home projects for the most part. When it comes to the downsides to this product, it only has a 14 ampere motor in contrast to the 15 Ampere motors that most other brands have.
It usually can't cut through heavier materials, and after thorough testing, this miter saw at most cuts through hardwood with ease. The dust collector also doesn't work to its full extent. This is highly rated due to its use in home spaces for a domestic user base.
Pros
Low cost with high-end quality
Laser Guide to align the blade to the workpiece for accurate cuts
Cons
Does not automatically lock at certain angles
Not very durable
4. Hitachi C10FCG Compound Miter Saw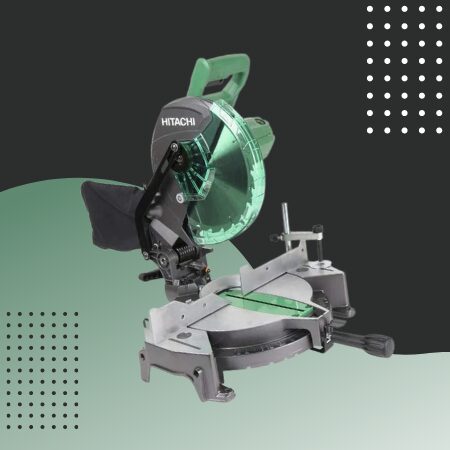 Rated a high 4.5 out of 5 stars, Hitachi Power Tools has been renamed Metabo HPT with the same excellent quality of tools that they provide. This miter saw has a 0 to 52-degree miter angle range to the right and left. This facilitates high flexibility.
Most other miter saws only allow a forty-five degrees turn from the left and a fifty-two degrees pivot from the right. In contrast, the Hitachi Compound Miter Saw allows increased pivotal action by providing fifty-two-degree pivots on both sides, which is 7 degrees more than most other miter saws offer.
It also has a motor horsepower of 2.57HP. This comes with 5000 rotations per minute, a lot more than what other miter saws offer for a lower price. It has a 0 to 45-degree bevel range from the right, and it has actuated thumb stops for accurate miter measurements and adjustments. It only weighs 23.4 pounds, making it a very lightweight option for use and portability.
It also comes with a dust collector, which minimizes particulate matter floating around. It has a 15 Ampere motor which allows heavy-duty cutting of materials. It has a relatively large table that lets you cut materials after placing them well on the table. Coming to the specifics and its review, first off, it is a very cheap miter saw that is cost-effective.
It does what most other miter saws can do for almost three-fourths or even half their price. Coming to its functionality, the miter saw can cut only through wooden materials. Although it has a fragile appearance outside the box, the saw is most likely to hold its own when it comes down to some strenuous activity.
Users report no vibration while using this saw which is a sign of stability and durability. This miter saw also has other functional accessories to go with. It comes with a material cage extender and a base clamp. The laser that comes with the product falls short of expectations.
This is mainly because the laser is very dim, which can need hands wrapped around in a well-lit room. The laser would come of no use in this case because miter saws should not be used in dark rooms due to obvious reasons, of course. Bottom line, it is a good miter saw that is highly cost-effective and does what most other miter saws do for a fraction of the price.
Pros
Quality construction & no vibrations
Includes a material cage extender, clamp
5. WEN 70716 10-Inch Sliding Compound Miter Saw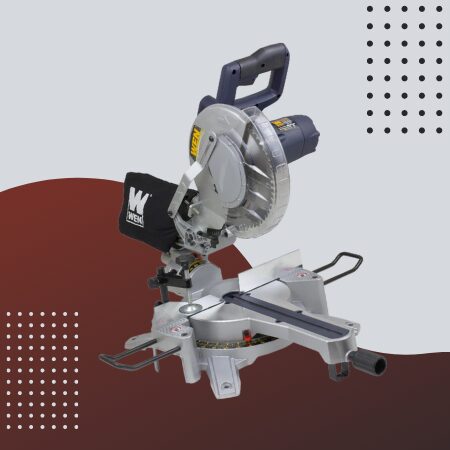 The WEN Compound Miter Saw is powered by a 15 Ampere motor that dishes out 5500 rotations per minute. This is a lot more than most other miter saws. A high RPM coupled with a good cutter ensures an excellent clean-cut for materials on the line.
You can bevel any angle from zero to forty-five and miter 52 degrees from both right and left. It has a 60 tooth carbide-tipped blade, which helps cut materials such as softwood with almost zero effort. But this miter saw makes the bottom of the list due to its underwhelming performance in contrast to those higher up on this list.
You get what you paid for, and this saw comes very cheaply. The saw body materials could have been chosen better, and it has a plastic-based component which is slightly disappointing. The accuracy is below satisfactory and could be a lot worse. But in terms of the price being paid, it is accurate enough.
The blade isn't made to cut through hard materials and even has trouble with slightly softer materials. It would be advisable to change the edge if one wants to get some work done satisfactorily. All around, not a great product, but it is cost-effective and can be used well for home materials and DIY products.
Pros
Easy to set up and use
Motor is slightly underpowered
Cons
Slightly expensive against the features
No laser line
Buyer's Guide To Purchasing A Miter Saw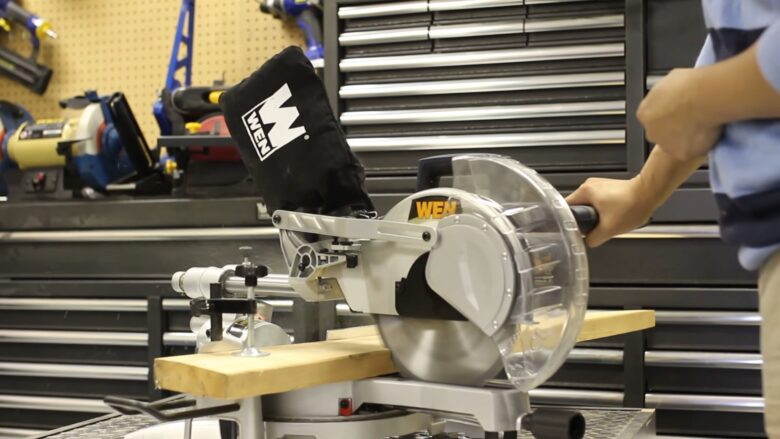 Miter saws are not a recurring product purchased for customers to know everything needed before buying one. It cannot be compared to buying a phone because you already know what you want in a phone. Miter Saws are craftsman tools, and there are specific prerequisites to know before purchasing one. The factors that affect the purchasing decision of a miter saw are :
1. Power
The power needed to run the miter saws has a principal effect on its performance. This power is measured in terms of Amperes. The higher the amperes on the saw, the more the cutting power.
2. Blade size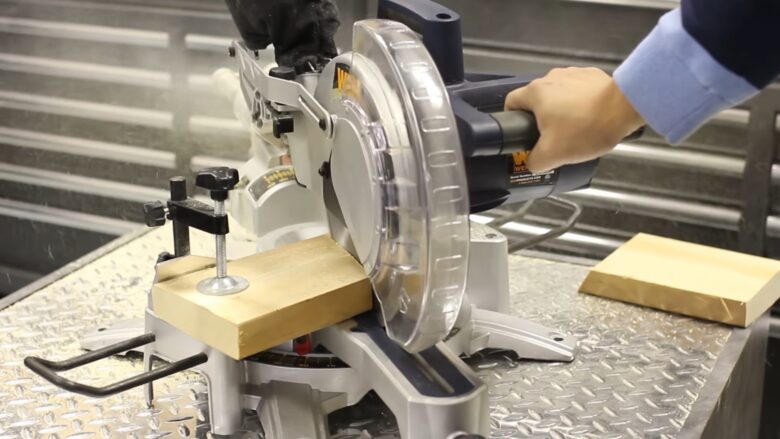 This is an essential factor to keep in mind while trying to purchase a miter saw. You need to choose the blade size based on your needs. The standard blade sizes on the market are 8, 10, and 12 inches. The longer the diameter of the blade, means longer the cuts on the material.
3. Positive stops
These are manufacturers' set points for fast cutting. The more the number of positive stops, the quicker you can cut in specific angles. It is recommended to go for miter saws that have thumb-activated stops for faster adjustments of cuts.
4. Depth stops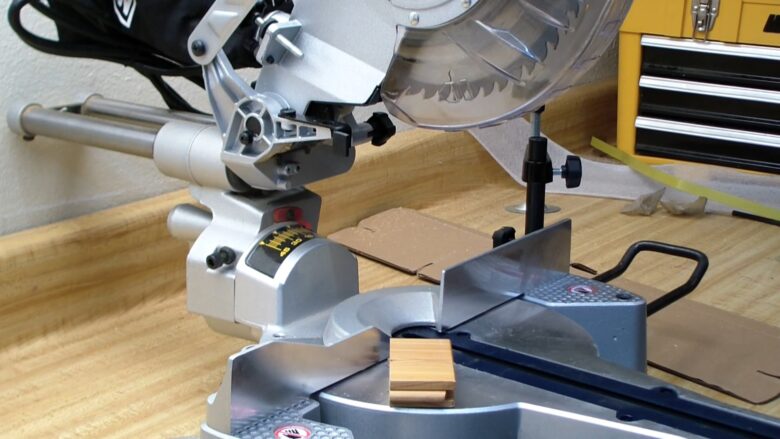 This lets you control the height of the blade. It helps you regulate how deep the blade cuts through the material.
5. Dust collectors
They can be substantial, primarily when you work without a dust mask. This is directly attached to the saw, which collects sawdust without letting it out into the surroundings.
Conclusion
We hope you're satisfied with our concise and apt buyers guide. This will help you make a well-thought choice of purchasing the right miter saw based on your needs. Stay safe while handling it, and happy crafting!
FAQs
1. Can a 10-inch miter saw cut a 4×4?
Yes, it can. Although not all in one go. You will need to flip over the material if you have a fixed miter saw. If you want to cut a 4×4 in one shot, it isn't recommended to go for a 10-inch blade.
2. How can a beginner learn how to use a miter saw?
When you purchase a miter saw, there will be an operating manual in the box. You should read it thoroughly before using the miter saw. You could even watch someone use it before you. Take a look at this video:
Check out these miter saws also: