Plunge router goes where no other router can while a fixed-based router is a versatile tool, there are still some operations that require different abilities. This is where a plunge router proves valuable.
Plunge routers can make interior and stopped cuts much more easily. The plunge-base motor is mounted on two spring-loaded posts above the base, which lets you position the motor above the work, then lower the bit straight down into the wood and begin cutting.
The plunge router is the best choice for routing mortises, grooves, and other joints that require starting and ending the cut at a specific point of the layout. In order to lower the bit to a precise depth, plunge routers have a depth stop, which is simply a steel rod that positions against a screw on the router base.
Best Plunge routers typically have three-depth screws mounted on a turret. This allows you to make a deep cut, such as a mortise, in precise, incremental steps.
So, we are reviewing some of the best plunge routers that fit the bill no matter what your needs are:
| No | Name | Buy on Amazon |
| --- | --- | --- |
| 1 | | [amazon fields="B00779ND0Q" value="button"] |
| 2 | | [amazon fields="B00HAQMHEO" value="button"] |
| 3 | | [amazon fields="B01LG605X8" value="button"] |
| 4 | | [amazon fields="B00005RHPD" value="button"] |
| 6 | | [amazon fields="B0048EFUV8" value="button"] |
| 7 | | [amazon fields="B01M0J08MF" value="button"] |
| 8 | | [amazon fields="B07WDR7N3R" value="button"] |
| 9 | | [amazon fields="B00P8N178I" value="button"] |
| 10 | | [amazon fields="B07P8P2HZW" value="button"] |
Top Picks of 2023
1. Triton Dual Mode Precision Plunge Router – Best Plunge Router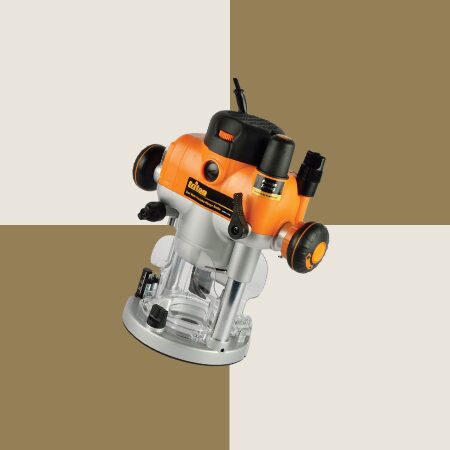 The Triton Dual Precision Router is an ideal combo for any wood worker's armory as you can use from conventional plunge to fixed-base just switching the single button also it comes with a 3-year warranty which is an excessive indication of its durability but make sure to register it for the fully covered three years' warranty.
This Router has three methods of cut depth adjustment depending on the accuracy and control required: 1) Free plunge for conventional and fast depth adjustment 2) Winder handle plunge, for controlled and quick adjustment, and 3) Micro adjuster, for precise depth setting throughout the full plunge range.
One of the admirable features of this Router is that how super quiet it is also this best budget plunge router comes with a crank handle that will save hundreds of dollars on router lift as router lifts reduce the size of space needed to be mounted under the router table.
The soft-start feature is one of its best functions because it does not jerk out of your hand when starting even at its fastest speed and allows you to be very precise in your start and end of routing.
The speed control will allow you to work heavy bits with ease and will enable you to work hardwoods without burning, which saves hours of sanding.
Pros
Having Dual-mode either use it as Fixed or Plunge as per your need
Three methods of cut depth adjustment for accuracy and control
Through base, single wrench bit change achieved with an automatic spindle lock
Three years' standard warranty
Soft start and variable speed by providing the perfect pace for all cutter types
Its 3-1/4hp / 15A motor provides enough power for even the most robust timbers
Cons
This Router is quite heavy and not ideal for hand routing
Dust Collection shroud is a bit wimpy
2. Festool 574692 Plunge Router – Best For Professional Woodworkers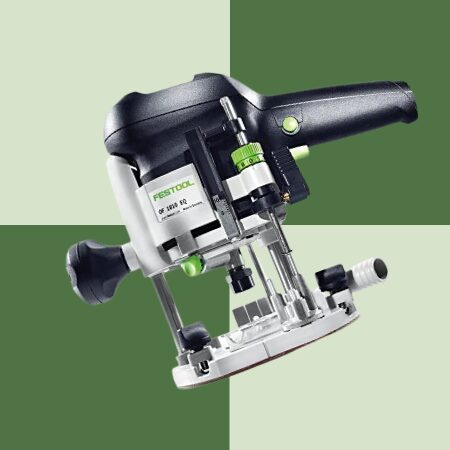 This is a very powerful router that chews through everything, and very much heavy on pocket as its quite costly as it's designed for professional woodworkers and not for the novice.
What makes this product second on our list is due to its price, which is twice as of its competitors, but if you are a professional woodworker, this product worth every penny as this Router is smooth as silk in its running.
Its ratchet head makes changing bits a breeze. The plunge height adjustments are well thought out and easy to use also Ergonomic handle with full-grip is designed for increased control and reduced fatigue with power switch and speed control at the fingertips.
This Router provides a smooth 2-3/4″ plunge action on precision ground rods and a double-column clamp with a quick and secure plunge lock. This is best plunge router with dust collection system.
Like a Luxury car, this Router is designed for those who demand performance and reliability as for the pro especially, your quality time is money, and this Router will save a lot of time in making adjustments, changing bits, and swapping out base plates for various applications.
Pros
Its smooth start-up facility enables start-up of the machine without jerksand requires a lower start-up current
Its dust collection will be left you amazed as its impressive
Its rail system and accuracy is exceptional
Ergonomic handle with full-grip designed for increased control
Cons
It's Festool, what's not to love, except the price
It does not include any edge guide and bits in so much price
3. Makita RP2301FC Plunge Router – Best Easy to Use Plunge Router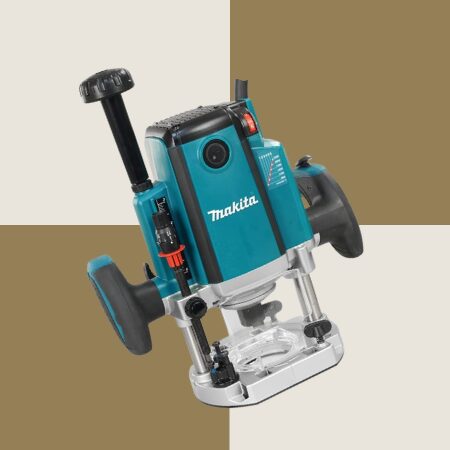 This full-size Japanese manufactured Plunge router is one of the best midrange routers in the market that comes with the 3.2 HP motor and able to give 22,000 rotations per minute. This Router able to create a different range of projects and applications with the help of 2.25" plunge depth.
The other neat idea they designed into the Router is the template guides that can be installed by just pulling on one lever inserting the guide, and then releasing the lever.
It also has a linear ball bearing that makes the Router to work smoothly.
One unique feature in this Router is its Built-in Dual LED lights which illuminate the work area for increased visibility also it comes with the built-in fan that is responsible for keeping the debris and dust away from the motor.
The only downside of this Router is that the Straight Edge guide is not included and has to bought separately, which is Makita 122700-3 Guide holder and comes in apparently two parts the holder, which is the two bars and connecting piece.
Pros
The trigger placement is convenient; don't have to lift your hand to turn it on, then grip it again. just pull the trigger on the grip.
It doesn't bog down with hardwoods due to its never-ending amount of power
Its LED Light feature is incredible for clear visibility
The control to hold the plunge depth is well-positioned and easy to use
Cons
The straight Edge guide is not included and has to bought separately
Makita does not have a case in existence for this Router
4. DEWALT DWP611PK Plunge Router – Best Plunge Router for Beginners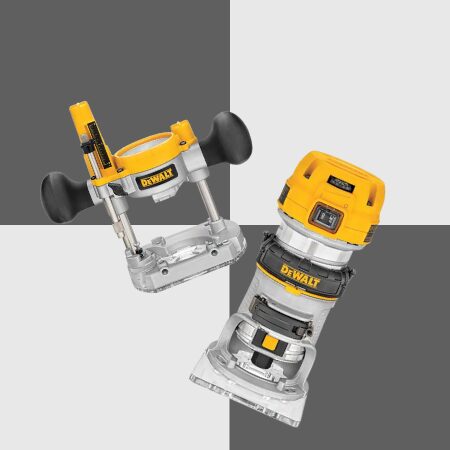 This Dewalt Router is a powerhouse at a bargain rate as by having this Kit, you have both fixed base and a plunge base, which comes with 1/4-inch and 1/2-inch collets for improved versatility and have powerful motor of HP allows the Router to cut through toughest hardwoods.
It has a soft start feature, which reduces start-up torque for optimum control, so no more jarring start-ups like old school routers. It has a variable speed setting ranging from 8000- 24000 RPM for specific applications.
Its motor cam lock makes depth adjustment and base changes quick and solid-locking and has efficient dust collection, which provides superior bit visibility; also, it comes with a 1-year warranty and a 1-year service contract along with 30 days no-risk trial.
The only downside which is not deal-breaking is the Edge guide is not included, and the centering tool has to be purchased separately, which used to center the base plate, so that the base plate perfectly centered below the router bit.
Pros
Works excellent with guide bushings, especially when working with hinges
Setting the depth via screw is a breeze
Its detachable power cord and easy to disconnect from the Router makes you safer
Ergonomic handle with full-grip designed for increased control
A suitable product for Intermediate and Novice woodworkers and not so much costly as compared to others
Cons
The edge guide is not included
The centering tool has to be purchased separately to center the base plate
There is no Lift included and has to be purchased separately
Not accurate as they advertised for adjustments like 1/64, which is bogus
Tip for Novice Woodworkers: Make sure to wax the base plate, and the Router glides across the wood like butter.
5. Bosch Router 1617EVSPK Plunge Router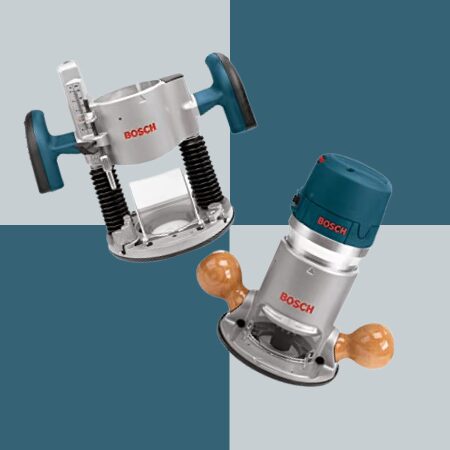 True to form, this Bosch Router carries the brand's trademark Durability and Accurate Fixed and Plunge Base cuts.
It comes complete with the plunge attachment, 1/4″ collet & 1/2″ collet. The Router, plunge attachment, all wrenches, hardware for mounting to a router table, and collets packaged in a secure carrying case.
It has a super Skookum motor of 2.25 HP and having a variable speed range of 8,000 to 25,000 RPM. The variable speed dial allows you to set the optimal speed for the routing task and material as variable speed control is outstanding to match the router speed to the wood hardness and thickness. It made a massive difference in the finished cut. And with built-in Constant Response Circuitry, this Router will maintain a constant speed throughout the cut, so you get cleaner, more accurate results.
The motor housing and bases made of aluminum and the power switch are now utterly dust-sealed for added durability; also, it comes with one year of limited warranty.
Some things that bug this down are how difficult it can occasionally be to remove it from the plunge base and the absence of dust shield, as debris and dust is an issue with all routers its strange omission surprised me also the Lack of spindle lock especially if you are not comfortable using two wrenches.
Pros
Soft start is as gentle as a kitten and how quieter it is impressive
Its above table height adjustment and the superbly designed attachment for rub collars are exceptional
Accuracy of the cuts, especially dado cuts
Motors housing and bases made of aluminum, which is an excellent sign of its durability
Its edge guide is splendid as compares to others
Cons
It's quite challenging to remove it from the plunge base
Absence of Dust shield is another downside of it
Lack of spindle lock
The wooden handles on the fixed base are very slippery
6. Hitachi KM12VC Router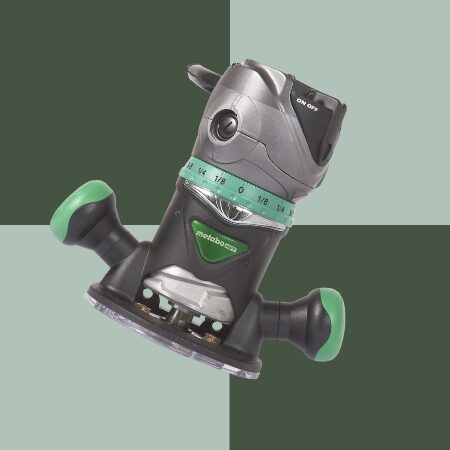 The only product in the list which has five years warranty along with 30 days' money-back guarantee as the Hitachi rebranded themselves and comes with a new name of Metabo same qualitative tools with only a new name for branding.
The noticeable feature of this router kit has 79.7 decibels, which is much lesser than its competitors, which suit those who like quieter environments to work in also, the motor of 2.25 HP is a work of art.
It is so smooth and quiet compared to many routers as the sound is a product of vibration, which tends to think that a router that is quiet and powerful at the same time is going to be more precise and smooth than a loud and powerful one. You indeed have to use two wrenches to loosen the collet.
This tool also comes with the electronic speed control, so; you can maintain the equal level of rotation per minute whenever you will use it also its Kit contains some handy accessories, which include 3 Plexiglas baseplates that attach to the bases with three screws each. Two of them are circular, and the other one is a 3-quarter circle with a flat side that can be used to guide the Router along a fence, 5 Aluminum guide bushings of various sizes, and A dust guard to attach to the plunge base.
Its ergonomics follow the old school thoughts, which is the downside of this tool in the modern era as it has a narrow plunge base and collet is too far from the plunge base, which is another pain while changing bits and plunge base gets stuck most of the time requiring you to stop and unstuck the router.
Pros
Quiet as a church mouse having loudness of 79.7 decibels
The power cord stays flexible in a severely cold environment
It powers on smoothly with no powerful jerks, and the speed control is smooth except for a lower speed setting
Having five years' warranty and 30 days' money-back guarantee
Cons
Edge guide not included
Unstable ergonomics of plunge base as its little rough and jerky
Using two wrenches to change bits' annoyance
Best Plunge Router's Buying Guide: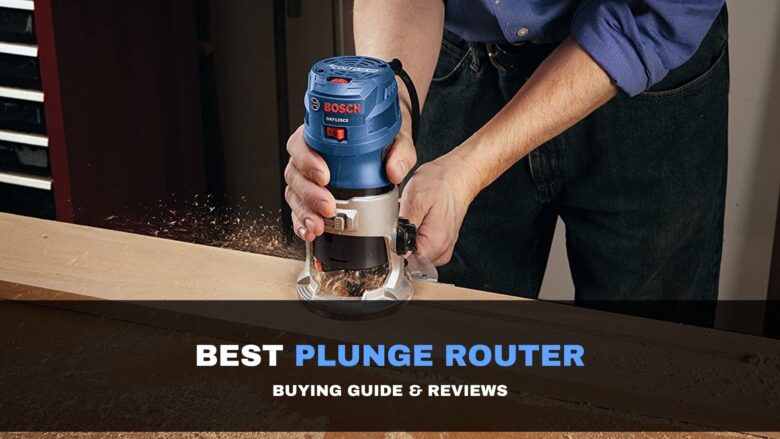 Whenever practical, I rout my mortises, and there's no better router for the job than a plunge router with a big motor. The raw power lets you remove more waste in a single pass, and the increased mass means the Router is more comfortable to control and cuts more smoothly. But a big plunge router is great for more than just mortises. I use mine for template routing, profiling edges, and cutting dadoes and rabbets.
Factors to be considered before purchasing a plunge router:
1. Choosing the Right Size for your Router
Plunge routers are available in two main sizes: either a 2-horsepower (or slightly less) or a 3-hp (or slightly more) model. Most larger plunge routers have found happy homes in router tables, and that's where they belong. They're honestly too large for convenient hand-held routing operations. They can be used this way, but the smaller plunge router is more likely the better choice for hand-held routing.
The smaller plunge routers are more comfortable to use hand-held and will provide an astonishing amount of power for almost all operations. Today's plunge routers often come equipped with variable speed.
This is good because the larger diameter bits cut better when run at slower speeds. Also, many variable-speed routers now offer a type of turbo-boost called electronic feedback control. This feature allows the motor to maintain the revolutions per minute when the Router is in use, meaning there's no slowing or stalling during a cut.
So smaller is best when the tool is used outside of a table, and larger is likely
better for router-table use.
2. Height-adjustment Features
With fixed-base routers, the depth of cut usually is set and adjusted manually by sliding the motor up and down in the base. Some motors will rotate to adjust the height, while others slide straight up and down.
When the height is set, the motor is locked in the base, and the work proceeds. With plunge routers, the depth of cut also is set by sliding the motor in the base, but there are a variety of ways to set, adjust, and fine-tune that height.
Because the plunge router is designed to slide out of the cutting position and then return to the proper depth with a plunge, a repeatable and reliable depth stop is required. The most common and simplest repeatable depth stop on plunge routers is called a "turret stop."
A height-adjustable rod is mounted to the motor housing and aligned parallel to the direction of the plunge. Mounted to the base is a rotating dial with usually three (but this can vary) stepped-height stops.
The depth rod is plunged against the lowest position for the proper height, then locked in place. The other two stops come into play when you are making deep cuts in multiple passes to reduce the strain on the bit and the motor by taking no more than a 1⁄4"-deep cut at one time.
The fine-adjustment feature also makes plunge routers the right choice for edge routing and profile work, applications typical for a fixed-base router. Many woodworkers, when faced with using only one router, will choose a plunge router, since it is more versatile.
3. Soft Start and Quietness
Be a better neighbor, buy the quiet Router while you route they might know you are doing something, but it's not going to send them running for cover and set all the neighborhood dogs to howling as with old routers even the neighbors needed earplugs. However, now a day, the dynamics and ergonomics of routers have been changed, but still, you need earplugs for safety purpose and if want to be able to hear when you have grandchildren.
Another thing is a soft start which is an essential aspect of safety too because it does not jerk out of your hand when starting even at its fastest speed and provide you better grip and accurate cuts while routing, so choose any of the Router reviewed above as all are quieter and all have soft start features.
4. Safety
Routers are excellent power tools, but they are noisy and create tons of dust. Protect your hearing with earmuffs or earplugs. Earmuffs are useful when you're in a situation where you don't need constant hearing protection. They're quick to put on and take off. Earplugs offer excellent protection and can be worn all day long if you're working with or around tools that run constantly.
The dust mask is also essential and has filters that can be easily replaced. A valve lets you breathe in through the filters only. When you exhale, the valve reverses to let that air out unfiltered. Don't bother with dust masks like doctor's wear. They don't seal around your face, and they aren't made to filter out fine dust particles. If your lungs and ears are important to you, use the proper protective gear.
Conclusion
The diversity in features and capabilities shown in our shortlist indicates that manufacturers are finally starting to give plunge routers some long-overdue attention. However, if you're not quite sure about which one to buy our recommended is the , it's a workhorse with plenty of power for heavy-duty operations.
The Triton name is long-associated with routing. So, it's worth trying out and won't break the bank even if you decide you need something more substantial, for more rugged use, or to utilize professionally.
But if you are a professional woodworker, we recommend Festool 574692 Plunge RouterFestool 574692 Plunge Router due to its ergonomics and powerful motor that chews through everything.
And with interest in woodworking surging in recent years, we can expect more such exciting routers to be unveiled in the coming years. But until then, these are the best plunge routers for 2023.
Happy Routing!
Take a look at these products from the same price range, that are available right now on Amazon: