When I started work on door hinges, I was also confused about the right router bit use for door hinges. That time it was quite difficult for me because I also don't know about the router bits. So I did a lot of research on what router bit to use for door hinges.
If you think that you have a top bearing bit and do your work with this bit then it would be a problem for you, because I also try a top bearing bit with a different cutter length with my work and was disappointed. But don't worry, I am here to guide you with the best door hinge router bit.
In this article, I will tell you about the perfect router bit used for door hinges. Hinge mortising bit used for this purpose. Using this type of router bit is a great way of achieving your task. Mortising is a hollow space used for locking mechanisms and door hinges.
Here is the answer to your question of what router bit to use for door hinges. This description will be helpful for you for buying.
1. Yonico 14176q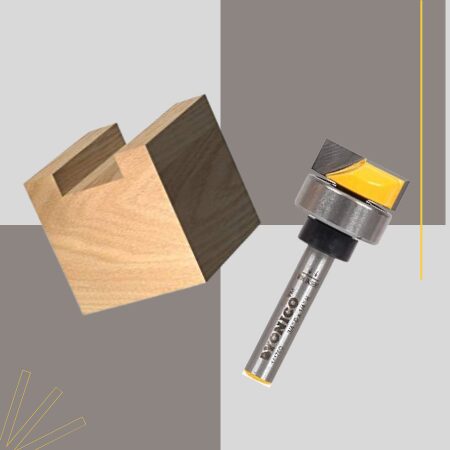 Yonico 14176q template trim hinges mortising router bit has a ¾ inch cutter diameter with a ¼ inch cutting depth. A perfect router bit for routing door hinge mortises uses a hinge template. Has a shallow cutting depth and center meeting blade. You can use this bit with or without a router.
This router bit has a perfect combination of ¼ inch and ½ inch shank. Item weight is 0.64 ounces. The router bit is said to be flush-trim because flush-trim has to bear on the shaft and cannot be moved from the position.
You can use this router bit like a straight bit. You can use it to trim into corners of side planks to be glued into. The length of this router bit allows you to square two ¾ inch panels at once. You can make dressers, building cabinets, bookcases, etc.

Pros
Great for money
High-quality router bit
Compatible
Lifetime warranty
Cons
None (I am also using this brand. There's no fault in the product)
Recommendation: if you are a newbie and feel hesitate to buy this bit because you don't know about this brand then believe me it would be a great choice if you choose hinge mortise router bit. I will recommend you to buy this amazing router bit which worked perfectly. You will be happy with the quality and price of the router bit. The fantastic bit which performs nicely. I also use this router bit and will recommend you.
Conclusion
Hinge mortise router bit, a perfect router bit used for door hinges. You can easily use this router bit with a handheld router and router table. If you want to complete your project then must buy this router bit.
This router bit makes me happy with its flawless work and I hope you would also enjoy this great bit. I think the above description will helpful for you. It's your time. Just buy this router bit and make your work easy. If you have any query or any problem related to this topic then please ask it in the comment section. I am here to solve your problem. Best of luck!
Check out some other picks from Amazon also: