With time, new tools are coming which makes woodwork easy and more interesting. As you know, everybody needs a guide for using new tools. So, I am here to guide you about the purpose of tools and their usage that how can you use them and make interesting things with them. In this article, I will tell you how to use a dovetail router bit.
Today I am going to discuss a tool, name dovetail router bits. A dovetail meaning "JOINERY" used to make drawers, cabinets, furniture, etc. Normally, this tool makes joinery shape to join the wood pieces which makes a beautiful thing.
You can resemble it with the shape of the head and tail. One's tail joins with the others head. Due to its remarkable shape and designs, it becomes more interesting and widely used that everybody wanted to know about them. Its functionality attracts woodworkers.
Types of dovetail
There are different types of the dovetail router bits. Each has its purpose and usage. I seem every type of dovetail interesting and funable.
Through dovetail OR plain dovetail
In through dovetail, every end of both wood pieces visible when we join them. Used to make boxes, skeleton, drawer pieces, etc. Widely used among craftsmen and become popular but newbies will don't know about them. So, they will learn from this article in detail. As it is said that through dovetail is also known as an "English dovetail".
Half-blind dovetail
Another type of dovetail is half-blind. In this type, ending parts of both pieces are not visible. So, when woodworker doesn't want ending parts visible then they use half-blind dovetail. Commonly used for making fasten drawers. When we join the pieces then ends of both pieces like head and tail will be hidden. You can say that it is the alternative of through dovetail.
Secret mitered dovetail OR full-blind dovetail
Similar to half-blind dovetail, full-blind dovetail also hides the end grains of both pieces of wood but used for high-class boxes and cabinets, and has a single dovetail. In every type of dovetail, there is also a difference of angle. In this, 45° is used and we can make photo frames and similar things.
Secret double-lapped dovetail
This type of dovetail is similar to the secret mitered dovetail that it also hides the ending points of wood pieces but have a thin section of ending parts.
Sliding dovetail
This method just looks like two lines that intersect each other. You can say that one piece of wood become vertical and the other one becomes horizontal and fix easily.
Commonly it is used for joining shelves to cabinet sides, horizontal partitions to shelves, drawer fronts to sides, etc.
Above mentioned are the types of the dovetail. I hope you understand all of the types and their purpose. I am using through dovetail. It's up to you which type of dovetail you want. After knowing about the dovetail joints, now I will tell you how you can make dovetail with router bits.
Tools Required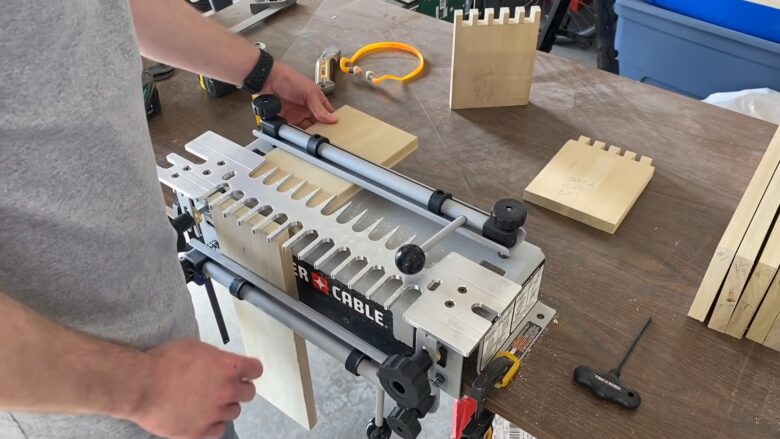 Things required for making dovetail with router bits are:
Pencil
Wood
Dovetail jig
Router
Ruler
Dovetail router bit
Dust mask
How to use dovetail router bit for making half-blind dovetail?
For beginners who are not using dovetail bit yet, then what are you waiting for? Just go on Amazongo on Amazon and buy it. It's such a nice thing, I say that you will be very happy to see its functionality. There is a lot of dovetail bit in the market. I am here to tell you about them.
Are you ready for knowing? So join me here, I am going to tell you about the 14-degree dovetail router bit which I also use.
Let's start, making half-blind dovetail with the 14-degree dovetail router bit. If you don't have this bit and dovetail jig then check this linkcheck this link and buy them.
Step 1:
Take a large piece of wood and cut 4 sides e.g. front, back, left and right.
Step 2:
Now, label the corners of sides with a pencil-like 1, 2, 3, and 4. Also, mark an arrow inside on the pieces.
Step 3:
Put the 14-degree dovetail router bit in the router with the width 19/16 inches above from the base.
Step 4:
Set the jig on the table which has two stops. Set the stops by placing a piece of wood in the table and tight them.
Step 5:
Take the left side, inside out and put the left side in the bench and down the clamp. Now, take the backside and put the left side and clamp down. Make sure that the left joint of wood would be placed on the left side and the right joint will place on the right side.
It's important that inside of the side is facing out and the inside of the back is facing up.
Step 6: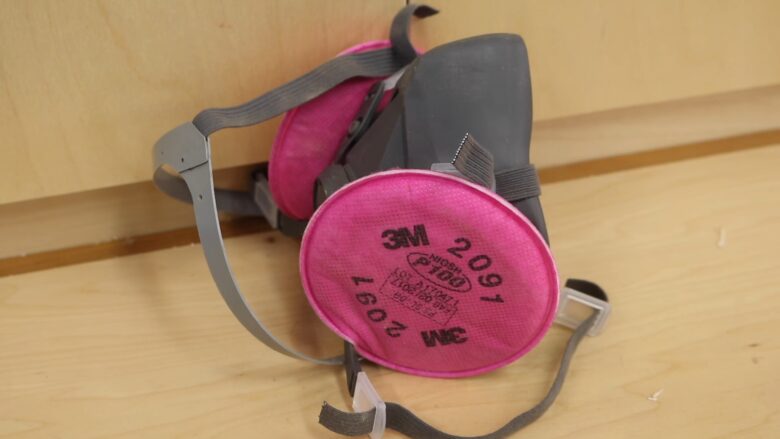 Put the dust mask on your face and start the router for cutting. After this, take wood out. Now join both sides, if you see that joins are too loose then you can fix it by moving bit.
Step 7:
Now do the same with the front and the other side and cut them. And do some work for all the sides of all the pieces. Finally, fix all pieces with the glue.
This is how you can make half-blind dovetail with the dovetail router bit. I hope this method would be useful and helpful to you.
Conclusion
How to use dovetail bits is fully described. I hope you will understand. I am sure that this article would be beneficial for you. This content covers all the things related to the dovetail. The tools which I recommend such as dovetail jig and dovetail bit are very useful for making a different kind of things. Must try these tools, you will learn many things. If you have any query related to this then comment below. Thank you and Good Luck.
See Our Popular Topic
Best Wood Router to buy – Review – Buyer Guide
Best Router Table to buy | Skil, Bosch, Kreg, Bench Dog Review
Best Router Bits Sets | MLCS, Freud, and Yonico Router Bits
Best Compact Router to Buy – Do Not Buy Before Reading This
Best Router for Table Mounting to Buy | Comparison and Reviews
Best Plunge Router to Buy | Reviews & Buyer Guide
Best Router Lift To Buy | Buyer Guide – Reviews
How to Build a Router Table | Step by Step Guide
How to Use a Router | Different Ways to Use a Wood Router
How to Use a Router table – Safety and Tips
Full Guide to Router Tool Uses – Tips and Methods
A Step-By-Step Guide on How to Make Wooden Signs with a Router