There are multiple methods for making groove cut in wood without a router and with a router. Here, I am going to tell you how to make a groove in wood without a router.
Normally they are used to decorate our things. It is used for making chairs, locks, shelves, etc. Making grooves in wood is not a difficult task. You can easily make it after knowing the methods.
Methods for making grooves in wood without a router
Here, I mentioned multiple ways of making grooves in my content. These methods are very easy and simple. If you find a problem in one method then you can try another method, but keep in mind that all these methods work very well. Answer for how to make a groove in wood without a router is given below.
Dremel tool method
One of the best method used for short pieces of wood. A very simple and easy technique for making grooves with the help of Dremel. If you are trying to cut a groove for shorter wood and wanted shorter cuts then this would be a good approach and you can cut easily.
But if your wood size is large and you want large cuts then it will be time-consuming. This tool consists of the blade which is used for cuts.
Tools required: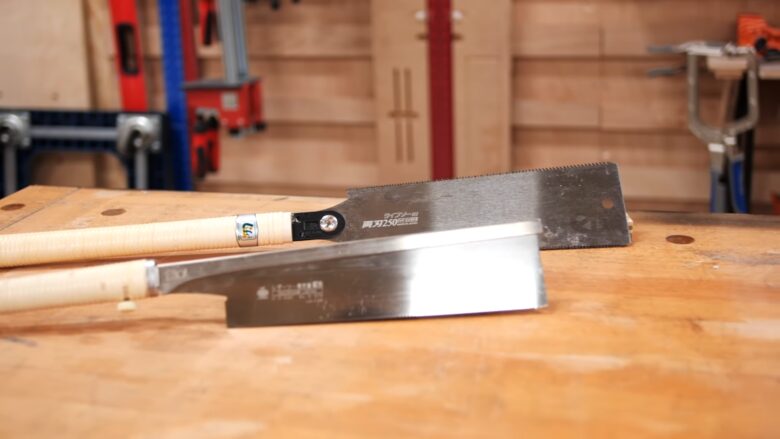 Dremel
Pencil or marking gauge
Piece of wood
Stepwise method for grooves is given below
The first step is to take a piece of wood and mark it with a pencil or marking gauge.
Now, take a Dremel tool and fix the blade in it.
Now, place the tool on to the wood piece and start grooving carefully.
While using the tool, make sure that your blade will go in the depth of the wood according to your line then it works better.
when you are trying to use this make your safety first. Must use safety glasses.
Using Table saw
method
Best for the large cuts in wood. Every woodworker would be familiar with this tool. Used for cutting.
Tools required:
Table saw
Pencil
Wood piece
Blade
Feather board (if needed)
Now a question arises:
How could you use this method for grooving in a wood?
There are a few steps for this:
Firstly pick a pencil and a wood piece.
Now mark on that piece according to your desire of cutting.
Now place the wood on the table saw which consists of a blade.
Place one hand on the wood piece and press the wood down and place another hand along with the wood and press it toward the fence and move the wood forward. Giving pressure across the fence you can push it with your hand and also can be with an adjustable feather board. You can adjust it according to your wood piece. Mostly, it is placed right to the blade.
Now place the wood on the table saw and start grooving it. After sharp, you can see the result.
Note: if the piece of wood is large then must consider a helper who helps you. And also keep your hand away from the blade when you use them.
Chisel method (cheapest method)
If you know about the old fashion way then you can use this method to make a groove in a wood. If you follow this method, then you can cut a smooth and nice groove. This is the cheapest and easy way.
Tools require:
Saw
Adjustments
Chisel
Piece of wood
Here, is the few steps for the chisel method.
For this method, first mark parallel lines with the saw carefully.
Adjust the wood on the table with adjustments.
Now, start work with a chisel. Be careful when you are working with it. Remove a small amount of wood gradually and make a perfect groove.
Note: The groove size cannot be smaller than your chisel size. For this, you need to be work with the most concentration.
By using a combination plane
This type of hand plane tool is used for making a groove. If you don't have this then check it and buy now.
Tools required:
Combination plane
Piece of wood
Marking gauge
Different sizes of blades
Following steps help you to cut a groove in wood without a router
First, take a piece of wood and mark starting and ending grain with the marking gauge.
Now place the wood on the table and fix it.
Now take a combination plane and multiple sizes of blades.
Choose any one blade and place it on to the tool.
Now place the tool on to the wood with the marking line and press it.
Give a pressure of thumb toward or down the wood or the fence and give pressure with another hand to move the tool forward.
Keep scratching wood with this till you find your groove successfully.
By using one or more saw
You can cut a groove with a different saw. Here, in this content, I will tell you how you can do that?
Tools required:
Piece of wood
Ruler
Different saws
Steps for making grooves with one or more saw are:
First place the wood piece on the table.
Take a ruler and adjust it with the help of adjustments and fix it on the wood piece.
Now take a saw to mark the line with the ruler. Do the same thing from both sides of the groove.
Now cut groove and make small cuts with the help of a saw. When you completed making cuts than cut the proper groove with the same saw.
Now take another saw and place it in the hand plane and make the cut.
When it completed make sure that the edges of the groove are properly cut. Now your groove is ready.
Note: Before making grooves on your working piece please check it on an extra piece of wood.
Final verdict
Without using a router you can make your cuts easily. It's the cheapest way but time-consuming. There are multiple ways for grooving in wood with hand plane tools. I try my best to cover all the methods and hope that this article would be helpful for you.
If you have any query related to this topic then you are welcome to ask in the comment section. Now make your grooves and share your experience with us. Thank you for reading this and best of luck with your work!