When we talk about machinery, the name of DEWALT pops up at the top of the list of the best! DEWALT has made quite a name in the world of machines and tools. That is because their tools and accessories are built exactly according to customers' needs and expectations.
Even if you are not a person who enjoys using heavy machines, a few staple pieces of accessories should be present on your work table. I am sharing the reviews of all the best DEWALT work table accessories in 2023 in detail in this article!
 Best Table Accessories for Your Workshop by DEWALT
1. DEWALT 20V MAX Orbital Sander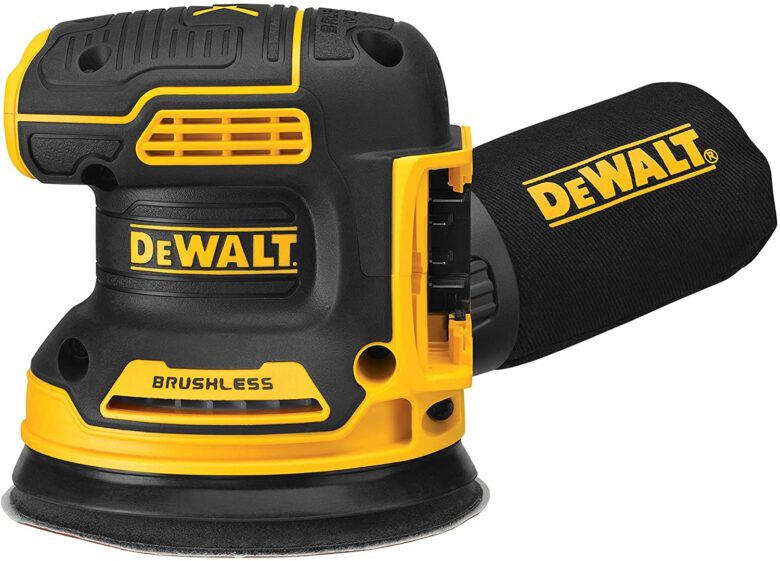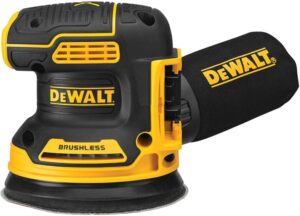 No work table is complete without a sander, and when you have a DEWALT orbital sander, the job gets easier. Whether you need to scrape off paints from the walls or from the furniture pieces, this model is capable of taking care of everything, thanks to its build.
This orbital sander comes with sturdy construction. In addition to that, DEWALT has incorporated a brushless motor into this sander which offers more torque. So, you will be able to get more work done in less time. Moreover, the speed of the sander goes from 8000 to 12000 OPM; you can control the speed according to the project at hand.
Furthermore, the best feature of this work table accessory is that it comes with a low-profile design. This way, you can get more closer to the surface work done and that too with precision.
The weight of this model is only 2.5 pounds, so it will not be a nuisance to hold it for a prolonged period of time. Lastly, another handy feature of this model is that the sanding pad can be replaced easily.
Pros
Low profile design
Lightweight
Maximum 12000 OPM
Speed control
Replaceable sanding pad
Cons
The battery does not last long
The DEWALT orbital sander is a must-have for every individual who finds themselves doing heavy work. The sturdy, low-profile design of this orbital sander makes it ideal for getting a more precise job done. Moreover, the saddening pad can be replaced effortlessly, which further makes it a good deal.
2. DEWALT 20V Max Cordless Drill Combo Kit
A drill is a necessity of every work table, whether you are fond of the heavy work or not. The DEWALT Cordless Drill combo kit comes bearing two cordless drills, an impact driver and a drill driver. The cordless design of both drills is a really thoughtful feature as you will not have to deal with the annoying tangles of cords and wires.
All you need to do is pop in the batteries, and you can get to work. From my experience, the best feature of this drill combo kit is that there are bright LED lights installed to the front that illuminate the area. The drills are capable of delivering 0 to 450 and 0 to 1500 RPM.
In addition to that, the drill itself has a very compact and lightweight design. This is another crucial feature as it is easier to hold it for hours of labor. Moreover, the small size also comes in handy when you are working in tight and small spots.
Pros
LED light
Lightweight
Easy to carry design
High RPM
Sturdy handle
If you find yourself huffing and puffing to make holes in the walls, and furniture with a hammer, then you need to stop doing that immediately. With the help of the DEWALT 20V Cordless drill combo kit, you will get a pair of lightweight, sturdy drills that you can use for years.
3. DEWALT 10-Inch Table Saw DWE7491RS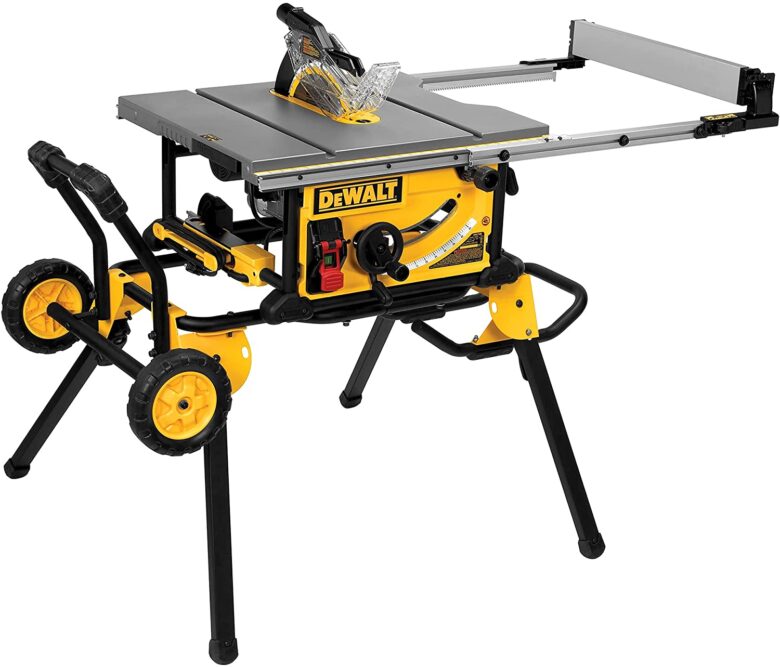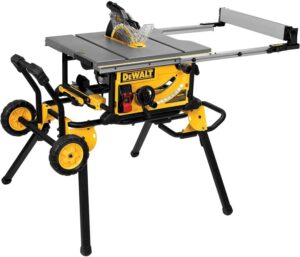 This is not just an ordinary table saw. The DEWALT table saw DWE7491RS comes with additional parts and features that will make your job ten times easier. First of all, this is a corded machine, so you need to find a good spot to plug it in.
In addition to that, the package includes a table saw, a 10-inch 24-tooth carbide blade, a rolling stand, push stick, miter gauge, 2 blade wrenches, and a rip fence. A good inclusion in the package is that among all these parts comes a manual that will come to your aid while assembling. The rip capacity at the left side of the blade is 22 inches, while on the right side, it is 32 ½ inches.
The stand has been designed in a way that you can easily set it up and then break it down once done with it. The 24 tooth carbide blade will work at the speed of light, cutting effortlessly through any material, even wood. Moreover, the high torque motor that comes in the package also gives it the power to cut through hard surfaces.
Pros
Comes bearing many parts
Sharp blade
Cuts through hardwood
Comes with a manual
Every individual who works with hardwood and heavy materials needs the DEWALT table saw DWE7491RS on their work table. This model comes with a sharp cutting blade that can rip through anything. Moreover, the rip capacity on both sides of the blade is also sufficient.
4. DEWALT DCB205-2 20V Max XR 20V Battery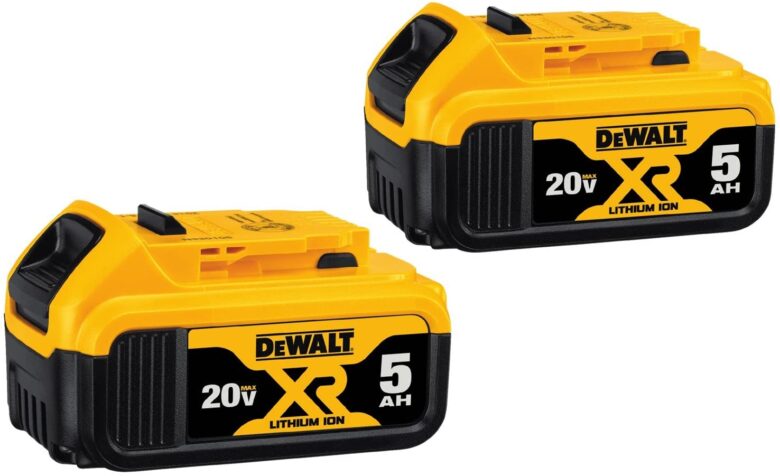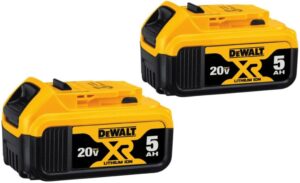 No matter how many tools you have in your garage and on your work table, they will be of no use if you do not have a good quality battery. What's better than the DEWALT XR DCB205-2 battery. It comes at a reasonable price and will give you many years of use.
The package includes 2 lithium-ion batteries. Lithium ions batteries have gained a lot of fame in the market, as they have more capacity, are lightweight, and have a long life. This model of DEWALT lithium-ion batteries provides 60% more capacity than any other standard model.
Moreover, these are rechargeable batteries, so you can get more use out of them. In addition to that, these batteries come with three LED lights indicator that shows the charge of the batteries. When the charge is full, all the 3 lights will be bright, and when the charge is low, only 1 light will be blinking. These batteries support the tools that require 20V of power.
Pros
Lithium-ion batteries
Rechargeable
Battery indicator LED
Lightweight design
2 batteries
Cons
Costs a large sum of money
The DEWALT DCB205-2 is the ideal model of batteries for anyone who is operating lightweight tools all the time. The package includes 2 batteries, and these lithium-ion batteries come with a longer lifespan and support tools that require 20V of power. Moreover, the lightweight design of the batteries makes it easier to carry them.
5. DEWALT Miter Saw Crown Stops DW7084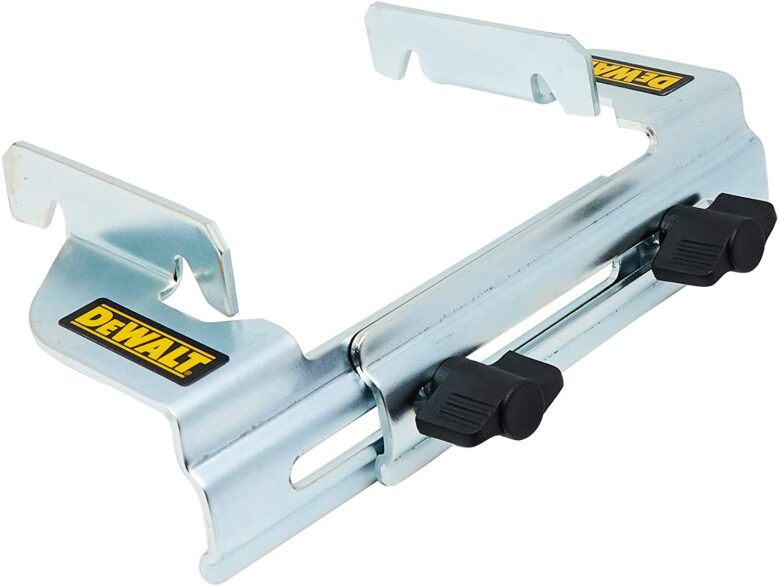 A Mitre Saw Crown Stops may not seem like a tool you will need, but trust me when I say that this is an essential addition to your work table. Especially if you own a miter saw, then you definitely need the DEWALT Mitre saw crown stops DW7084 in your life.
The package includes a Mitre Saw Crown Stop that has been constructed with high-grade alloy steel that makes it durable and long-lasting. Moreover, there are 2 stops added to the package so that both sides of the blade can benefit from it. This piece of accessory has an extremely lightweight design.
In addition to that, it has been designed to fit the saw fence perfectly. The construction of this nifty accessory has been done while keeping its end use in mind, so it will effortlessly fit the saw fence.
Furthermore, my favorite part about this Crown Stops is that it works with many models of DEWALT Mitre Saw, including DW703, DW706, DW708, DW712, DW715, DW716, DW717, and DW718.
Pros
Affordable price tag
Alloy steel construction
Comes with 2 stops
Fits many models of Dewalt miter saw
1-year warranty
Cons
Mounting is tricky at times
The high-grade alloy steel used in the construction of the DEWALT Mitre Saw Crown Stops alone is enough to prove the credibility of this product. However, that is not the best feature of this accessory. What makes this the best DEWALT work table accessory 2023 is that it is compatible with many models of DEWALT miter saws.
6. DEWALT 20V MAX XR Palm Sander DCW200B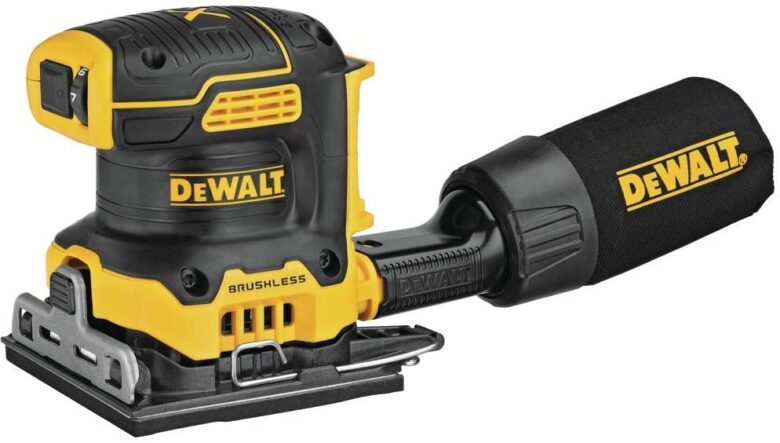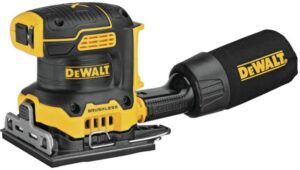 Every tool shed and garage needs a good quality sander, and when that sander comes with the label of DEWALT, then it becomes trustworthy automatically. The Dewalt DCW200B is a palm sander. It is an electric sander, so there is no hassle with cords and wires.
The sander is battery powered, simply pop in the required amount of batteries, and you're good to go. DEWALT has added a brushless motor to this sander which not only provides more torque but also makes a low amount of noise and has a longer life.
My favorite feature of this palm sander is that it has a low-profile design, so it does a more efficient and precise job. In addition to that, this palm sander includes a dust chute at the back of the machine, which can be detached easily to get rid of all the dust collected in it.
Furthermore, there is a speed control button at the front that allows you to adjust the speed of the machine. It goes from 8000 to 14000 OPM.
Pros
Small in size
Low noise
Brushless motor
Speed control
Removable dust chute
Every feature of this palm sander makes it an ideal addition to a work table. This model made its way to the best DEWALT work table accessories 2023 because it comes with a low-profile battery-powered design, has a removable dust chute, and has a speed control system.
7. DEWALT Adjustable Height Portable Steel Welding Table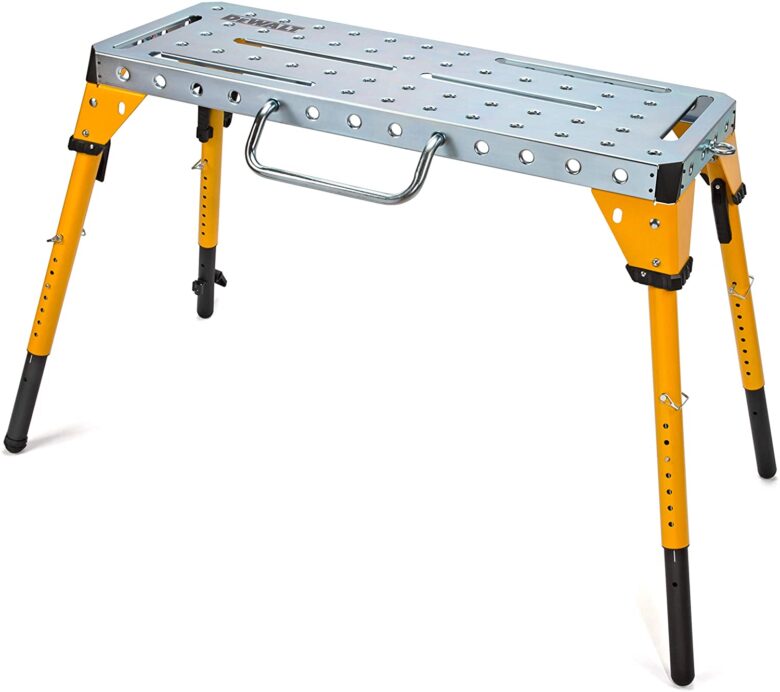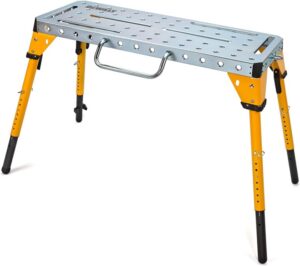 A work table is needed in every garage and workshop as it can keep many tools and accessories stable and within reach. The first thing that you need to know about the DEWALT welding table is that this table is not just any ordinary table that will hold your tools.
This model has been manufactured with high-grade steel that gives it the power to hold heavy tools and accessories without collapsing. This model can hold and tolerate up to 1000 pounds of weight.
In addition to that, the table comes with many holes in its surface, which are basically mounting slots for your tools. These holes have been placed at a safe distance from each other.
Another great perk of this table is that it has a foldable design; hence you can take it out of the closet, use it and when you are done with the table, simply fold the legs and put it back. The foldable design ensures that the table does not occupy much space. Moreover, it also adds portability to its long list of features.
Pros
Steel construction
Foldable legs
Adjustable height
1000lb weight capacity
3 years warranty
Cons
The label is hard to remove
Every single feature of this working table says that it is a necessity in a garage and tool shed. It comes with heavy steel construction that makes it sturdy enough to tolerate heavy items. Moreover, the holes in the tabletop will safely hold different tools and accessories.
FAQs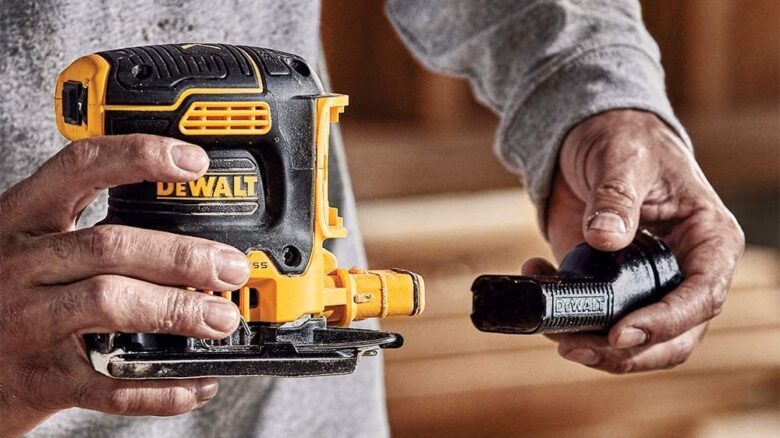 Can a DEWALT miter saw get wet?
No, any model of the DEWALT miter saw can not get wet. Whether it is a corded machine or a cordless, battery-operated one, a power tool can not be operated when it is wet. Be careful that you do not use the tools in a wet environment to stay safe from injuries.
How do you reset a DEWALT Bluetooth battery?
If your DEWALT battery has drained completely, you first need to remove the battery pack from the tool that it is connected to. Then, get it connected to the charger pack correctly. Once it is in position, leave it for approximately 8 hours to get fully charged.
Conclusion
DEWALT tools and accessories have made a name in the world of machines. No matter how minuscule or heavy a task is, it always requires a DEWALT accessory. I have shared some of the best DEWALT work table accessories 2023 with you in this article. Moreover, here are my top 3 recommendations for those who need them.
DEWALT 20V MAX Orbital SanderDEWALT 20V MAX Orbital Sander the small size, low profile design, and high OPM of this sander makes it a necessity.
DEWALT 20V Max Cordless Drill Combo KitDEWALT 20V Max Cordless Drill Combo Kit has a lightweight and easy-to-carry design.
DEWALT DCB205-2 20V Max XR 20V BatteryDEWALT DCB205-2 20V Max XR 20V Battery dual lithium-ion batteries that have a long life and an LED battery indicator.
Take a look at the following DEWALT products also: