If you're a carpenter or craftsman doing woodturning as a hobby, you'll need a proper wood lathe chuck. When working with wood, a good chuck is a very important tool as it acts as a clamp, holding your project in place while spinning, allowing you to have better control over the material and shape the product the way you want it.
Our Top Picks
If you're out there looking to buy your first wood lathe chuck, the number of choices can be confusing. For this reason, we've gathered several best-reviewed wood lathe chucks and created a comprehensive Buyer's Guide to help you find the proper tool that best fits your requirements.
1. PSI Woodworking Utility Grip 4-Jaw Lathe Chuck System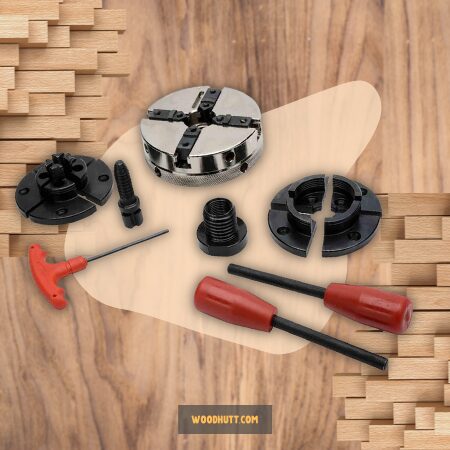 The heavy-duty Lathe Chuck System by PSI Woodworking is a chrome-plated chuck with a self-centering feature, holding your work secure and tight on both midi and full-size wood lathes.
This great chuck comes with everything you need, including the two sets of jaws covering a wide range of sizes. It also has a headstock spindle adaptor and a number of useful tools for your woodwork, such as a screw chuck, Allen wrench, and a set of tightening levers.
This lathe chuck system is especially good for bowl turning, making it easy breezy, and enjoyable. Setting up and tightening the jaws is fast and effortless, and you won't have to tighten them very often. All in all, this machine is a great value for money, and it's compatible with all "C-Series" jaws and accessories.
2. VINWOX Mini, Midi, and Heavy Duty Wood Lathe Gear Chuck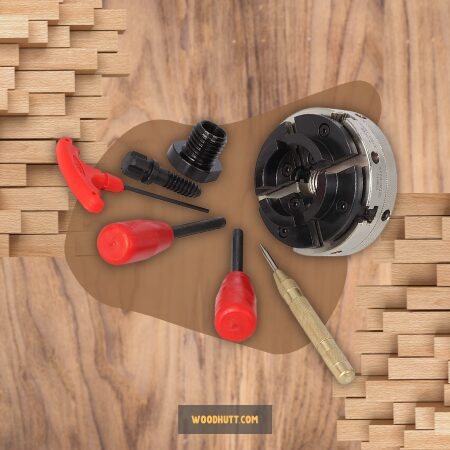 The Wood Lathe Chuck by VINWOX is an excellent tool that includes a chuck body, a set of dovetail jaws, a T Allen wrench, a tightening gear key, a screw chuck, and an automatic center punch loader.
This great machine allows for easy and quick one-handed operation, holding your workpiece by a single gear key, perfect for bowls, vases, spindles, and many other woodturning projects.
Thanks to its self-locking system, this wood lathe chuck delivers an incredibly powerful grip, which will never loosen up after the initial tightening. The VINWOX lathe chuck features a great jaw capacity, with the internal jaws that tighten around the workpiece ranging from 1-1/2 inch to 2-7/8 inches; and the external jaws that spread inside the workpiece ranging from 2-5/32 inches to 3-5/8 inches.
This wood lathe gear chuck is made of high-grade steel, ensuring anti-rust performance and long life. Both sides of jaw teeth and guides are ground, and all of the guideways and bearing surfaces are crafted to ensure long-lasting and stable service.
3. NOVA 48293 PREMIER PRO-TEK G3 CHUCK Bundle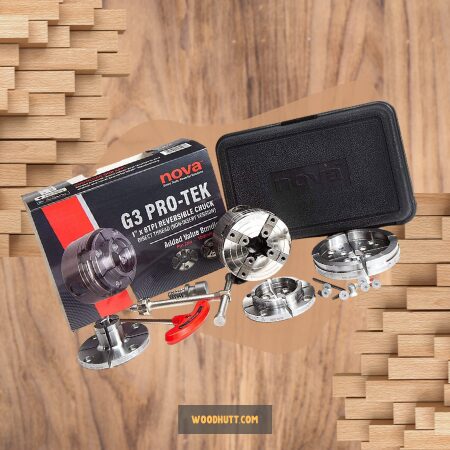 As a part of the NEW! PRO-TEK Series, the PRO-TEK G3 48293 Chuck Bundle is a reversible chuck bundle (it can replace the 48246 model), providing an excellent value for money and comes with a sturdy case for storage or carrying.
This chuck bundle by NOVA includes various upgraded features appreciated by every woodturner. It is also nickel-plated, reducing maintenance and minimizing rust. It's a strong and versatile tool with PRO-TEK Jaws, which have improved dovetail design and serrated profile for premium holding power in a wide array of projects.
It features a precision laser etched jaw numbering and eight upgraded 6-point star fasteners, minimizing strip out and allowing alignment, positioning, and change out of jaw and slide easy. It comes with a hex wrench for speedier jaw change, with an intuitive clockwise scroll for additional comfort and ease of use, as well as a microfiber workshop towel.
The PRO-TEK wood lathe chuck is the next generation and innovative addition to woodturning. With its powerful grip gears, it delivers incredible slide holding power, providing tremendously solid and vibration-free performance. This PRO-TEK series of chucks are compatible with the same tools and accessory range as other chucks by NOVA.
This bundle also includes other incredibly useful features, such as the Safe Lock woodworm screw, NOVA 4 inch (100mm) Accessory Jaws, the sliding T-bar chuck key, and the NOVA Accessory PIN Jaws (JSPIN). Plus, you'll be getting a full six-year full replacement warranty.
This chuck bundle is excellent for any type and level of woodturning, from beginners to experienced woodturners, offering them great flexibility for small, medium-sized, and heavy-duty projects.
4. BestEquip Woodturning Chuck With 4 Jaws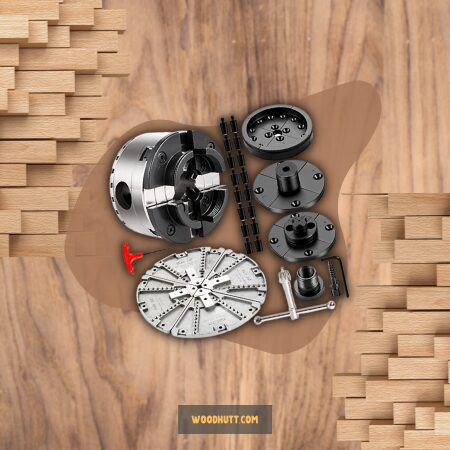 This Woodturning Chuck by BestEquip is made of a full-steel body of the highest quality. For better performance and longer service life, all of the bearing surfaces and guideways are precisely machined and made of sturdy materials.
Featuring four high-performance jaws, this wood lathe chuck can be easily center adjusted, providing a superior gripping force and improving chuck flexibility. Thanks to this feature, the jaws can grip and clamp into place a wide range of workpiece shapes.
With its smooth and polished surface, this chuck will allow you to work with high precision and accuracy. It comes with a number of valuable accessories, including a bevel gear, several jaws as well as a set of installation tools, and two deformation sleeves. All of these tools and accessories are designed to make your woodwork more enjoyable and convenient.
This woodworking chuck is suitable for a wide range of applications, such as the general lathe, milling machine, grinder, drilling machine, and machine accessories, as well as woodworking machinery accessories and many other machine accessories and tools.
5. WEN 4-Jaw Self-Centering Lathe Chuck Set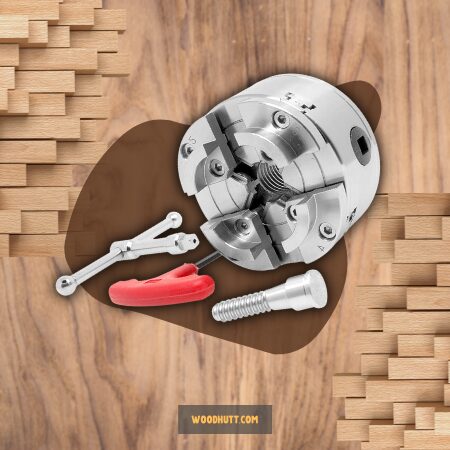 Coming with 1 inch by 8 TPI thread, the Wood Lathe Chuck Set by WEN will allow you to craft different types of woodwork easy and fast and with excellent precision. This self-centering scroll chuck is perfect for holding spindles, bowls, and many other lathe projects.
This versatile wood lathe chuck comes with four dovetailed jaws; the internal jaws will allow you to clamp and grip the outside of your workpiece ranging from 1-1/4 to 2-1/2 inches in size, and external jaws holding pilot holes ranging from 1-3/4 to 3-1/8 inches in diameter.
Its keyed tightening mechanism will provide superior gripping power to your workpiece and prevent the chuck from opening during high-speed operations. For additional security of your task at hand, you can also install the included screws to tighten or loosen your chuck according to your liking. The backplate indicates twenty-four different chuck positions, while the included accessories and tools make for effortless adjustments.
6. Woodstock D4054 3-Inch 4 Jaw Wood Chuck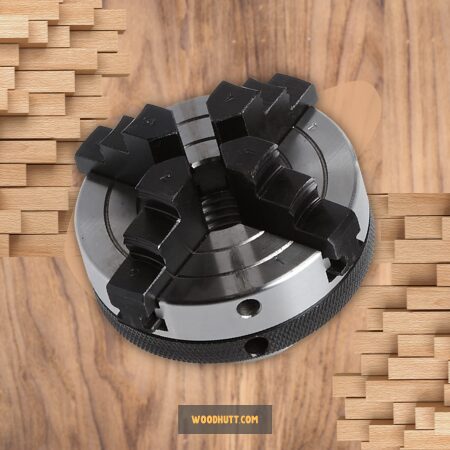 The Wood Lathe Chuck by Woodstock is the self-centering style chuck with four reversible stepped jaws, for both internal and external gripping and holding, suitable for a variety of round or square workpieces of different sizes.
The setup of this machine is made quick and easy, and it's done by twisting the knurled adjustment plate on the back of the chuck. For adjusting the tightening, you can make use of the two 4-inch wrenches that are included in the set.
Coming with the standard 1-inch by 8 TPI threads, this wood lathe chuck is excellent for different types of lathes and spindles. For quick and easy mounting and dismounting of your workpiece, you can use the threaded chucks, and it will save you a lot of time when switching between applications.
Featuring the reversible stepped jaws, this wood chuck is exceptionally versatile, and this feature is will especially come in handy when turning heavy-duty and over-sized material. You don't have to worry about keeping track of a small chuck key, since, for different materials, you can easily adjust the jaws by simply twisting the knurled adjustment plate.
7. Grizzly Industrial H6266 4-Jaw Wood Chuck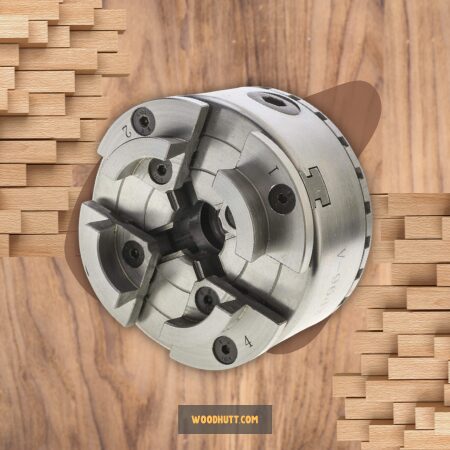 This 4-Jaw Wood Chuck by Grizzly Industrial is a self-centering wood lathe chuck of excellent quality. It features dovetail jaws that are gripping around the workpiece or can be expanded to fit the turned recess. The Grizzly chuck Is perfect for bowl turning as well as plate turning and works great with both square and round pieces.
For clamping around the workpiece, the minimum diameter is around 1 to 1/4 inch and, for expansion, the minimum diameter required is around 1-13/16 inches.
This great machine comes with a number of useful tools and accessories, such as a wood screw point, T-handled wrenches, and a machined chuck lever. This wood lathe chuck can operate well with other optional jaws, such as H6268 and H6269 jaws, that provide some additional clamping options.
Buyer's Guide to Help You Make the Right Choice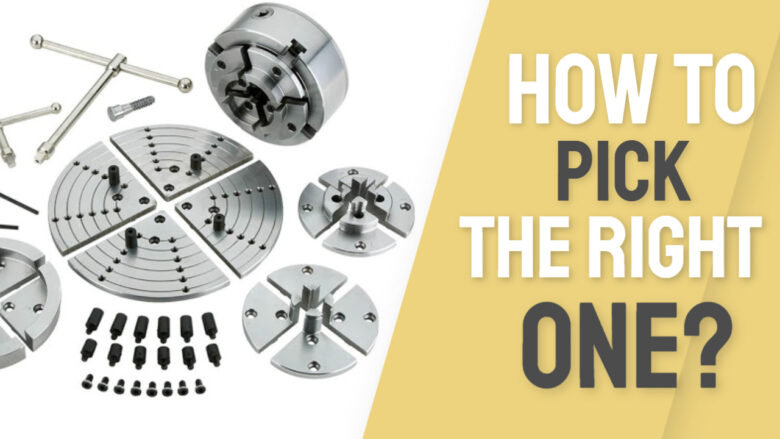 If you plan to purchase your first wood lathe chuck, there are several factors worth considering if you want to become a better, and above all, safer, woodturner. These factors include:
Factor #1. Lathe size
This will depend on your needs as a woodturner and budget. Lathes come in three standard sizes: mini, midi, and full-sized lathes. Each of these has its advantages and different prices.
Mini lathes have a swing of eight to ten inches over the bed, and between twelve and fifteen inches between centers. These are generally cheaper, up to 600 dollars, and are often used as pin lathes to turn small objects such as pens. But they can also turn other smaller pieces, such as smaller bowls, little wooden boxes or containers, as well as spindle turn holes. These lathes are great for anybody who's just starting out as a wood-turner or younger people to test if they really like turning or not.
Midi lathes generally have a bit more swing, a minimum of twelve inches over the bed and a maximum of fourteen. These lathes can handle bigger turning projects that have about twelve inches in diameter, as well as any furniture spindle. These have some mid-range prices and can cost up to $1500, and most come with adjustable speed. These lathes will require a stand, and some manufacturers offer stands with midi-sized lathes, but you can also make your own according to your workshop space.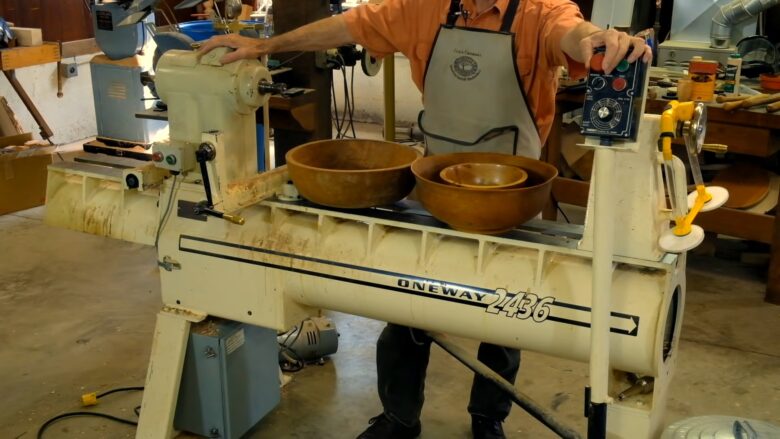 Full-sized lathes are workhorses used for industrial purposes with exceptionally powerful motors and a wide array of different features. These are heavy-duty machines of 22 inches big swing, ideal for larger woodworking projects. These are good for architectural turning and basically, any furniture spindle that you can think of. Price-wise, these beasts can cost even up to $9500.
Factor #2. Jaw number
Wood lathe chuck can have two, three, four, or six jaws. The most common lathes on the market today are those with 3-jaw and 4-jaw chucks. In the 3-jaw chucks, the chucks are interconnected and self-centering, and therefore, perfect for faster and easier woodturning. However, these can't handle square pieces, and if the centering goes off-balance, it's hard to reset it.
In the 4-jaw chucks, the chucks are moving independently, and centering them will require some extra work. But, these can be centered very precisely, they have a strong grip and can handle square or rectangular pieces.
Factor #3. Jaw type
There are two standard types of chuck jaws, dovetail and serrated. Dovetail jaws are non-serrated and smooth steel jaws that clamp onto the wood without leaving a mark. The other type, jaws with serrated edges, are profile jaws that are shaped in this way to be able to hold onto metal. For woodturning, dovetail jaws are usually preferred as these have a better grip onto your wooden workpiece.
Factor #4. Interchangeable jaws
When considering the type of jaws you want for your wood lathe, it would be useful to choose interchangeable jaws. This means that you can change jaws best fitted for different project sizes.
If you still have some doubts about the different types of jaws of wood lathe chucks, watch the following video and find more information:
Factor #5. Build quality
When choosing a wood lathe chuck, it's best to go for those that are made of high-quality materials. This means that your chuck will be sturdy and durable enough to withstand frequent use. Choose those that have parts made of hardened metal and high-grade steel to ensure the long service life of the jaws and scrolls and resist everyday wear and tear.
Factor #6. Accessories
It's always better to go for the chuck that comes with a wide array of accessories that you might need for your woodturning than to buy these separately and potentially pay more. Some of the useful accessories and tools you might want to look out for include a wrench, a spindle, a gear key, and a storing case.
Factor #7. Security features
When working with heavy-duty machines such as wood lathe chuck, safety should be on top of your mind. For this reason, pick those machines that have a high-quality grip and automatic stop system to prevent any accidents and potentially hurt yourself or damage the machine.
To Wrap Up
Whether you're a professional woodturner or you're just starting out and testing your woodturning skills, we are confident you will find a perfect match for your needs and budget with the help of the list of our top picks. If you're someone who's purchasing your first wood lathe chuck, make use of our comprehensive Buyer's Guide and find out what factors you should consider to make an informed buying decision.
FAQs
Q: What is the best lathe for turning bowls?
A: From our list, the best lathes for turning bowls would be items No. 1, 2, 5, 6, and 7, from tried and tested brands, including PSI Woodworking, VINWOX, WEN, Woodstock, and Grizzly Industrial.
Q: What is a three-jaw chuck used for?
A: The three-jaw chucks are perfect for round and hexagonal woodwork, but not the best choice for square pieces. These chucks are self-centering because their jaws are interconnected with a scroll gear and therefore move at the same time. This means it can save you a lot of time you would otherwise spend on manual centering.
Q: What's the main difference between a 4-jaw chuck and a 3-jaw chuck?
A: Three-jaw chucks are self-centering, and four-jaw chucks are not, which means that with the latter, you will have to manually center the piece. While 3-jaw chucks are excellent for gripping round and hexagonal pieces, the 4-jaw chucks are better for square and octagon blocks. The produced depth of cut is larger in the four-jaw chucks, and these can also handle larger and heavier projects better, and they also have better gripping power.
Q: What is the best wood for turning bowls?
A: The American Beech, often used for flooring and furniture, is a great wood choice for turning bowls. Generally, it produces beautiful light-tanned bowls, sometimes with a hint of red hues.
Q: What is the difference between a keyed and keyless chuck?
A: With keyed chucks, you can apply additional torque when slippage is a potential problem during heavy-duty applications. Keyless chucks are designed to quickly tighten and loosen a tool on the chuck's drill collar, which can be done either by manual operation or after torque is already applied.
Q: Are lathes dangerous?
A: If you're an inexperienced woodturner, you need to be careful when operating a lathe. It's always best to be guided with the user manual when setting up your new wood lathe chuck, and especially if you're just starting out and exploring its mechanics and the way it works. As it turns fast, it can catch some sufficiently heavy tools which can damage the machine. You should be also mindful of any loose clothing, jewelry and long hair.
Before you go, take a look at some other similar models that might also suit your needs:
Related Reviews: