Are you ready to start a new workshop? Or finding new tools for your pre-existing woodworking shop? In addition to other necessary tools, planers are something without which your woodworking shop is incomplete.
Selecting the best brand and the excellent product is the topmost priority while looking for an organized and perfect setup for your woodworking shop.
For this purpose, we have narrowed down this article with the elaboration of two top-notch models which are manufactured under DeWalt makers.
These are the DeWalt 734 & the DeWalt 735. They are not only the best products but also very popular and reliable in terms of woodworking. Now you must be confused about selecting the one best product among these two.
To make your search quick and easy, we are mentioning the fundamental differences between these two models. After finishing the article, you will surely be able to choose the most appropriate product for you.
DeWalt 734 vs 735 – Which One to Choose
The DeWalt 734 and the DeWalt 735 are two highly appreciated and reliable planers for woodworking. Still, they are slightly different from each other.
DeWalt 734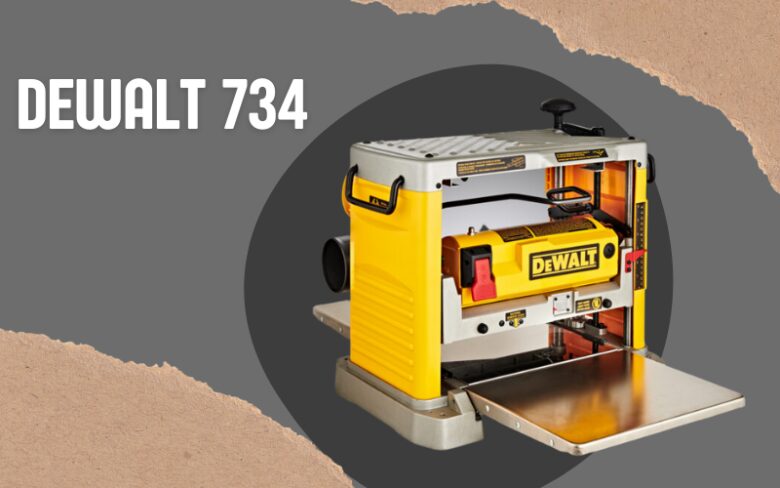 For affordable, simpler, and latest planners, we are recommending you select the DeWalt 734DeWalt 734. This is an easy-to-use and simpler product that is suitable for DIYers.
Planer 734 will take your workshop to the next level because of the presence of efficient and customizable features.
You can create your personal wood projects with the availability of variable custom-made specifications.
The operating system of the DeWalt 734 is straightforward and convenient, which works efficiently in a quick manner. It is supplied with high power to enhance its speed and performance.
The lightweight feature makes this planer easy to carry from one work area to another workplace. Furthermore, the portability makes it perfect for those who work at both home projects and workshops.
The planer 734 also comes with a three years warranty in which you can take help from the company regarding any manufacturing or technical faults.
It also provides you with a one-year free helping service from the company, which also is an immense peace of mind. Precision, efficiency, power, and affordability, what else do you need to make your woodwork perfect.
DeWalt 735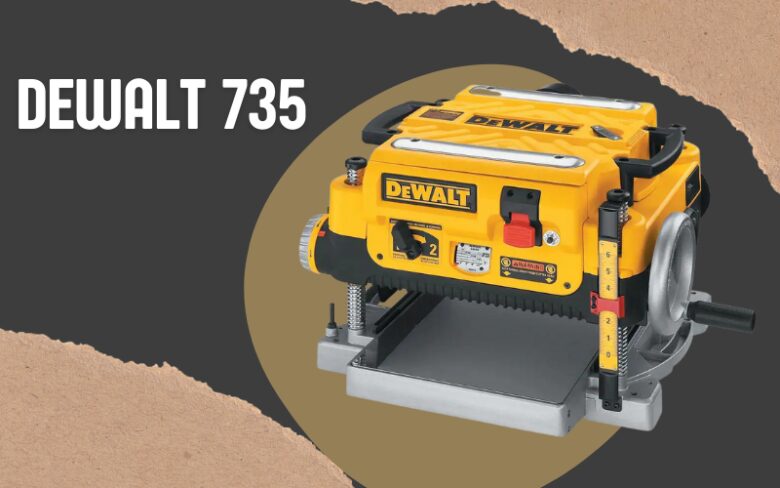 High in power, more efficient with dual-speed motors, and slightly high in price, this DeWalt 735DeWalt 735 is an excellent planer that will provide you with little more excellent features.
With a 20000 RPM value and 15 Amperes of motor, it gives you the opportunity to make variable cuts. There are two exits which are located at two different sites of the planer, these help in pushing out the extra pieces of the wood.
When compared to the 734 model planer, it is heavier and more substantial. The overall weight of the planer is 92 pounds which makes it a heavy wood cutting tool.
This DeWalt 735 model can easily plane up to a thick wood board of almost 6 inches in thickness. It also even out the wood pieces up to 13 inches in width.
The DeWalt 735 planer is durable and ergonomically made to support your lumbar region, so it will not make you tired during work.
Furthermore, this planer is excellent in quality and long-lasting in existence which makes it worth purchasing at this price. After properly comparing, it is recommended that DeWalt 735 is most suitable and adequate for your workshop.
Summarising The Differences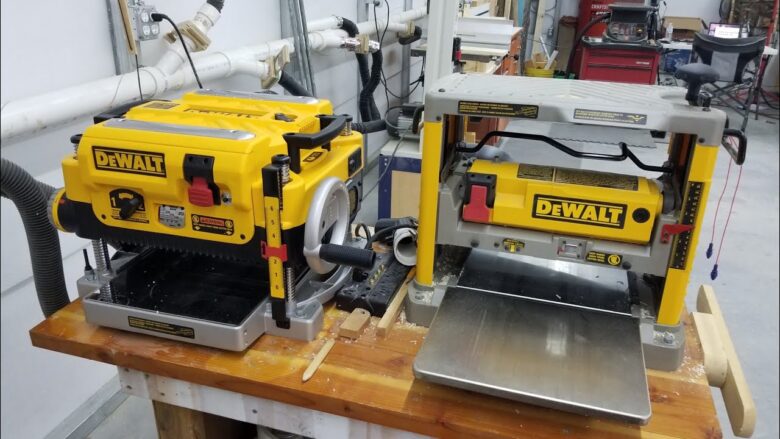 Price
The DeWalt 734 is comparatively lower in price than DeWalt 735. With these many features, the 734 model homes are at the best price, specifically for beginners and DIYers.
On the other hand, the 735 model gives you more efficient and outstanding specifications with slightly higher costs.
Speed
Both of these models are similar in motor speed which is 15 amperes and give 20000 RPM value which makes them highly productive.
But keep in mind that the 735 model comes with dual speed controls, one for having the refine finishing at the end of the project and the other for speedily thickness planing.
Dust collector
The 735 model consists of an additional blower which is inbuilt in the planer to ensure it pushes out all the dust which occurs because of rubbing on the wood piece.
This helps in keeping your workplace clean and organized without any dust and dirt. This method will not affect the blades of your planer and will maximize the life of the tool.
FAQs
What is the difference between DeWalt 734 and DeWalt 735?
The main difference between the 734 and 735 planer models is that DeWalt 735 consists of a dual-speed gearbox. Whereas the DeWalt 734 consists of a single-speed gearbox.
Furthermore, from the cost point of view, the 734 is more affordable and less in cost as compared to the 735 models.
Is DeWalt 735 worth it?
In the world of woodworking, the DeWalt 735 planer is renowned for its power and precision in making accurate finishes. It is a highly efficient and reliable planer machine helping you make the final projects more accurate and perfect, and even.
What does a wood planer do?
Wood planer makes the wood plane more acceptable. In this way, the wood planer makes the whole wood piece equal from every side in thickness. This eliminates rough spots and rough areas which exist on wood bark.
Conclusion
DeWalt is renowned for making outclass and exceptional products in the field of woodworking. All of their products are outstanding in performance and efficient in functioning, making them ideal for transforming your workshop into a professional level.
We have selected the most recommended and outstanding planers to review and provide you with a comparison between them. After reading this article, you will have all the knowledge of the differences and similarities that are present between DeWalt 734 and DeWalt 735.