There are two types of reciprocating saws that people usually confuse while using for the project. We think these saws perform the same task, but we are wrong because these saws have significant differences in shape, versatility, weight, power, and usage. If you want to perform heavy-duty work, like tearing and demolition, Sawzall is best for you.
In contrast, if you want a tool for your day-to-day tasks, the Hackzall is what you should buy for yourself. When you choose an appropriate tool for the project at hand, the results are extraordinary.
Therefore it is essential to know about these two reciprocating laws and their differences. In this review, you will learn about Hackzall and Sawzall, and where to use these tools.
Hackzall vs Sawzall – Which is Better?
Hackzall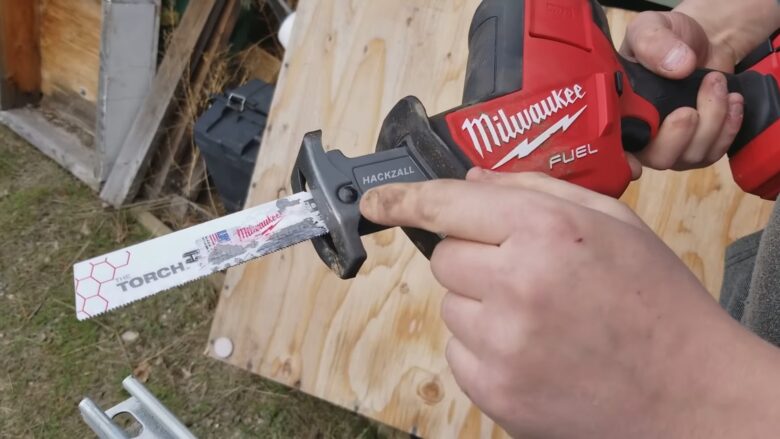 The reciprocating saw used to cut wood, plywood, plastic, and metal is known as HackzallHackzall. It is light in weight and used to apply short strokes, enabling the user to use it in tight and narrow places.
It comes with a pistol grip and a sharp blade that extends from the top of the Hackzall. The Hackzall is a well-balanced tool one can use for day-to-day tasks. It is one of the ideal tools that your home workshop needs.
It comes with one handed-operation that allows the user to hold it for long hours. Being a lightweight tool, it protects the user from being fatigued. You can easily and quickly cut your desired material with this reciprocating saw.
Hackzall can be corded hackzall and a battery-powered hackzall. Both are efficient types of Hackzall and help you complete your work with ease.
Sawzall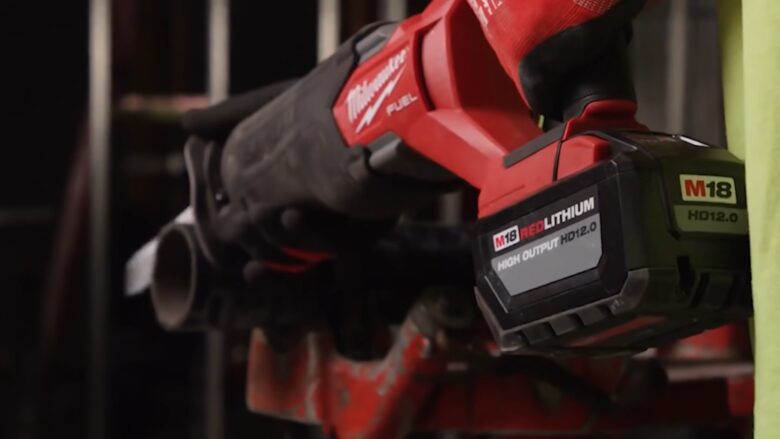 The Sawzall is also a reciprocating saw that allows you to perform heavy-duty work in no time. With its larger strokes, you can cut the most challenging material quickly.
Technically, Sawzall is the trade name of Milwaukee toolsMilwaukee tools because of its D-shaped handle. But people used to call the reciprocating saws from other brands as Sawzall with the same function.
This tool is ideal for colossal cutting and demolishing work. It comes with a sharp blade and a two-sided operation that a user can easily hold in both hands.
Moreover, there is also a trigger at the back of Sawzall. While working with these tools, the user usually stands behind the tool, which looks like a riffle. Now, this reciprocating saw comes with an advanced feature, where you can easily connect this tool with your smartphone.
Difference between Hackzall and Sawzall

Power
In terms of power, Sawzall is a more powerful reciprocating tool than Hackzall. It can cut challenging and complex materials like metals, PVC, hardwood, and others.
Moreover, it is ideal to use Hackzall for thin material, and for thick material, the  Sawzall is the best. The long and supportive body of the Sawzall allows you to hold it like a riffle, and being a heavy tool; it comes with a two-handed operation.
Versatility
There are more than one situations where you can use a Hackzall, which is why it is more versatile in function than a Sawzall. Moreover, Hackzall's lightweight and ergonomic built allows you to carry it easily to your job locations, and you can work for extended hours without being tired.
For your day-to-day projects of cutting, Hackzall is an ideal and versatile tool. If you need to cut and demolish a considerable area, go for the heavy-weight Sawzall.
Design
In terms of shape, both the tools are different. Sawzall comes with a two-handed operation, whereas the Hackzall comes with a one-handed operation.
A Hackzall needs one hand to operate the tool safely, being a lightweight tool. In comparison, a Sawzall is heavy; therefore, it needs two hands to operate this heavy tool safely.
Moreover, Hackzall comes with a pistol-grip handle, and the Sawzall has a D-shape handle making it unique and efficient from other powerful tools. In terms of size, the Hackzall comes in a small size. In contrast, Sawzall comes with a long body and is comparatively larger than Hackzall.
Safety
With the two-handed operation, Sawzall is safe to use. In contrast, Hackzall can put you at risk when it comes to handling the device. It is not always easy to hold the tool firmly as it comes with its one-hand operation.
Moreover, while working with a Hackzall, you can feel motor vibrations that can be hazardous if mishandled.
Uses
Sawzall is used for heavy-duty cutting, tearing, and demolishing work. In comparison, Hackzall is a general-purpose cutting saw used to cut thin materials like wood, plywood, and plastic. Hackzall can cut materials up to one inch thickness.
On the other hand, Sawzall can cut thick materials like hardwood and metals with more than 1-inch thickness. Hackzall is the ideal reciprocating saw for daily use, and it is a must-have tool for homeowners. At the same time, Sawzall is best for specific large-scale work.
FAQs

What is better hackzall or sawzall?
It depends upon your need to use an appropriate powerful tool for the job at hand. Both the reciprocating saws are best in their way. If you are working on a small DIY project or cutting job, Hackzall is the better option.
Moreover, if you are working on a large-scale cutting project, Sawzall is best for you.
Is the Hackzall blade and Sawzall blade interchangeable?
Yes, these reciprocating saw blades are interchangeable. If you have a Hackzall and need to cut wood on a large scale, just change the blade of the Hackzall with an appropriate reciprocating blade.
If you think the blade is too long for your job, bend and break the blade according to your work need.
What is the difference between a Hackzall and a Sawzall?
Hackzall and a Sawzall are different tools working on the same principle and coming under the reciprocating saw. Hackzall is efficient for thin materials having thickness up to 1 inch, whereas Sawzall is ideal for thick materials like hardwood and metals.
The Hackzall is light in weight and comes with a pistol grip and one-hand operation. In contrast, the Sawzall is heavy with a D-shaped handle and comes with a two-hand operation.
Conclusion
Selecting an appropriate tool for work at hand enhances the quality of work and allows you to complete your work effortlessly. Therefore, it is essential to know what tool you are using and for what purpose.
I have written a detailed review comparing two powerful reciprocating saws, including Hackzall and Sawzall. This review will help you find an appropriate tool for your desired job.
Check these products: