Trying to find the best clamping squares for DIY-ers and carpenters? You're in the right place! We know that searching for these products can often take a lot of time. If you're someone who's on a tight schedule, you probably want an easy and simple solution to getting the ideal product. That is why we compiled a list and summarized buying guide that will help you find what you need in less than 15 minutes! Let's get right into it.
Best 90-Degree Wood Clamping Squares
1. WenCrew Clamping Squares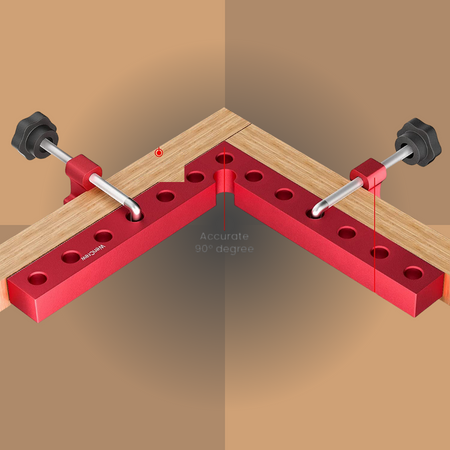 Let's start our list of the best clamping squares with the WenCrew ones that are the best-selling ones for a good reason! This package includes 4pcs positioning squares and 4pcs CSP clamps that you can use with ease no matter if you're a professional or an amateur.
These clamping squares are made of precise aluminum alloy which makes them super durable and able to withstand a variety of conditions. You don't have to worry about them breaking after a short period of time. They are also resistant to corrosion, so you can rest assured they would be both durable and aesthetically pleasing at the same time. The woodworking precision is very strong and accurate, doesn't stick to the steel, and the clamping squares are extremely easy to clamp. You can also move the product that you were using the clamps on while they're still in place—there is no need to remove them.
These clamps are designed to be used on a variety of DIY projects, including boxes, cabinets, drawers, frames, furniture, and more. If you need clamping squares that are easy to install and work with, this is an ideal option. They will also not damage the cutting edges at all.
Pros
Easy to use
Durable
Convenient
2. DICATTE Clamping Squares
We'll continue with the DICATTE clamping squares that are also made of aluminum alloy, which means they will last for a while! These clamps are crafted with high-quality aluminum blocks, surface anodized treatment, and precision workmanship. They are also highly durable, corrosion-resistant, and will not fade easily.
The DICATTE clamping squares come in two colors—black and red, so you can choose the one that fits your needs better or the color you like best. They also feature an ingenious design with the right-angle clamp being an L-shaped design. The clamping force is also considered during the making of this product, so you can expect a stronger clamping force.
Using these clamps will be a piece of cake since all you need to do is place the wood on a stable table and flatten it, and use the clamp to find the appropriate hole to clamp. You don't have to be a professional to get this done or use this product. You can use it to fix and/or assemble cabinets, furniture, cabinets, photo frames, and a variety of other DIY projects. On the plus side, inches and centimeters are indicated separately, so you won't be confused with anything. If you're getting this product as a gift for someone, you'll find this a major plus!
Pros
Excellent design
Different colors
Good quality
3. Aogbra Clamping Squares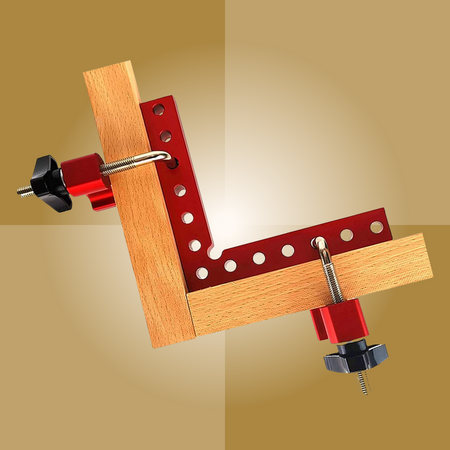 The next ones on our list are the Aogbra clamping squares which are super convenient and easy to use. With these clamps, you'll be able to achieve the perfect 90-degree corners with ease when building cabinets or working on any other project you want to, be it drawers, frames, boxes, shelves, or anything else. If you're wondering what is included in the package, take a look at the list below:
4 solid aluminum alloy right angles with engraved measurements on the outer faces
8 M8 plastic screw handles featuring brass screw inserts
8 solid aluminum alloy adjusting rack clamps
8 right angle screw rods
What's amazing about these clamps is that they are corrosion-resistant, so you don't have to worry about them getting rusty soon. You can expect to use them for years and for them to remain completely rust-free.
Pros
Convenient
Easy to use
Corrosion-resistant
4. HARDELL Corner Clamps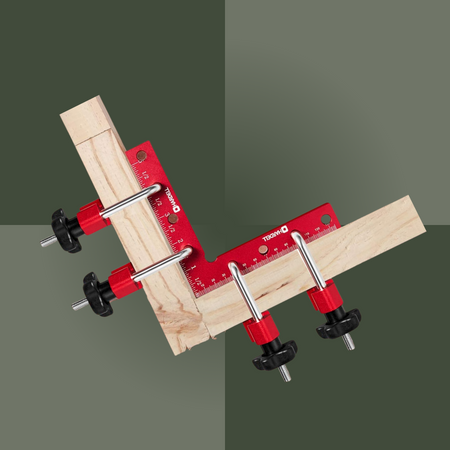 Looking for a professional woodworking tool that won't require you to break the bank? The HARDELL clamping square kit is here to deliver!
This set is made of high-quality aluminum alloy and stainless steel, which will ensure 90-degree accuracy, but that is not all. It will also ensure that the set lasts a long time and be highly durable. You don't have to waste time and money purchasing a new one every once in a while.
This tool is rust-proof and corrosion-resistant as well, so you don't have to worry about a thing. It is simply to use and place the 90-degree positioning square in the corner. Once you do that, all there is left is to secure it with a set of wooden clips and you're good to go!
The woodpecker's beveled edges are made not to damage the fragile cutting edges, so you can easily create a perfect 90-degree angle. The tool is designed to be clamped on almost any type of box, as well as to assist in leveling during the bonding process. You can use it with clamps to check and position the joints of your wood panels. The right angle clamp is a highly practical tool that can help you make your woodworking projects ten times easier.
Pros
Affordable
Durable
Rust-proof
5. Royars Clamping Squares
The Royars clamping square kit is here to make your DIY projects feel like a breeze! This kit is made with aluminum alloy and stainless steel, so you can expect a long-lasting service life. It is also corrosion-resistant and does not fade easily.
The kit has a stronger clamping force than some of the others on the market, which makes it stand out and be quite convenient for more demanding projects. The clamping square for woodworking is designed to be suitable for any kind of woodworking DIY hobby, which makes the product an excellent gift idea as well. If you have a special someone who is into a DIY hobby, getting him or her this gift would probably make them thrilled.
You can use these woodpecker tools to assemble and DIY drawers, frames, boxes, cabinets, furniture, and so much more. There are two measurement units on these corner clamps for woodworking—metric and imperial. The measurement length is extremely accurate and very easy to read, so you should have no issues using this product like a pro whenever you need to.
Pros
Long-lasting
Strong clamping force
Great design
6. SLIIMU Clamping Squares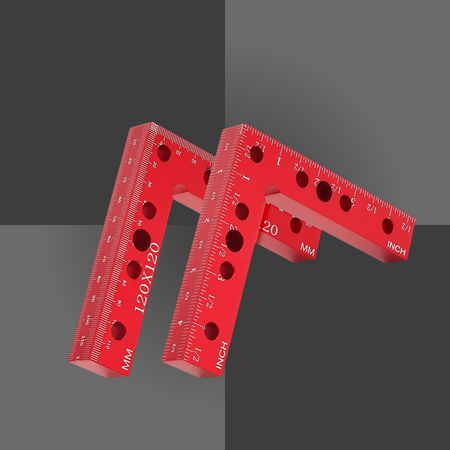 We'll conclude our list of the best clamping squares for DIY-ers and carpenters with the SLIIMU ones that are not only highly durable but also very lightweight. When it comes to this product, you can count on an excellent finish, corrosion resistance, and high durability. What more could one wish for?
Setting up and attaching these clamps is a piece of cake. The screw-on installation featured here makes using the product feel like a breeze. These T-shaped anchor clamps are also better clamped firmly and placed properly, as opposed to the more traditional corner clamps. What is also excellent about this product is that it won't leave any marks on your material once removed. There is also a wide range of applications, including (but not limited to):
Cabinets
Wooden boxes
Furniture construction
Checking square on table legs
Clamping miter joints
Holding your workpiece square while the glue dries
If you are a DIY lover who is in need of completing a project at a faster pace, this product will definitely help you accomplish that. What you will get in the package includes two 90-degree angle clamps, four T-shaped anchors, and two metal dowels.
Pros
Lightweight
T-shaped
Easy to place
Buying Guide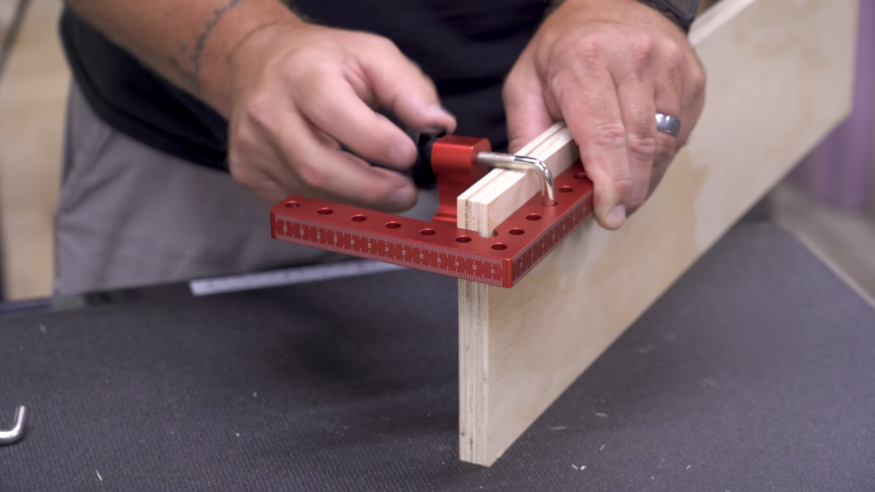 Getting the best clamping squares for DIY-ers and carpenters can sometimes be quite time-consuming and tiresome. Looking for the best options out there can take a lot of time since there is a plethora of options, and not knowing what factors to consider when shopping for such products can be super frustrating.
Thankfully, you have us to summarize this info for you and provide it via a short and easy-to-read list! Take a look at the list below to find out what factors you should consider when buying the best clamping squares for DIY-ers and carpenters:
1. Quality
Quality is the number one factor you should consider no matter what product you're interested in buying. If the quality of the product you get is low, chances are high it will not be able to provide you with the performance that you expect. Even worse, it is quite possible for it to malfunction or breaks after only a couple of uses, so you should think things through before you decide to get a lower-quality product.
Investing a few more dollars to get a better quality product that will do exactly what you need it to do is by far a better option. With that being said, check product descriptions before you make up your mind about the clamping squares you want to get, and make sure the ones you want are high-quality.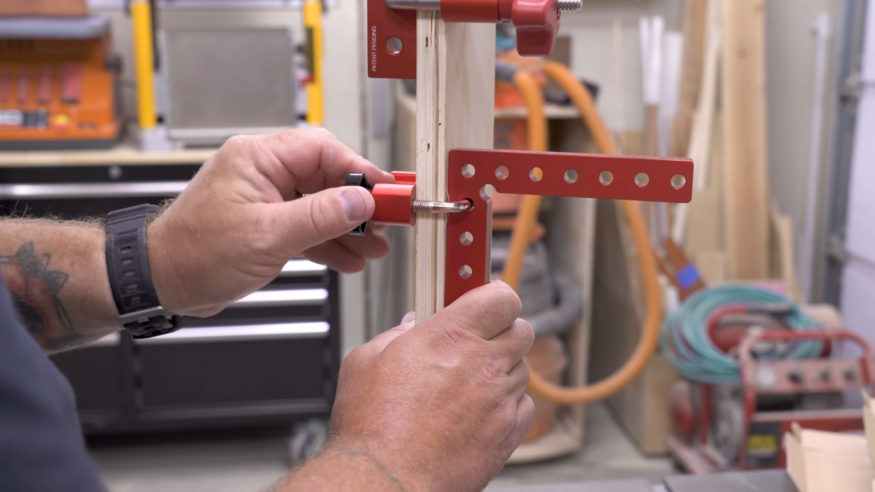 2. Design
The design that the product you're purchasing features is the next important factor you should take into consideration. There are a couple of reasons why design is as important as it is. Firstly, you want your product to feature a convenient ingenious design that will make using it a piece of cake. The more cool features the product has, the better and more convenient it will probably be.
The second reason why design is so important is that you want your product to look cool and sleek. If you're getting the product as a gift for someone, you want it to look the best so that the person who's receiving it will be happy. Make sure to check for both of these aspects in product descriptions and customer reviews before you purchase it.
3. Materials
The last factor you want to think about is what kind of materials the product you're getting is made of. There's no use in purchasing a product that is made of poor and low-quality materials since it will likely last you for a use or two.
Make sure that the product you're buying is made of highly durable materials that will last for a long period of time instead. You should be able to find all about this in product descriptions.
FAQ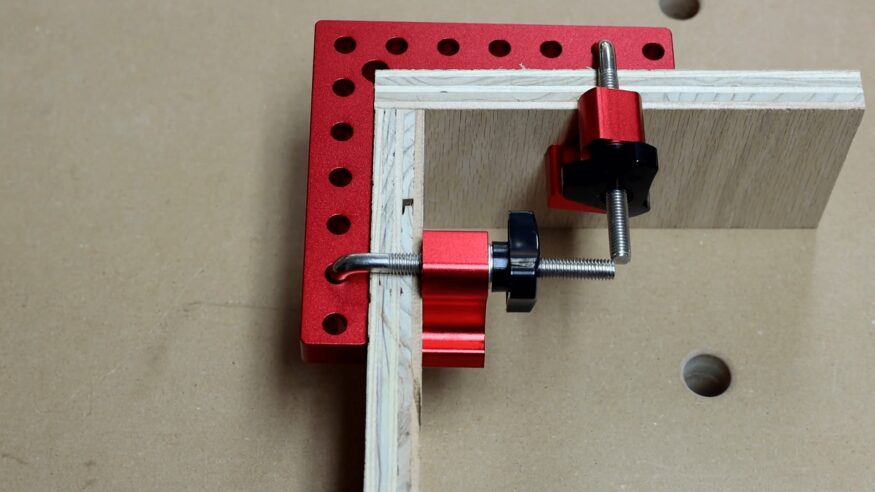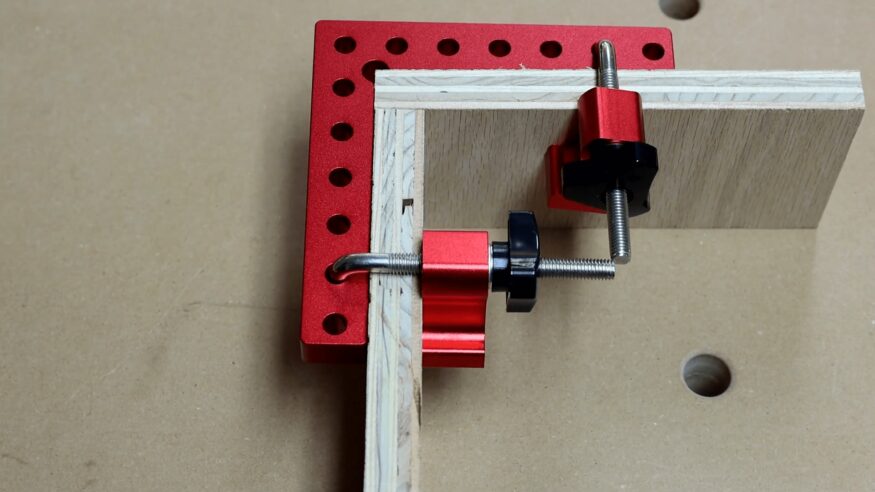 1. What is the Clamp Pressure?
Wondering what the clamp pressure is? It's the exact measurement of the force that is required to keep the mold closed during the injection.
2. How Tight Should the Clamp Be?
When it comes to the tightness of the clamp, you shouldn't go overboard and make it too tight. 250 psi is the maximum recommended clamping pressure for the majority of joints.
3. Can I Determine the Clamping Force?
Want to determine what the clamping force should be? You can do so from the cavity pressure that is inside the mold, as well as the shot projected area where the pressure is acting.
Conclusion
Searching for the best clamping squares for DIY-ers and carpenters doesn't have to take up a lot of your time. If you're on a tight schedule and you don't have the time to look for these products, our list of the best clamping squares on the market will help you find the product you need in the blink of an eye!
Also, if you don't find exactly what you needed on our list, you can easily use our buying guide to shop for clamping squares like a pro whenever you need or want to!