Are you even a woodworker if there wasn't a day you were not thankful for your dowel jig? A dowel jig has to be one of the best tools a woodworker can have in his garage or workshop.
Despite its small size, this tool plays a significant role in all types of projects that involve drilling and punching holes.
The accuracy and precision that a dowel jig brings to a design are unparalleled. However, a key factor in ending up with perfect holes is buying the best dowel jig. I am sharing in-depth reviews of the best dowel jigs that I personally loved having in my garage.
Top Picks for This Year
1. Milescraft 1309 DowelJigKit – Best Doweling Jig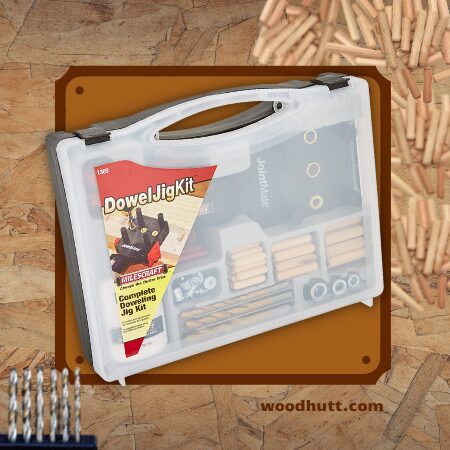 This is not a regular dowel jig, but this is a complete kit that will come in handy for all types of wood projects. The Milescraft 1309 DowelJigKit includes every small bit and piece that you will need for drilling holes in all places, whether it is a corner, surface, or edge.
In addition to that, alignment is a crucial aspect of drilling, which is why the manufacturers have added metal bushing in the package.
Moreover, the steel dowels in the package will help you mark the spot of the holes before drilling. This way, you will always end up with accurate holes.
Furthermore, the kit also includes glue, which makes this model the best dowel jig, especially for beginners. With the help of the glue, you will be able to attach the dowels easily.
Moreover, the package also includes fluted hardwood dowel pins in 3 different sizes.
The box also includes Brad point drill bits that also come in 3 different sizes.
The Milescraft 1309 DowelJigKit is the perfect model for anyone who has just started their woodworking career. This package includes everything from metal dowels, metal bushings, and even glue, so you will be able to finish your projects very easily.
2. Wolfcraft 3751405 Dowel Pro – Best Self Centering Dowel Jig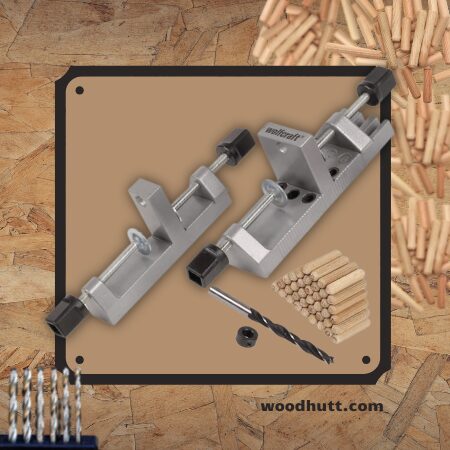 When the name Wolfcraft arises, know that you are getting a high-quality product. The first thing that you need to know about this kit is that it is quite compact in size. However, despite its small size, this kit is considered the best dowel jig for many reasons.
First of all, the doweling jig comes with a cast aluminum construction. The construction material makes this doweling jig notably strong and durable.
In addition to that, this kit includes steel bushings in 3 sizes that are ¼ inch, 5/16 inch, and ⅜ inch. Whether you want to create edge-to-edge joints, or any other type of joints, with the help of this kit, you will be able to drill precise holes.
Instead of flooding the package with parts and small pieces, Wolfcraft has added the necessities in their Wolfcraft 3751405 Dowel Pro. That is not all; they have added all the parts in a sturdy box so that storage is easier for their users.
This makes the kit suitable for not just professionals but also for beginners. The thickness range of this kit goes from ½ inch to 1 ¼ inch thick.
This model is a good investment for anyone who needs a good quality dowel jig. The best part is that this model is not just a dowel jig, but it is a whole kit that comes with all the pieces you will need while drilling holes.
Thanks to the cast aluminum construction, the dowel jig will be around for a long time.
3. Woodstock D4116 Doweling Jig – Best Dowel Jointer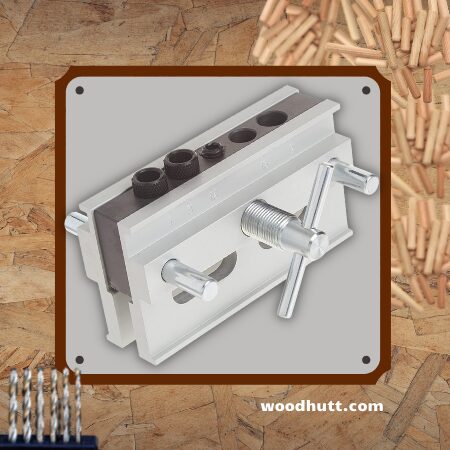 The Woodstock D4116 Doweling Jig has been built for one purpose, to help users make accurate holes, and this model does that job exceptionally well.
First of all, the design of this doweling jig is very compact, so that you can easily store it in any spot and take it out easily when needed.
In addition to that, this doweling jig has been constructed with high-quality parts, so the tool can be kept around and used for an extended period of time.
Furthermore, the reason this model stood out to me is that it comes with 5 bushings of different sizes.
The bushing sizes are ¼ inch, 5/16 inch, ⅜ inch, 7/16 inch, and, lastly, ½ inch.
Furthermore, another good feature of this model is that it can handle material as thick as 2 inches. This way, it can be used for smaller projects as well as larger ones.
Another great perk of this model that I loved is that no matter the wood's shape, you do not have to center the doweling jig. The doweling jig automatically centers itself on the wood.
If you are looking for a dowel jig more leaning towards the professional side, then you need to get your hands on this model. It comes with a compact design that has 5 drill holes of different sizes. No matter what the size of your project is, you can use the Woodstock D4116 Doweling Jig for it.
4. POWERTEC 71498 Dowel Drilling Jig – Dowel Drilling Guide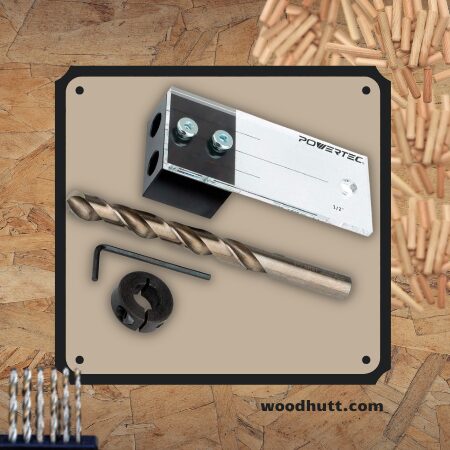 Whether it is an edge-to-edge dowel joint, or a surface to surface, with the POWERTEC 71498 Dowel Drilling Jig, you will be able to do everything with ease.
This model is a precise package of all the necessary tools and pieces needed for accurate drilling. Therefore, it is a good option for novices and professionals alike.
In addition to that, the package includes a drill bit that has a top-notch construction. It is built with a blend of steel and cobalt, making it strong and resistant to rust, scratches, and heat. Therefore, even after years of use, your drill bit will look the same as new.
This dowel jig can drill a hole of ½ inch size, and it has a limitation of 1 inches thickness for the stock.
Furthermore, to ensure that you have precise alignment, the manufacturers have added 2 guidelines to the dowel jig. The drill guide is also made of steel, so you can rest assured knowing that it will not succumb to death in the middle of a project.
In addition to that, the centerline will help in keeping the point of the drilling holes accurate every time. Lastly, the package also includes a stop collar and a tightening wrench.
The low cost of this model is enough to convince any woodworker to purchase it. However, if that is not convincing enough, then the steel and cobalt drill bit will do the job.
Moreover, the 2 guidelines made from steel will make sure you always end up with accurately placed holes.
5. Eagle America 445-7600 Dowel Jig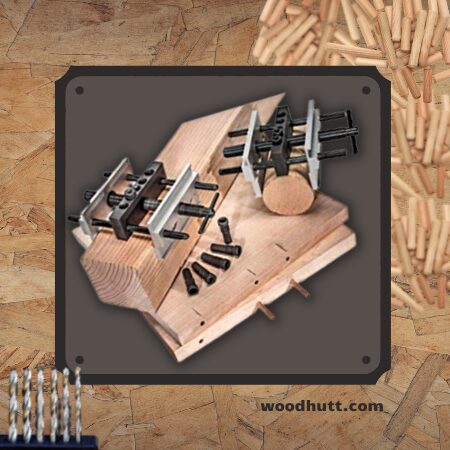 The Eagle America 445-7600 Dowel jig is no joke. This is a heavy-duty model which can easily tackle all the heavier projects that have been lying at your desk for months.
First of all, this model has been constructed with aluminum, which makes it sturdy and durable while keeping the weight on the lighter side.
In addition to that, the aluminum has further been anodized, which makes the dowel jig corrosion resistant.
Furthermore, this model works with ½ inch, ¼ inch, 5/16 inch, ⅜ inch, and 7/16 inch dowels. The package also includes hardened steel bushings that are wear-resistant and will do the job nicely.
Moreover, the star of the show is the thickness range of this dowel jig. It is perfectly capable of handling material as thin as ¼ inch to as thick as 6 inches.
This feature makes it possible to use this dowel jig for larger projects and hence, has categorized it among the best dowel jigs.
If you are someone who is looking for a heavy-duty dowel jig that can handle heavier jobs, then this is the perfect model for you. It is a bit more expensive than its competitors, but the stock range of this model, along with the 5 drilling holes size range, makes it a good investment.
Buying Guide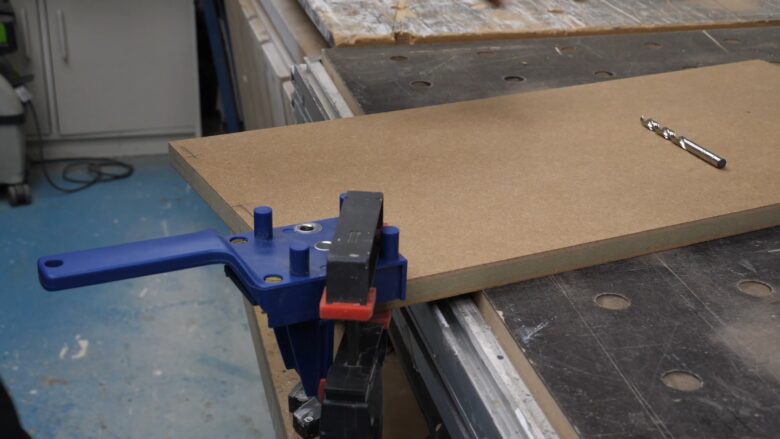 Whether you are a professional woodworker or someone who loves making DIY projects, you need the appropriate tools to finish the job efficiently and perfectly. For a woodworker, one of those essential tools is a dowel jig, which helps drill holes accurately.
As great as this tool is, what's more important is making sure you purchase a model that befits your requirements. Otherwise, your money will go down the drain. Worry not; there are a few things that can assist you in finding a model of dowel jig that will be perfect for your jobs.
Construction Of The Dowel Jig
The first thing that you need to check when you are getting yourself a dowel jig is the construction of that model. More important than the construction is the material used in the construction, which is what you should be checking.
Dowel jigs are a type of tool that will be frequently used, which is why you can not spend your money on a model built from low-quality materials.
The ideal material for a dowel jig is steel and aluminum. Both of these materials possess a high amount of strength and durability.
However, an extra perk of aluminum is that it is lighter in weight. Furthermore, some manufacturers also anodize or add some other form of protective layer on top of the construction to keep it safe from corrosion and rusting.
If you want to own a model that will stay around for a longer time, then make sure that it has been built with good quality materials.
Bushing Size
This is a critical factor if you want to use the dowel jigs for more projects than one. The size of the bushings determines the usage of the dowel jig.
If you get a model that only comes with smaller bushings, then you will not be able to use that dowel jig for larger projects.
It is best to get a model that comes with bushings of multiple sizes so that you can easily drill holes of different sizes. The ideal size range is ¼ inch, ⅜ inch, and 5/16 inch.
Material Thickness Range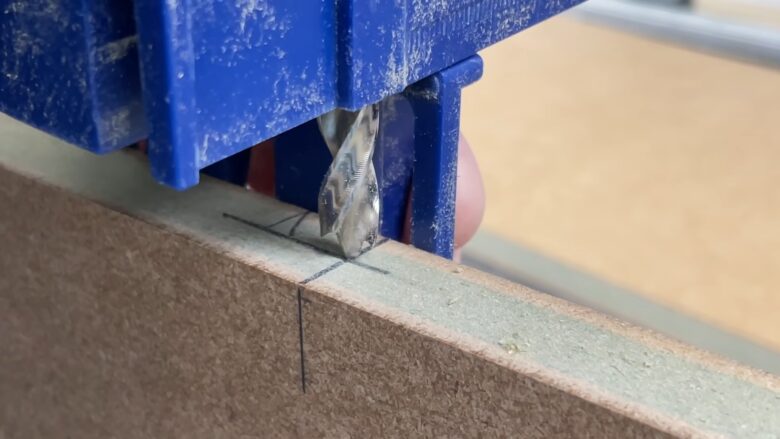 This is another factor that determines and affects the end use of the dowel jig. Every model of dowel jig has a different material size range. Some models are only compatible with materials that are 1 inch thick.
These dowel jigs can only be used for small-scale projects. On the other hand, there are many other models of dowel jigs that have a wider thickness range.
They can work with material from ¼ inches to 5 or 6 inches. These dowel jigs can be used for a variety of projects and even some heavier work.
Self Centering
This goes without saying that centering is a vital part of the woodwork. Centering the tools properly makes sure that you do not end up with any irregular connection.
Centering the dowel jig manually can be tiring, so it is important you go for a model that has the perk of self-centering. This way, you will end up with accurate and perfectly centered holes.
FAQs
What size dowels should I use?
The size of the dowel depends on the thickness of the material that you are working with. It is essential that you should never drill a hole that is more than half of the thickness of your material.
For instance, if your wood piece is 2 inches thick, then you can use a 1-inch thick dowel.
What are the pros and cons of a dowel joint?
The biggest pro of a dowel joint is that it is a quick and easy job that does not require any screws or nails. The finish of the dowel joint is very neat.
However, one con of a dowel joint is that sometimes the wood may crack and break if you are not being careful.
Conclusion
Now that you are familiar with all the models of dowel jigs that are considered the best, you need to pick one for yourself and start working. The top 3 recommendations will help those of you who can not make a decision and pick one model.
Milescraft 1309 DowelJigKitMilescraft 1309 DowelJigKit is a complete kit and comes at an affordable cost.
Wolfcraft 3751405 Dowel ProWolfcraft 3751405 Dowel Pro is built from cast aluminum, includes bushings of 3 sizes, and comes at a low cost.
POWERTEC 71498 Dowel Drilling JigPOWERTEC 71498 Dowel Drilling Jig has a drill bit made from steel and cobalt and comes with 2 steel guidelines.
Here are some other interesting models that you might like: