Not only does the design and construction of the wood take time and hard work, but also the finishing and the final product you make takes a lot of care and attention. For better outlook and fine finishing of the woodworking, you need to have routers. They are responsible for giving you a clear, accurate look for the final product of your wood project.
Moreover, these routers vary in size and design, so you can select the best which is suitable for your project. Look and search for the best router which suits your project. These are not only used to make your final look attractive and pleasing, but also you can use them to cut wood and make different types of patterns on your wood.
But still, there are some features that you should keep in mind while getting a router for your woodwork to have excellent, outstanding results.
Here we are fulfilling this purpose by writing this article after proper research and analysis. It contains the details of what kind of router you should get for getting beautiful final woodworks products. Keep your focus and stay connected with us to get maximum benefits.
Wood Routers for Beginners – Complete Guide
Some of the features are essential that should be present in your router so you would have a healthy tool for helping in your woodwork. Not every feature is necessary, but they are essential in making your router a complete tool for you.
Types
There are different types of routers in the market. Many of them are different from others in various characteristics. Some are manufactured for making large cuttings and giving shapes, whereas some of them are responsible for providing fine edges to your woodworks.
Then we have routers that are used to make patterns on wood pieces. Before selecting your router, always focus on what kind of work you generally perform in the wood field. And then select and get the router according to your need.
Size/Power
Various sizes of routers are available in the market, and you will find yourself in havoc while searching for the best size for you. The sizes of the routers depict the power they function on. Large-sized routers will always function on high-power motors, whereas small-sized routers work with lower power motors.
We have noticed that many large routers contain a motor of 1.75 to 3.25 HP. These super-powerful machines work efficiently by removing and cutting extra parts of large wood and giving it a beautiful shape and pattern.
At the same time, small routers contain a motor of 1 to 1.25 HP. These are small and generally used to give your woodwork a beautiful final look by cutting the extra parts from the corners and trimming the rough area of the wood.
Dirt Collection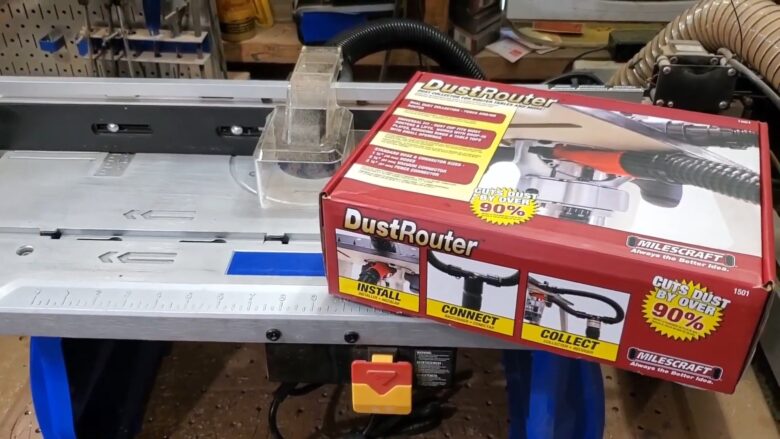 While buying the router for the woodworking workshop, check for the dirt collection bag. The system in your router will help you in keeping your environment clean and dust-free. In this way, your environment would not only be your work environment but also would provide a healthy atmosphere in your surroundings. Get a router with a dirt collection bag for a more clean and healthy environment.
Speed Adjuster
Always get the router that has the speed adjuster in it. In this way, you would be able to work with variable speed levels. So you will have the option of selecting the best suitable speed for your work depending on your project.
Moreover, a speed adjuster also helps minimize the speed to different levels according to the demand of the work. Select a router with the speed adjuster button or switch to help you control the speed easily.
Router Stand
Then we have a router stand or table which is used to put the router on. The router table helps you in providing more stability and control over your after. In this way, you would be working in a more safe environment with more stability and comfortability.
Router tables are not very difficult to find, and they are readily available. Whereas you can also create them on your own using simple DIY techniques. Select the router with a router stand or its table to provide you a more comfortable working environment.
FAQs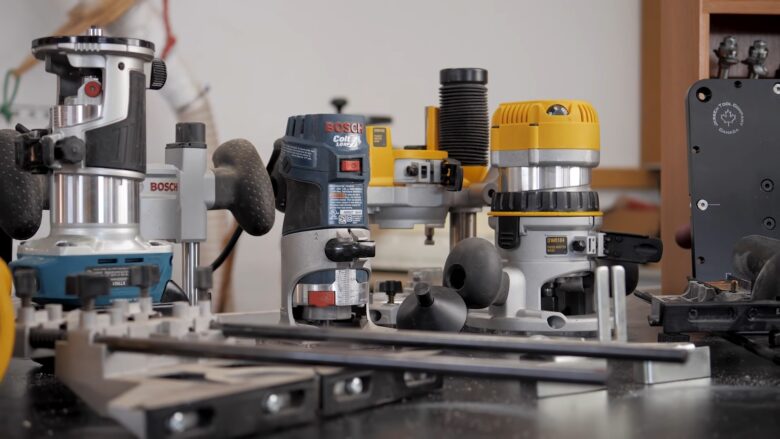 What size wood router is recommended?
The size of the router you select depends upon the project you are working on. If you are working with a light project which requires light functioning of the router, you can have a ¼ inch collet router. Whereas, for heavy-duty functioning of the router, you should go with ½ inch collet router.
What can a wood router do?
These wood routers are made for cutting, designing, and making the edges of the wood more fine, accurate, and attractive. You can carve different designs and make stylish cuts in any wood. Moreover, with these routers, you can also make beautiful patterns in your wood.
Which router should I buy first?
Before getting your first router, keep in mind the size that you can manage. Most of the projects that woodworkers perform are from small to moderate size. For this purpose, a mid-sized router is best for you. Similarly, look for compact-sized and lightweight routers to help you carry your tools more conveniently.
Conclusion
The selection of a router depends upon many different things. There are environmental features, your personal choices, and the project needs that determine what kind of router would be best for you. It has been noticed that most of the time, medium-sized and lightweight routers are more suitable for every kind of project as they are versatile.
Keep in mind the features mentioned above that you should look upon while buying your router. Your router should have all the essential characteristics which you need for enhancing your woodwork. Understand the above-mentioned points and get the best product which should be durable and reliable with efficient functioning.
Take a look at these routers from Amazon also: