Just like the performance of any electronic device is boosted by system upgrades, the best router tables serve as an upgrade for wood routers.
Usually, when you are working with handheld routers, both of your hands are fully occupied—one for positioning the wooden blocks and the other for holding the router. So, the mobility of your hands is restricted.
Comparison Table:
Router Tables solve your problems and aid you in woodworking!
Router tables are majorly classified into Benchtop and free standing. Removal legs are attached to free-standing tables, and they are considerably larger. But if you need a table that is portable and can be easily carried out, then Benchtop is the right choice.
The router is fixed at the base of the table, with the bottom protruding from the central hole. You can slide wooden pieces along the table that come in contact with spinning bits of the router at the center.
Top Picks Router Table
Now let us look at the best options amongst router tables available in the market.
1. Bench Dog ProMax 40-120 – The Best Router Table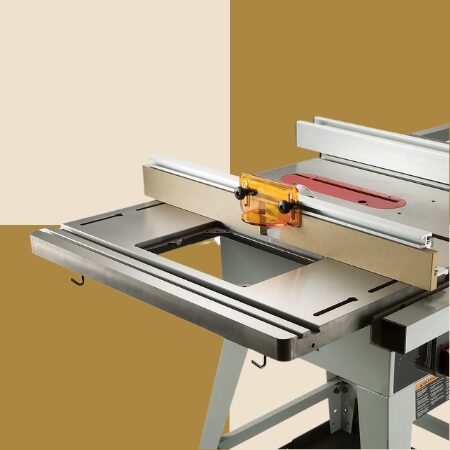 Are you searching for a router table with class and quality? Search no more. Bench Dog ProMax is embellished with a cast iron body and metal coating. It not only imparts solidity but also absorbs vibrations. The iron body increases the average but also contributes to robustness and durability.
It is exceedingly space friendly with 18 x 29 x 4 inches in dimension. You can extend it by fastening a 28-inch fence for a more comprehensive workspace. ProFence is fabricated from aluminum with a flat and smooth finish, and you can slide it onto both sides of the table.
Thus, ProFence is used in any position depending upon material and design. Additionally, the sub fences composed of Medium Density Fibreboard (MDF) are incredibly sturdy.
They not only provide you with support but also guide precise measurements. Bench Dog ProMax has been designed to fit all types of table saws, considering its versatility. If you are worried about managing the accessories during working, then T-Slot is your holder. It is able to encompass all the accessories like Featherboard and works in a secure connection with fences.
Bench Dog ProMax is portable and can be conveniently transported to anywhere due to its dense design.
The tool has advanced dust collecting mechanisms for machine protection and user safety. If you are a starter, then assemblage might be a challenge for you because the equipment is hefty. You will receive advanced accessories and a lifetime warranty on the purchase, but the tool is not supplied with a router plate. You have to buy it additionally. However, the Bench dog is immensely economical with versatile specifications.
2. KREG PRS1045 Router Table Fence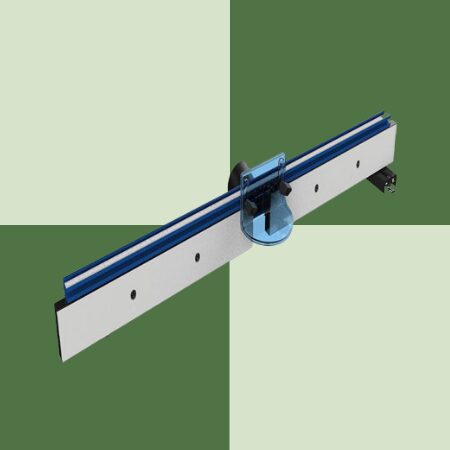 As mentioned by most users, KREG PRS1045 has everything to fulfill your requirements because of its brilliant specifications. The design has a compact feel to it yet durable. The bottom structure of the table is cast iron-based. The 24″ x 32″ inch tabletop is constructed from MDF and is wide enough to accommodate heavy loads. MDF provides you with a flat cover so the materials can glide smoothly.
Assemblage will be a super easy task for you as the directions in the manual are clear and straightforward. You can set the stand to the desired height by adjusting the legs. They also have attached wheels at the base for easy mobility in the workspace. The bottom of the table can be customized to storage space for keeping the accessories.
The fence of KREG PRS1045 is attached and detached in seconds, but it is also equipped with a lock system to keep it in place. The tabletop is secured with two struts to keep it steady while you are doing heavy jobs.
The aluminum-based fence is shaped as the T alphabet and runs parallel to the T slot and miter slot easing the functioning of the table for beginners. This unique combination can work with various accessories.
The Featherboards not only ensure your protection but also keep the material in a specified direction. The insert plate of 9-1/4″ x 11-3/4″ x 3/8″ of the table can effortlessly fit into the base plate of your router. The table is installed with a dust collection system also.
Moreover, KREG PRS1045 is recommended for professional use only. The tool is expensive and is accompanied by accessories that you would not possibly need in home-based jobs.
3. BOSCH RA1181 Benchtop Router Table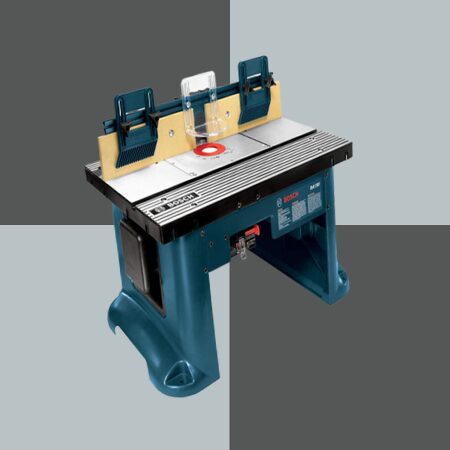 Provided with a one year warranty and a money-back guarantee, BOSCH RA1181 is a safe option in terms of purchase for you. Considering the table's quality, it is reasonably priced. The guards are see-through. So, if you are worried about visibility during functioning, it has your back.
They also provide you with safety during use. You do not have to use your hand to keep the material firm; preferably, this job is performed by two adjustable Featherboards fixed on the tool.
The lock system is also located in the structure of the table. It keeps the table secured by locking the router plate and fence for you and avoids undesired movements during functioning. Another safety feature is the dual switch outlet. It functions the same as a soft start in the router by controlling the power supply to the equipment.
The Benchtop of the table is well built from aluminum measuring 27 inches in length and 18 inches in depth. It is significantly spacious enough to fit both wood sheets and wood planks. Furthermore, the use of aluminum in construction gives a smooth and durable finish to the Benchtop.
Thus, your material will effortlessly slide on the tabletop. The base plate is designed to be extraordinarily versatile yet long-lasting and can fit possibly all the routers on the market.
There is a slot for a miter gauge, but it is not issued with accessories. 4-⅞ x 25-⅛ Inches fence will also keep your material firm and steady while cutting for excessive precision. It is suitable for all sizes of wood planks due to its dimensions.
An advanced dust collection mechanism is provided to collect the sawdust and debris during routing. If you are a beginner, then assembly might be a bit challenging, but not every confusing. The whole tool can be assembled in a duration of 90 minutes. At the bottom of the table, there is storage space for your accessories and cord.
4. KREG PRS2100 Bench Top Router Table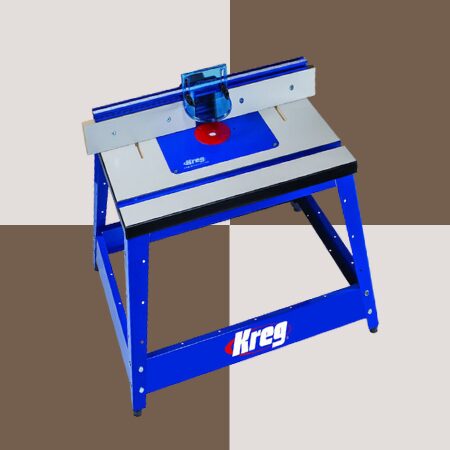 With an aluminum top, steel stand, and rubber base KREG PRS2100 has the most distinctive design. Aluminum imparts firmness, MDF, and steel prevents excessive vibrations. With its 19.2 x 30 x 4.8 inches dimension, it will support your every routing object.
The leg frame is more comprehensive as compared to the tabletop, which lowers the center of gravity. It keeps the frame stable while you are dealing with all sorts of objects.
If you lose concentration while working with loud tools, then KREG PRS2100 might be your preference. Unlike other router tables, this has an open design rather than enclosed one. It dissipates the noise in the environment rather than concentrating it.
You can adjust 16″ x 24″ aluminum fences fastly and later secure it with the help of cam clamps. It ensures you with error-free wood cutting. The fence is also installed with a port for collecting dust and Featherboards for safety purposes.
The overall weight of the table is only 28 pounds, which makes it easily movable for you. A 3/8″ x 9-1/4″ x 11-¾ router plate can fit all types of routers. By utilizing three-level loc rings, the base plate can be customized to fit your desired router.
You can also lock the rings so that the router stays in place during applications. Rings can also be replaced with various varieties, but you have to carefully turn off the instrument first to prevent electricity outflow.
Although most of the table is composed of high-quality material, some components are plastic-based. It not only puts question marks on its durability but also frequent breakage. Moreover, securing the screws of the fence might be tricky if you are a beginner.
5. SKIL RAS900 Full-size Router Table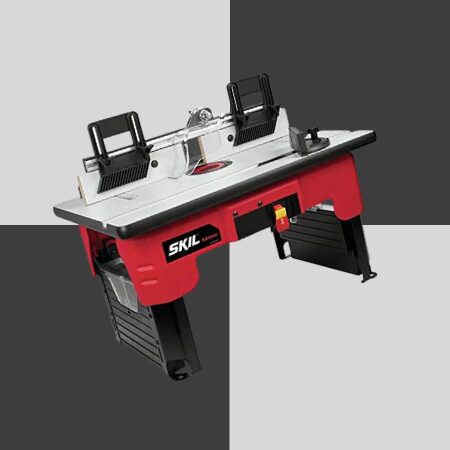 If you are a starter in carpentry, then SKIL RAS900, with its user-friendly operation and specification, is your life savior. It has a straightforward assemblage time of 30 minutes. The tabletop measures 29 x 18 x 14 inches suitable to fulfill your cutting requirements.
With great specifications, it is also moderately priced. The overall value of design is increased by Featherboards and clamps. The Featherboards not only fasten the wooden pieces but also protect your fingers from reaching dangerous areas.
Changing bits is extremely easy since you can mount and dismount in seconds. You are also provided with a storage compartment to manage the tools and extras. Also, storage bags and containers are given in accessories.
Foldable base and light structure make the table extremely portable and suitable for smaller workspaces. Routers can be fixed and released on the router plate because of quick clamp brackets. For changing or installing the bits, you have to remove the router from the table first.
Most of the components of the table are dedicated to providing you with accurate cutting. The MDF based fence has a flawless surface finish. It is assisted by Featherboards that firmly grips your routing material. Further support is imparted by bit height, which makes the setup easy for you and later increases the precision of cuts.
Curved routing is possible through a starter pin located on the fence. SKIL RAS900 is a safe purchase as the product is provided with a warranty from the company. Though assembly is easy, a detailed manual should be included in the kit to guide the beginners. Some parts of the table are plastic built, which are prone to breakage.
6. Dremel 231 Portable Rotary Tool Shaper and Router Table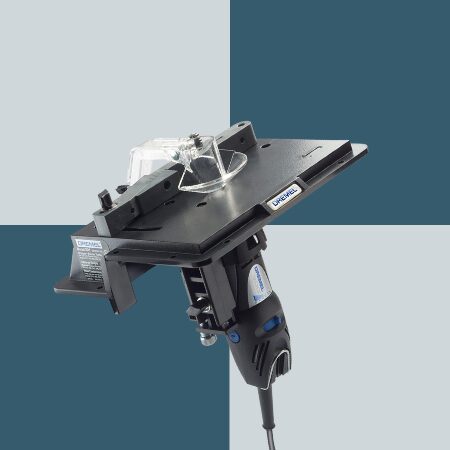 This inexpensive and budget-friendly router table works perfectly fine for hobbyists. Through this compact router table, your Dremel rotary tools are effortlessly converted into benchtop wood shapers. The table is moderately sized at eight inches.
It is not wide enough for heavy jobs, but it is well suited for home-based jobs and intricate cutting on smaller sized pieces. Apart from the sturdy build, DREMEL 231 is able to integrate a variety of bits and attachments available.
The combination of a rotary tool and DREMEL 231 has versatility of its own. You can conveniently flatten the edges through trimming and sanding with ease and simplicity. Grooves can be crafted in a blink of an eye, which saves your time and effort.
The tabletop can be fixed with a workbench without any trouble. It is adjustable, so feel free to set it according to your desired needs. It can function well with any type of router tool, whether corded or cordless.
DREMEL 231 has easy operation, but guidelines of assembly are not clear. If you don't have experience before, you might find it difficult. It is recommended for softwood materials only and is found to face problems like stability while functioning with hardwood materials.
Furthermore, it is only compatible with Dremel tools and not other wood routers. 10.2 x 8.2 x 7 inches in size, it has a great advantage of mobility and weighs only 2.15 pounds.
If you are looking for a router table for small and detailed tasks, then it can be your ultimate pick. Professionally it is preferred for intricate jobs, but for that purpose, there are better options present in the market that can handle heavy objects as well.
7. BOSCH RA1171 Cabinet Style Router Table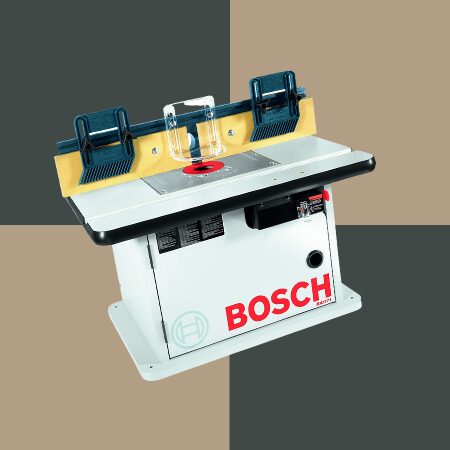 This router table is famous for its distinctive cabinet design. The cabinet is spacious and large enough to fit your power tools accessories and cords. The cabinet is integrated with small compartments and offers you a better organization of tools. The aluminum built router plate is efficiently designed to perfectly fit a variety of routers. Moreover, it does not support all the routers.
Faceplates and Feather Boards are installed with a fence to provide you with extra precision and accuracy.
The cabinet is installed with two dust collection pots wisely fixed in two dust generating points. One port is mounted near the router working point and the other in the cabinet to collect any penetrated debris. The table is well built from aluminum and given a smooth finish by using laminated MDF.
The aluminum fence has two faceplates, and you can adjust it through finger knobs. Featherboards can be fixed on T tracked located above the fence when needed for greater support. The 4 7/8 inch x 25 ⅛ fence is large enough to handle all types of objects, whether small or large.
On purchase, you get a variety of accessories like bit guard, hex keys, starter pins, and insert rings. You will need hex keys during assembly and are two in number. Bit guards protect fingers and eyes from wood chips.
The rings firmly hold the working material in place. The control switch is placed away from the top table keeping in view that it might be accidentally switched on or off while you are working. The working space of 3 sq might not be suitable for professional and complex use though it's a classic choice for domestic work.
8. Goplus Electric Aluminum Router Table Wood Working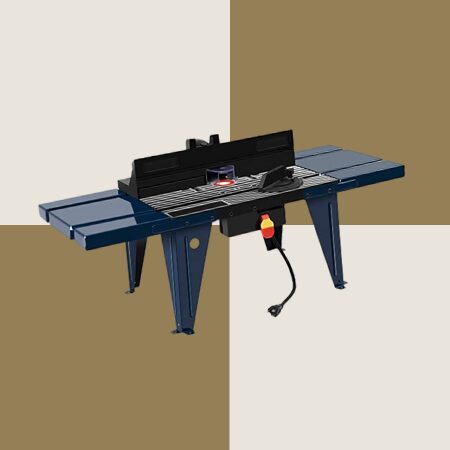 You might assume that Goplus Aluminium Router Table is cheaply built considering its low price but, you are wrong. Aluminum and steel construction at such a price is a money-saving chance. The design is compact, preferable for small spaces, but the structure can be expanded by 18 inches on both sides by the use of an extension table.
The router plate has pre-drilled holes, which makes it conformable with various types of routers having a base plate of 155mm in diameter. It also has a clamp system for locking the router in position. Your cuts are assisted by a miter gauge that guides the wood planks.
The table is durable with aluminum construction. Aluminum prevents it from rusting, and steel imparts stability. Guards are mounted along with fences for chip deflection. They are transparent, so there is no obstruction in your visibility.
If you are worried about assembly, then a detailed guided menu is provided by the company with the product. The table has a groovy surface, which prevents the debris from coming into your work and staying on the workstation.
Additionally, dust ports are installed to collect waste quickly. It is appropriate both for professional work and home-based crafts. Also, the company provides a warranty for one year after order.
9. GRIZZLY INDUSTRIAL T10432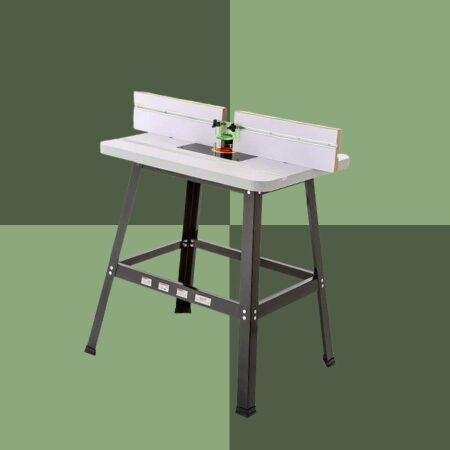 Grizzly industrial group has emerged as a leading power tools company in the last few years, and its products have already been made into top lists. The company will provide you with fast delivery. You can also save extra dollars by using coupons. A 31-⅞ inches wide and 22 inches deep platform is provided for work.
The table is large enough to suit materials of all sizes. The split aluminum fence is firm and tall with an attached dust port.
The assembly of the table is straight and simple for you if you are a starter and also for well-experienced workers. The stand is 33," which is a perfect height and gives an excellent angle for working. The stand is wide at the base, which imparts stability with a rubber finish at the ends.
On the top of the fence, measuring tape extends in both directions to give you exact measurements. The table is built from quality material like MDF and is coated with mealtime.
It may be less durable and lightweight than the aluminum frame, but no problem has been reported until now by users. Edges are coated with polyethylene for support. The router plate is made from an acrylic material that can break when the inserts are removed or screwed back. There is only one T slot to install Featherboard or other accessories.
10. TRIM ROUTER TABLE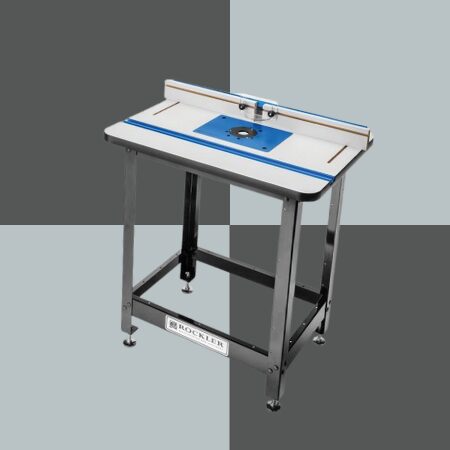 If you are looking for a super-compact option among router tables, then your search stops here. A trimer router table can be set anywhere and everywhere, from small spaces to outdoor space and.
It will also save you money as it is comparatively low priced. It is 17.5 x 12.6 x 3.8 inches in dimension and weighs only 6.72 pounds. The tabletop is 11.5 x 15.5 inches and is perfectly appropriate for tiny and moderately sized wooden pieces.
It is MDF based and coated with vinyl to give it an even and lustrous finish. The router plate has pre-drilled holes to fit majorly various types of routers. With the clamp system, you can fix the router in place to avoid undesired tripping or slipping during the application.
You can also control the fence and guards according to your requirement. The instructions are clearly stated in red on white paper and also enlist all the parts of the router table.
The instrument does not come with a dust port, which you have to buy additionally of $10 to $20 dollars. The router can be detached from the router table in seconds and can be used as a handheld device and later attached again.
The guard and dust collection port work efficiently together to collect 90-95% of the sawdust. A trim router table can be an ideal choice for you if you do woodworking occasionally. It is budget-friendly and can efficiently satisfy your routing needs with great productivity.
Ultimate Buyer's Guide for Best Router Tables
There are various aspects you need to consider with utter attention before spending your cash. You have to make sure it's not only long-lasting but also performs all your desired tasks of routing. Firstly, decide what type of work you will be carrying out with the router table.
For home-based and small jobs, budget-friendly and compact routers are an ideal choice. But for complex tasks, you may need the ones suitable for professional use.
Different router tables have different modes of operation, can be installed with different accessories, and vary in features. So, choosing a perfect one for yourself might be a complicated task.
1. Leveled Tabletop
You need to make sure that the router table has leveled and even finished to the tabletop. The unbalanced surface will hinder straight routing and explicit measurements. Also, it should be solid enough to withstand heavy load and stop excessive vibrations while functioning.
2. Smooth Coated Surface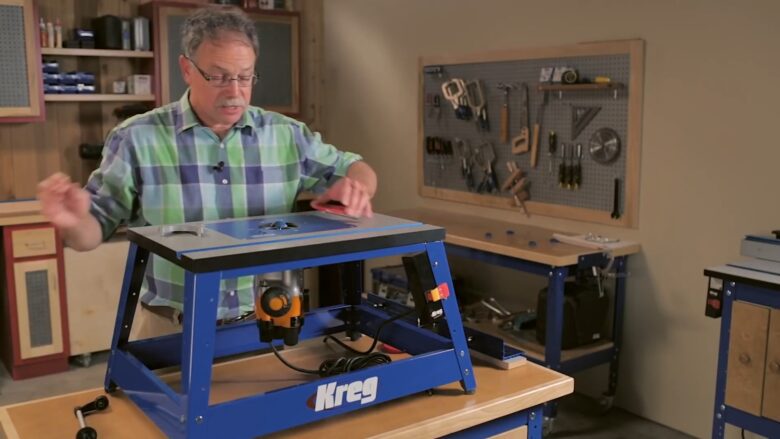 Some tabletops may have a vinyl coating to impart extra smoothness and polished touch. Furthermore, size is also a crucial element. Small-sized table tops perform better on short wooden planks and detailed routing. However, it is not suited for large-sized materials.
3. Aluminum-based fence Systems
Nearly all router tables have aluminum-based fence systems, but only a few are adaptable. The adjustable fence can save you an ample amount of time and enhance accuracy. You may also be provided with adjustable Featherboards, guards, and starter pins depending on purchase.
Featherboards and guards immensely increase safety during use. Featherboards guide the routing materials and also prohibit fingers from reaching sensitive areas on the table.
4. See-through Guards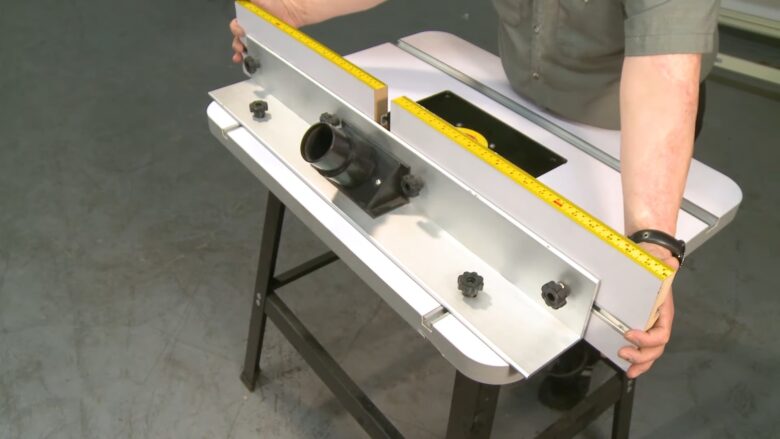 You should always prefer see-through guards. Transparent guards allow you to keep an eye on routing while keeping the debris away. They function the same as chip deflectors in wood routers. The frame of the table should be of appropriate height for you and built from a high-quality medium like steel.
5. Strong base Plates
Another vital factor is the base plate. It should be made of tough material and conformable to various types of routers. Pre-drilled plates provide an easy mounting experience. If you move around for work, then you should go for portable and lightweight router tables.
If you already own a router, then it is essential that you check compatibility before purchase. Router tables do not fit all types of routers. It is preferred that it should be of the same company as your router for better compatibility.
FAQs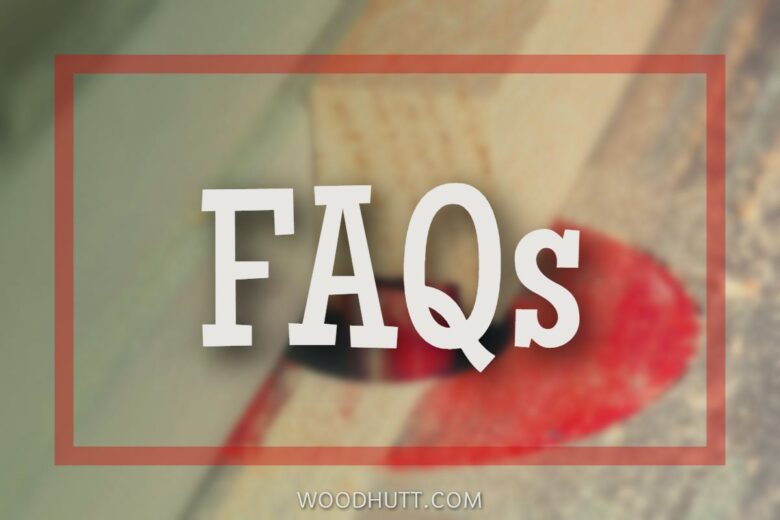 1. Are the router tables necessary?
Router tables are an essential part of your tools if you love to make DIY woodcrafts. These tables help in dust collection, Profiling Edges, and in template cuttings.
2. Can a plunge router be used on a router table?
You can also use a plunge router on a router table very easily. It is safe to use both fixed-based and plunge routers on a router table.
3. What is the best material for a router table's top?
If a table stays flat throughout its life, then it means that the router table is made up of good material. In such a case, tables with solid phenolic resins have shown better results than any other tables.
Also a piece of advice at the end!
You should always select products with a warranty from the company and a money-back guarantee to make your purchase safe. In case if the equipment does not exceed your expectations and damage, you can have an exchange or payback.
Take a look at these products from the same price range, that are available right now on Amazon: